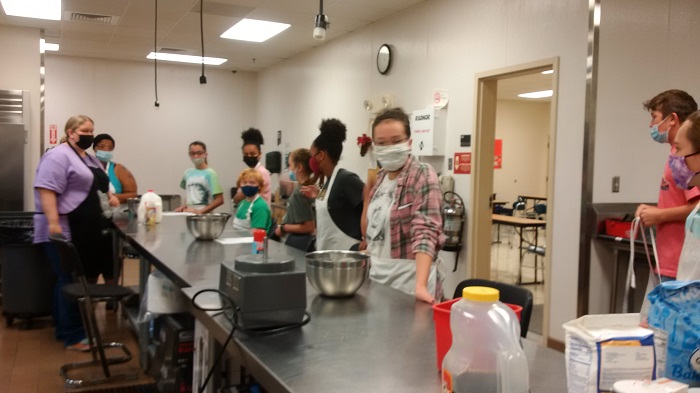 BY KARISSA MILLER
In a spacious classroom kitchen inside the Career Academy and Technical School, middle and high school students worked together to make homemade biscuits during Culinary Camp.
The campers mixed butter into a flour mixture, rolled it out into a dough, and then pressed out each biscuit onto a pan.
Before stepping in the kitchen, they worked in groups and learned the way professional cooks read recipes, and the steps they take when cooking a new dish.
CATS Culinary instructor LaVerne Zachary is their camp leader. She wants students to know that cooks follow a recipe, but also rely on sights, sounds and smells and other indicators.
On Tuesday, the theme was breakfast. Students cooked a frittata, breakfast meats, shortbread biscuits and made smoothies.
Zachary teaches an elementary group in the morning and middle and high school student group in the afternoon.
The elementary group's frittata had ingredients like broccoli, garlic, onion and cheese in it.
"They ate it. I was a little surprised because it had broccoli in it. But they liked it," Zachary said.
She explained that many of the kids haven't had as much socialization with one another during the school year because of the pandemic. As a result, they haven't had as much time together having fun.
Camp provided a chance to change that.
"The goal is to teach them and let them become familiar with food and cooking techniques, but I also want them to have fun. Fellowship with one another…and just enjoy each other's company," Zachary said.
One of the biggest benefits about having kids in the kitchen is that they learn where things come from and how to be creative. Zachary also teaches kitchen safety during the school year and incorporates some tips and pointers into each lesson.
Beyond cooking and learning about foods, Zachary said that each day of the camp has a fun theme.
On Wednesday, students made foods from around the world like wonton tacos, vanilla bean scones and Italian wedding soup.
The camp is completely full and is offered four days a week. It is one of several budget friendly summer camp enrichment programs offered by Iredell-Statesville Schools.
LEARN MORE
Visit https://www.issnc.org/schools-programs/2021-summer-enrichment-courses to learn more about summer enrichment programs.
Photos