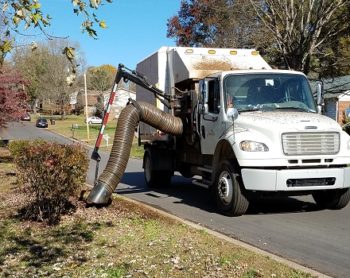 Special to Iredell Free News
Loose leaf curbside collection is ramping up for City of Statesville residents who perform their own yardwork. (Landscape contractors are responsible for proper disposal of all leaf piles they create.) Leaf trucks will begin working in Area One on Monday, October 18.
Here is a reminder of the guidelines residents should follow to make for a more efficient and productive pickup.
KNOW YOUR AREA
The City is divided into four sections for leaf collection. Each area is collected a minimum of three times during the 12-week collection period. Below are the boundary descriptions for each area. You can also use the interactive map at statesvillenc.net/yardwaste and enter your address to verify your area.
♦ Area One: South of W. Front St. and west of S. Center St./Shelton Ave. This area includes Bristol Rd., Wilson Lee Blvd., and neighborhoods along Wallace Springs Rd.
♦ Area Two: South of E. along Salisbury Rd. and Amity Hill Rd., Highland Acres, Eastside Drive, Dalwan Broad St. and east of S. Center St./Shelton Ave. This area includes neighborhoods Heights, Florence Rd., the Statesville Country Club and Brookmeade.
♦ Area Three: North of E. Broad St. and east of N. Center St. This area includes neighborhoods between Mocksville Hwy. and S. Greenbriar Rd., and in the areas of Davie Ave., Sullivan Rd., Stockton St., Hartness Rd., Museum Rd and Brevard St.
♦ Area Four: North of W. Front St. and west of N. Center St. This area includes neighborhoods along Gregory Rd., Ridgeway Ave., Phoenix St., Oakland Ave. and Mitchell College Historic District.
FOLLOW THE SCHEDULE
Pay attention to the schedule so you can have your leaves on the curb in time for collection, but not too early. By keeping up with the schedule, residents can reduce the length of time leaves are on the curb before pick-up and not miss the rotation in their area. Crews will not return to a street once it is completed until the next rotation. The schedule showing where crews are working will be updated regularly at www.statesvillenc.net/yardwaste, the City's Facebook page (facebook.com/CityofStatesville/), Twitter (@cityofsvl). Sign up for the Sunday night calls at statesvillenc.net/info or call 704-878-3583 and check the calendar on cable channel 20.
CURBSIDE ETIQUETTE
• Place your leaves on the curb in front of your residence on the edge of the yard and behind the curb. They should not be placed in the street or on sidewalks.
• Do not park near the leaf pile.
• Don't mix sticks or tree limbs in with the leaf pile.
• Do not place leaves near storm drains; clogged storm drains cause flooding
• Don't cover up your water meter.
ALTERNATIVES
Bagged leaves are typically collected faster than loose leaves. Bags are available for purchase (10 for $1) at the Statesville Customer Service counter, 301 S. Center Stret. You can also place leaves in 32-gallon containers that have a lid and handles. Leaf bags/containers should be free of other sticks and other yard debris and trash.
Utilize a mulching lawnmower and mulch leaves back into the lawn, providing nutrients for the soil.
Place leaves in and around plant beds and under trees and shrubs for good soil nutrients and plant insulation.
QUESTIONS?
Call 704-878-3415 or email info@statesvillenc.net. City staff may not be able to respond right away, but someone will be in touch.