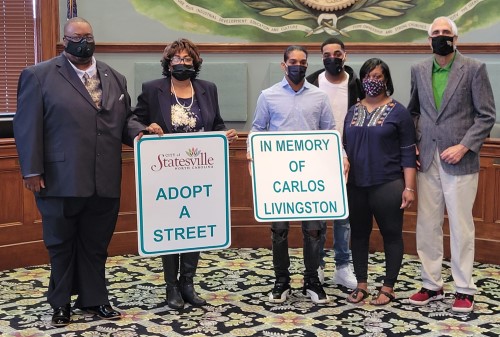 Special to Iredell Free News
The City of Statesville's first street adoption through its new Adopt-A-Street Program was announced Wednesday during the touching dedication of a portion of Raleigh Avenue, which was adopted in memory of Carlos Livingston, who was hit and killed 15 years ago in that area.
City Councilman Frederick Foster initiated the adoption, and Carlos' mother and other family and friends were present for the dedication.
"This is a very fitting way to kick off the Adopt-A-Street Program and honor the memory of Carlos," Foster said. "My hope is that this small gesture will help us to always remember how Carlos made Statesville a more beautiful place with his smile and friendliness."
As part of the ceremony, Mayor Costi Kutteh announced that the City Council has also adopted a portion of Oakland Ave. It will get its first clean-up on Saturday, April 17, as part of the statewide Litter Sweep event. Volunteers are asked to meet at Bristol Road Community Center, Bentley Community Center or Garfield Park to help clean up litter in the surrounding neighborhoods from 9-11 a.m. More information is available at www.statesvillenc.net/events
LEARN MORE
Persons, families, groups, work teams who are interested in adopting a street can get more information and apply at www.statesvillenc.net/adoptastreet.