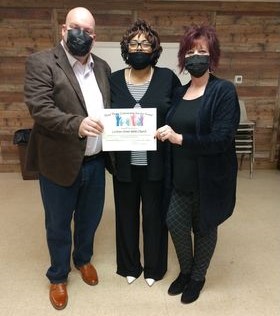 FROM STAFF REPORTS
Statesville City Councilwoman Doris Allison recently presented the Ward 3 Community Service Award to Pastor Thomas McDaniels and Cochran Street Bible Church for the church's outreach work during the COVID-19 pandemic.
"They serve their community and throughout the city with their love, their prayers and their devotion to Christ and to the community," Allison said during a presentation ceremony. " We want to thank them for their hard work and dedication.
McDaniels said the church, which has an active ministry in the southside of Statesville, is called to promote peace and unity and comfort those who are hurting.
"We're all in this together," the pastor explained. "Our goal here at Cochran Street Bible Church — our mission is (to be a place) where broken people find new meaning in life and to win the lost at any cost."
Watch the Award Presentation on ICTV
Visit https://m.facebook.com/story.php?story_fbid=167889698143684&idhttps://m.facebook.com/story.php?story_fbid=167889698143684&id=325983810940999=325983810940999