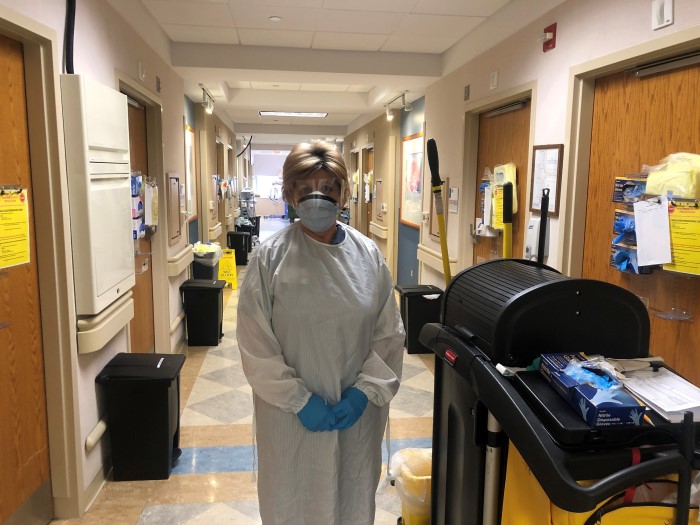 Special to Iredell Free News
While community members have praised local healthcare workers as heroes since the pandemic began, not everyone working on the frontline is a nurse or doctor.
A cornerstone of Iredell Health System, the Environmental Services team cleans and sanitizes an average of 45 discharge and transferred patient rooms each day, covering every bed, wall, table, floor, phone, bathroom, toilet, corner, and high-touch surface in each of the health system's 289,000 square feet of cleanable space.
Environmental services' all-encompassing team is comprised of 35 full-time employees who perform housekeeping, waste management, and linen distribution.
Like other frontline healthcare workers, Iredell's Environmental Services team members witness the hardship of hospital patients. While doing their part with their lives on the line, they contribute greatly to the comfort, health, and happiness of Iredell patients and their families.
Environmental Services housekeeper Libby Cash is a great example. When the COVID-19 pandemic hit, she volunteered to work on the hospital floor serving COVID patients in an effort to provide companionship to those isolated without visitors.
"It's making me more aware of the people who are hurting and suffering," Cash said. "It makes me more aware of reaching out to people that need compassion. They need a kind word. I try to encourage them and make them laugh and make them smile because we're the only people they see the whole time they're here. And I just try to make their day a little bit brighter because they need it."
Cash's approach to assisting patients is exactly what Environmental Services Director Chris Coble encourages. Since joining Iredell Health System as its environmental services director in May 2019, he has placed significant value on a heightened sense of urgency in his department to perform tasks. His proactive approach includes not only taking care of tasks immediately, but seeking to fulfill patients' needs before they arise.
"Let's be different. Let's not wait for somebody to call us for something. Let's make sure we're taking care of it," Coble said, describing the culture within his department.
Coble has also fostered an atmosphere of inclusion. He emphasizes to his operations managers that everybody be treated the same – in a good, friendly, and calm manner. And he focuses heavily on patient experience, placing high value on Hospital Consumer Assessment of Healthcare Providers and Systems (HCAHPS) patient satisfaction survey results and sharing the scores with his staff at reporting meetings.
Coble has sought to learn and highlight employees' personal interests, including their community involvement. The team has developed chemistry over time working together.
"If someone needs me on another floor, I will go. If I will need someone to help me, I will call and ask," Cash said. "Overall, we work well together as a team. We try to fill in the gaps as we can and help one another out. We're good about helping one another."
Each year, the environmental services team distributes 855,000 pounds of clean linen and removes 1 million pounds of regular waste, 156,000 pounds of recycled waste, and 28,000 pounds of regulated medical waste. By making sure they follow strict infection control protocols, disposing of trash and handling linen properly, team members ensure they are not spreading COVID-19 while following through with their everyday tasks.
Employees clean COVID patient rooms each morning after informing patients when they'll arrive. They put on a gown, gloves, an N95 face mask, and a face shield before entering the rooms. Before leaving rooms, they ask patients if they need anything else, address their needs, and wish them a good day.
The number of room cleanings start escalating after 11 a.m. Three team members are designated to discharge cleaning. The department uses software to track cleanings to ensure accuracy and thoroughness.
After manually disinfecting isolation rooms, they use ultraviolet light technology to kill any remaining pathogens and help fight infection.
"It's our goal to get them, dispatch them, clean them, and release them within less than 60 minutes," Coble said. "Patient areas are always first."
By calling attention to the imperative of fighting infection, COVID-19 has demonstrated how essential the Iredell Environmental Services team's role is. Using their more-than 400 combined years of experience, these healthcare heroes are continually saving lives by working effectively behind the scenes.
About Iredell Health System
Iredell Health System includes Iredell Memorial Hospital; Iredell Home Health; Iredell Wound Care & Hyperbaric Center; Community and Corporate Wellness; Occupational Medicine; the Iredell Physician Network and more. Iredell Memorial Hospital is the largest and only nonprofit hospital in Iredell County. The comprehensive healthcare facility has 247 beds; more than 1,700 employees; and has 260 physicians representing various specialties. Centers of excellence include Women's and Children's; Cardiovascular; Cancer; Surgical Services and Wellness & Prevention. The mission of Iredell Health System is to inspire wellbeing. For a comprehensive list of services and programs, visit www.iredellhealth.org.