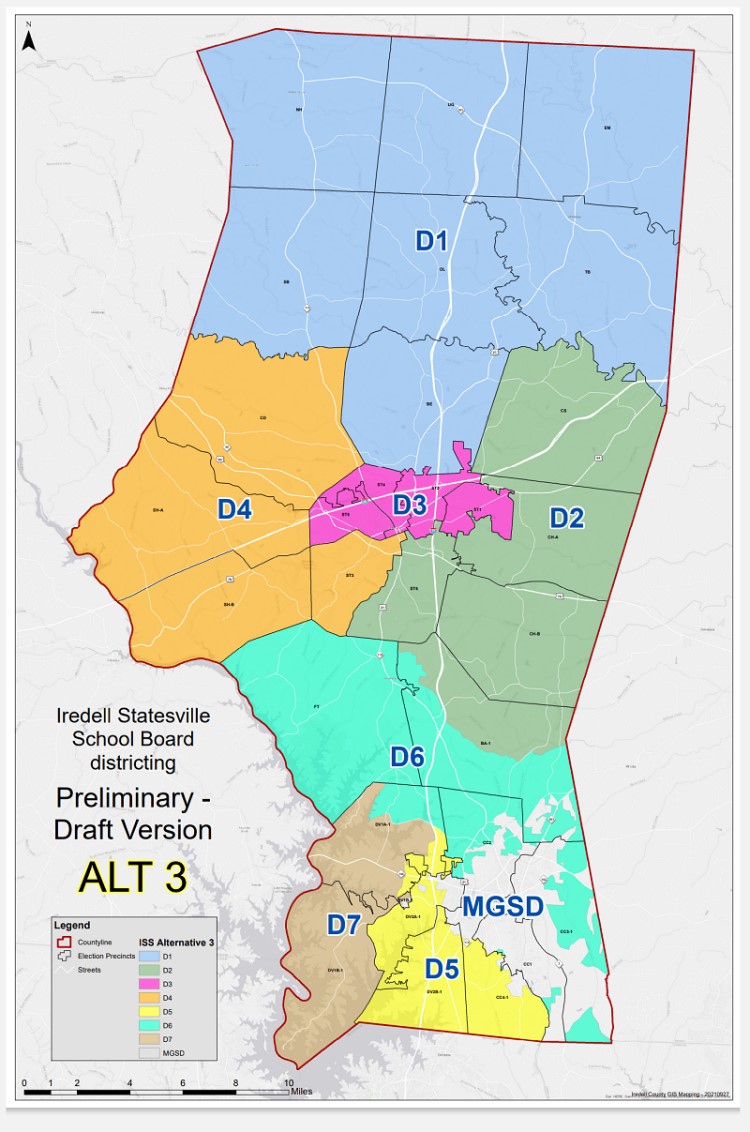 BY KARISSA MILLER
The Iredell-Statesville Schools Board of Education narrowly approved new boundaries for the board's electorial districts during Monday's meeting.
By a 4-3 vote, board members selected Alternative Map 3.
The approval of the redistricting map has nothing to do with where students attend school or attendance zones. It defines boundaries for the voting districts for the board members.
Before the vote, Jay Sherill, who attended I-SS schools and graduated from Wake Forest University in 2020, addressed the board regarding the map choices during the public comment period. He encouraged the board to vote for Alternative Map 2.
"The board has the option tonight to choose between two very similar maps that are differentiated by one key feature," Sherrill explained. "One map splits the south side of Statesville, the only majority minority racial area of our county, into three separate districts despite being an incredibly small geographical area. The other choice is a map that allows that community to remain whole."
He pointed out that the board eliminated Alternative Map 1 a few weeks ago because it split Harmony and Union Grove into two different districts on the basis that it would divide a community. Sherrill questioned the board on why that same logic doesn't apply to Statesville.
"You can do the right thing and vote for Map 2 or you can vote for Map 3 and effectively gerrymander South Statesville in an effort to disenfranchise Black and Hispanic voters," Sherrill said.
The approval of the new electoral districts for the board of education members was the last item on the agenda Monday night.
Board members Doug Knight, Todd Carver, Bryan Shoemaker and Sam Kennington voted in favor of Alternative Map 3. Board members Martin Page, Bill Howell and Charles Kelly voted against it.
Kennington reminded the board that they only had two people expressed their views on the matter during the public hearing last week. Statesville Branch NAACP President Todd Scott spoke in favor of Alternative 3, he said.
Howell said Alternative Map 3 separates racial communities, and that is why he favored Alternative Map 2.
"Even though we had certain people claim that it's their choice, I don't think they thought about it. It may come up to a lawsuit by separating them into three separate communities," Howell said.
Shoemaker asked the board attorney Dean Shatley if the board could be sued for going with Alternate Map 3.
"Both alternate 2 and alternate 3 secure you well within the law of the premise of one person one vote. So, at this point in time, you are not under any type of federal or state obligation to draw your district with race (racial makeup) in mind," Shatley said.
About the Redistricting Process
The board met at the beginning of September and by consensus asked an attorney group that specializes in redistricting projects to create new maps using a clean slate approach. The board is required to create new district map to align with the latest census data.
Voting districts in North Carolina are based on the "one person/one vote" principle that means each ward or district must be nearly equal in population.
According to 2020 Census data, the northern end of the county, or District 1, has lost 16.07 percent of its population, while the fast-developing Troutman area has grown by 27.10 percent.
About Alternative 3
• Alternative 3 also prioritizes precinct integrity. It splits only 2 precincts, if you don't count Mooresville Graded School District. Alternative 3 also essentially sandwiches MGSD between two precincts.
• Alternative 3 does not put the southern Iredell districts, 5, 6, and 7, in the lower range of deviation.
• Alternative 3 keeps northern Iredell together without splitting precincts.
• Alternative 3 has Statesville in three districts instead of two, but it leaves District 3, the northern part of Statesville, intact as it is in the current map.