Special to Iredell Free News
Long-time EnergyUnited director Glenn Smith passed away on Monday due to health complications caused by COVID-19.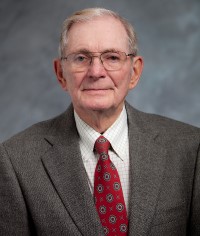 Smith devoted more than four decades of his life to serving EnergyUnited members. His service to the cooperative began in 1977 as a member of the Davidson EMC Board of Directors and continued after the merger of Davidson EMC and Crescent EMC. He had served on the EnergyUnited Board of Directors since its inception in 1998.
"Glenn dedicated so much of his life to the service principles that we espouse as an electric cooperative," said Wayne Wilkins, chief executive officer of EnergyUnited. "He will be greatly missed by all the board, staff and management of EnergyUnited."
EnergyUnited Board Chairman Dr. Max Walser served alongside Smith for more than four decades on the Davidson EMC and EnergyUnited Board of Directors. During their service tenure, Smith and Walser worked together to support initiatives that advanced the interests of cooperative members.
"It was truly an honor to work with Glenn over the past four decades," Walser said. "He was not only a colleague, but also a close friend and someone who continually offered support for me and our fellow cooperative leaders."
Smith spent 42 years in banking and served as president of Perpetual State Bank in Lexington. He also served as a member of the City of Lexington zoning board and a past board member and vice president of Fidelity Bank.
After graduating from Lexington High School, Smith attended Catawba College. He served in the U.S. Armed Forces during the Korean Conflict and was a member of Second Presbyterian Church.
EnergyUnited will begin the process of filling the vacant board position according to the cooperative's bylaws and will share pertinent news in the Connect member newsletter, located within the Carolina Country magazine.
About EnergyUnited
EnergyUnited Electric Membership Corporation (EMC) is the largest electric cooperative in North Carolina serving more than 131,000 metering points. Headquartered in Statesville, EnergyUnited provides electric service in portions of nineteen counties in west central North Carolina which include Alexander, Cabarrus, Caldwell, Catawba, Davidson, Davie, Forsyth, Gaston, Guilford, Iredell, Lincoln, Mecklenburg, Montgomery, Randolph, Rockingham, Rowan, Stokes, Wilkes and Yadkin. Visit EnergyUnited online at www.energyunited.com to learn more.