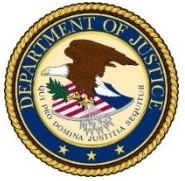 Special to Iredell Free News
A federal jury sitting in Statesville has convicted a former Wells Fargo information technology employee of child pornography charges.
William T. Stetzer, acting U.S. attorney for the Western District of North Carolina, announced Friday that the jury found Michael Scott Hoover, 50, of Wilkesboro guilty of two counts of production and one count of possession of child pornography. U.S. District Judge Kenneth D. Bell presided over the two-day trial which ended late Thursday.
Ronnie Martinez, special agent in Charge of U.S. Immigration and Customs Enforcement's (ICE) Homeland Security Investigations (HSI) in Charlotte, Robert Schurmeier, director of the North Carolina State Bureau of Investigation (SBI), and Wilkes County Sheriff Chris Shew joined Stetzer in making the announcement.
According to filed court documents, evidence presented at trial and witness testimony, between June 2018 and August 2019, Hoover produced child pornography on two different occasions by using two minor victims to engage in sexually explicit conduct, which Hoover recorded on his work cell phone.
According to witness testimony, the child pornography was found on Hoover's work cell phone during an internal investigation by his employer at the time, Wells Fargo. Trial evidence established that videos and images recovered from Hoover's work cell phone depicted minor males as young as 12 years old engaging in sexually explicit conduct.
Following the guilty verdict, Judeg Bell remanded Hoover into federal custody.
A sentencing date has not been set. The possession of child pornography charge carries a maximum prison term of 10 years and a $250,000 fine. The charge of production of child pornography carries a mandatory minimum sentence of 15 years and a maximum of 30 years in prison per count and a $250,000 fine.
In making today's announcement, Acting U.S. Attorney Stetzer commended the investigative work of the HSI, SBI, and the Wilke's County Sheriff's Office.
The prosecution for the government was handled by Assistant U.S. Attorney Cortney Randall of the U.S. Attorney's Office in Charlotte and Special Assistant U.S. Attorney Stephanie Spaugh. Spaugh is a state prosecutor with the office of the 26th Prosecutorial District and was assigned by District Attorney Spencer Merriweather to serve with the U.S. Attorney's Office in Charlotte. She is duly sworn in both state and federal courts.
The case was brought as part of Project Safe Childhood, a nationwide initiative to combat the growing epidemic of child sexual exploitation and abuse, launched in May 2006 by the Department of Justice. Led by U.S. Attorneys' offices and the Criminal Division's Child Exploitation and Obscenity Section, Project Safe Childhood marshals federal, state and local resources to better locate, apprehend and prosecute individuals who exploit children via the Internet, as well as to identify and rescue victims. For more information about Project Safe Childhood, visit www.projectsafechildhood.gov.