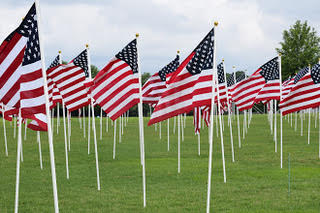 BY DEBBIE PAGE
debbiepage.iredellfreenews@gmail.com
An enthusiastic army of Mooresville/Lake Norman Exchange Club members and community volunteers will begin assembling a field of waving American flags on the lawn of Mooresville's Lowe's YMCA on Thursday morning.
The annual Field of Flags event continues through Monday, July 5, with the official ceremony on Saturday, July 3, prior to the annual the Independence Day celebration with live music, over 600 American flags, food trucks, and fireworks.
The ceremony will include a bag pipe rendition of Amazing Grace along with each branch's service song.
At 6:15 p.m. on Saturday country singer Rockie Lynne, founder of Tribute to the Troops, will perform. The evening will conclude with a fireworks display at 9:15 p.m.
The Exchange Club's tent, where flags can be purchased on site Thursday through Saturday, will operate from 9 a.m. to 9 p.m. each day. Flag kits (American flag, pole and rebar) may be purchased for $35, in honor of or in memory of a service member or first responder.
Flags can be also purchased online at www.MooresvilleLKNExchange.org/FieldofFlags.
The field is open to visit 24 hours per day and will be guarded during the overnight hours by local Scout troops, who will be camping out each night.
The event is made possible by presenting partners Bestco, HopTown, and the Town of Mooresville. Spectators should arrive early to get a good view of the show.
Grills, pets, sparklers and outside fireworks are not permitted.
Remote parking and shuttle service will be available from Trinity Baptist Church (221 Ervin Road, Mooresville, NC 28117).