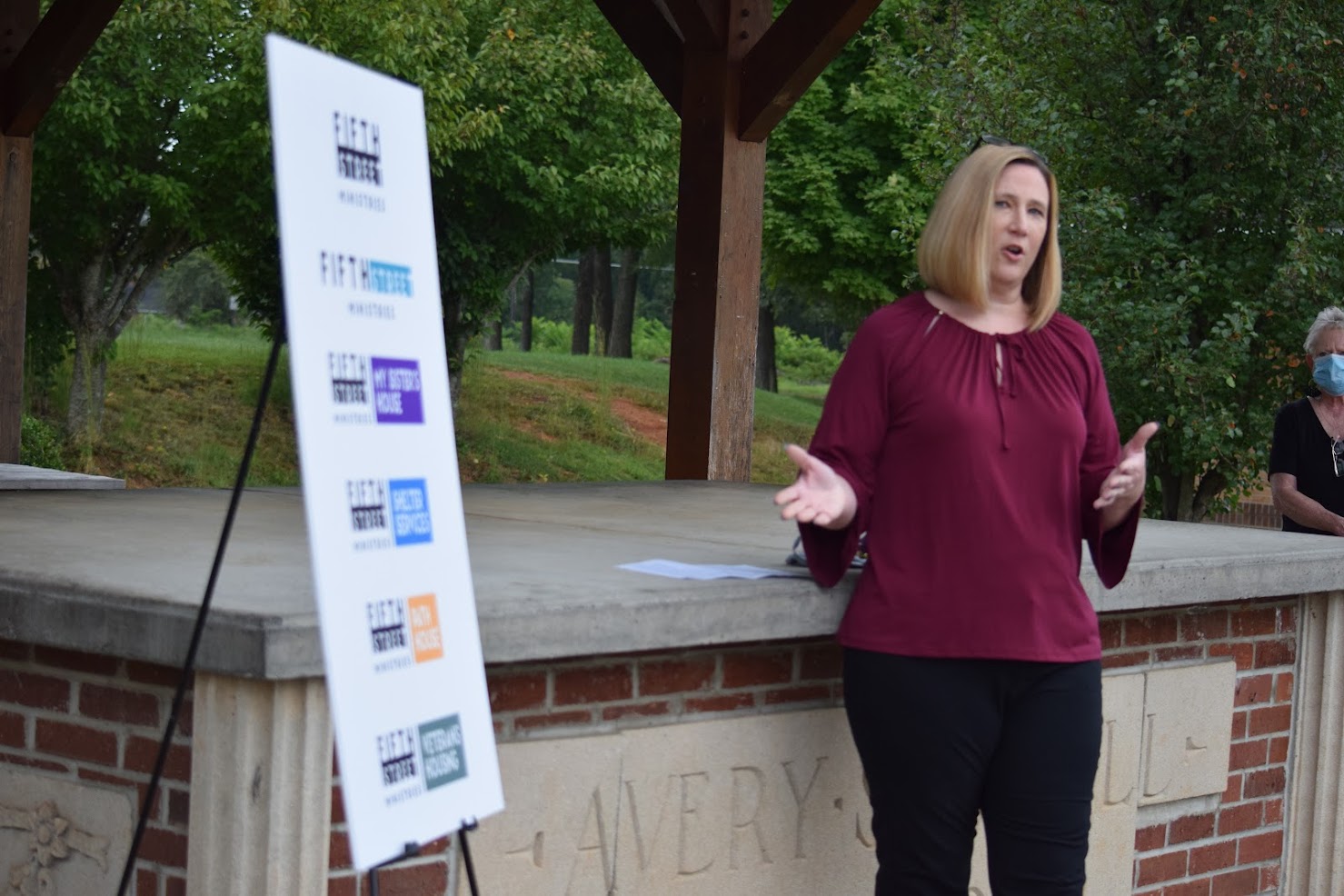 BY DEBBIE PAGE
debbiepage.iredellfreenews@gmail.com
Fifth Street Ministries Executive Director Michele Knapp welcomed a crowd of supporters on Thursday morning as the organization unveiled its new logos to unify the four entities under nonprofit's umbrella.
Knapp explained that each program had a unique logo that changed periodically and did not connect to Fifth Street, which was confusing to the public.
"We were having an identity crisis. Who are we? Who is Fifth Street? Are we Diakonos? Are we Fifth Street? My Sister's House? Who are we?" asked Knapp. "We are Fifth Street Ministries!"
"The new logos bring all of our programs together. We are Fifth Street — but My Sister's House is a program of Fifth Street," said Knapp.
Knapp said the logos are fashioned as street signs, with "Fifth Street" as the focus. "But Fifth Street is not the end of the road. Fifth Street connects people to all the different streets that will take them to self-sufficiency, to housing."
"There's a different path for everybody. Every street leads to a different goal."
"We have love, we have compassion, acceptance, guidance. Those are the basis for what we do. We will walk down the street with everybody that we serve, hand in hand, to help them reach their goals and come out of homelessness and be housed. That is the ultimate goal."
The new modern logos feature a unified design, with each program sporting different colors but still all connected to Fifth Street.
PROGRAMS
Fifth Street is comprised of four major programs. The Fifth Street Ministries shelter services, located at the old Avery Sherrill School site at 1421 Fifth Street, can house up to 150 men, women, and children.
"We offer case management, clothing, transportation — all the services necessary to help someone move from homelessness to housing as quickly as possible," said Knapp.
Other entities under the Fifth Street umbrella include My Sister's House for battered women and victims of sexual assault. The site offers counseling, shelter, advocacy, and case management to help with the healing process.
The Path Program, located in a house across the street from the shelter, does outreach. The program staff go out to find the homeless wherever they are, bringing supplies and offering services. They also invite the homeless to visit the Path House or Fifth Street shelter locations for additional assistance.
At the Path House, the homeless can shower, do laundry, use the telephone or access the internet. They can also receive case management and peer support services as well as consult with a benefit specialist to file disability claims.
The Veterans Transitional Housing Program on Wilson Lee Boulevard houses five veterans and a peer support person who oversees the two-year program to move homeless veterans to their own housing.
The program works closely with the VA in Salisbury to meet with residents to help them reach their goals. "We have had great success in that program," said Knapp.
HISTORY
Knapp also detailed the history of the organization, started in 1988 as Diakonos by Patti and Gary West, and brought to Statesville in 1990 by the couple.
"Patti and Gary put down a wonderful foundation for Fifth Street, and we are going to take that foundation, and we're going to go with it," she said.
"There's just so many things that we want to do here in the future, and we're just so excited that Gary and Patti have paved the way for us."
Knapp defined the organization's corporate name, "Diakonos," as "one who serves" in Greek.
"That just embodies everything we do. We are here to serve."