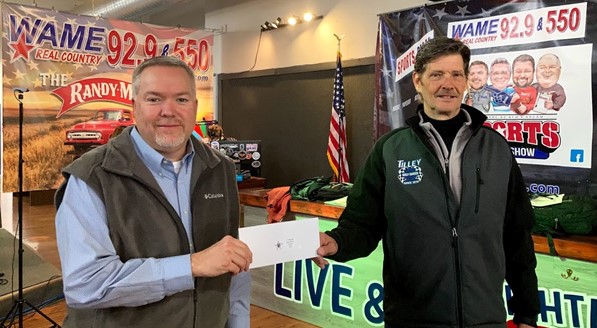 Special to Iredell Free New
Terry Levan of Tilley-Harley Davidson recently presented a check for $5,074.22 to Iredell County Sheriff Campbell during the Billy Buck radio show on WAME.
The money was raised during the First Annual Don Tilley Poker Run thanks to the support of Ol' Bob's BBQ and Catering and the community. Hundreds of residents and riders from around the area came out for the event last October to back local law enforcement during a time when it was is most appreciated.
The Iredell County Sheriff's Office Family Auxiliary will benefit from this generous donation. This internal support group is only a few years old and provides an opportunity for the agency to grow together as a family.
The Auxiliary often answers the tough calls of sick or deceased loved ones. Also they celebrate births and other accomplishments.
Several programs within the Iredell County Sheriff's Office could also suffer from any further financial decreases. These are the ones that go directly to build relationships with our young people.
Sheriff Campbell is committed to the Iredell County Sheriff's Athletic League along with the Teen Academy, which has even been modeled by other law enforcement agencies across the state. These programs are often staffed and represented in the schools by our School Resource Officers.
Community support has been critical to the success of these programs, Campbell said.