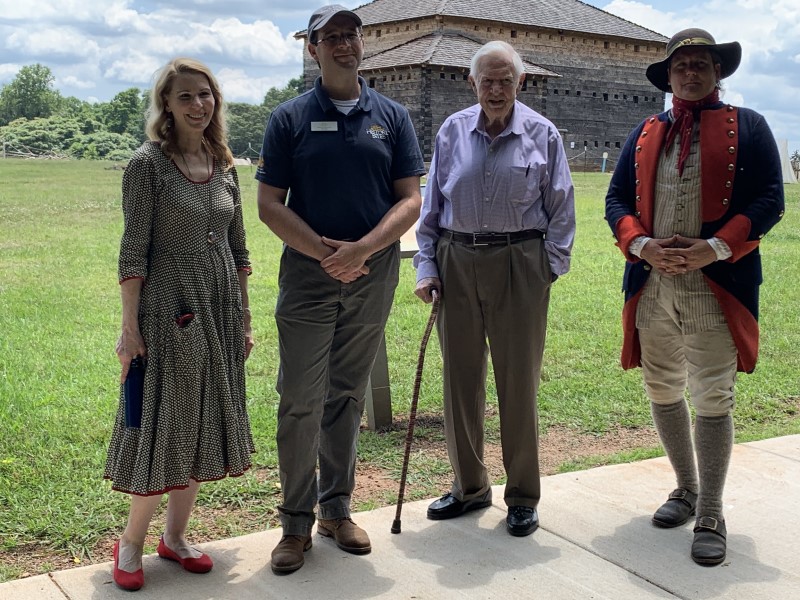 BY BRANDY TEMPLETON
Fort Dobbs State Historic Site will host its first major event this weekend since the onset of the global pandemic last March.
On Thursday afternoon Site Manager Scott Douglas welcomed North Carolina first lady Kristin Cooper, who visited the replica fort as part of her tour of sites and attractions in all 100 counties.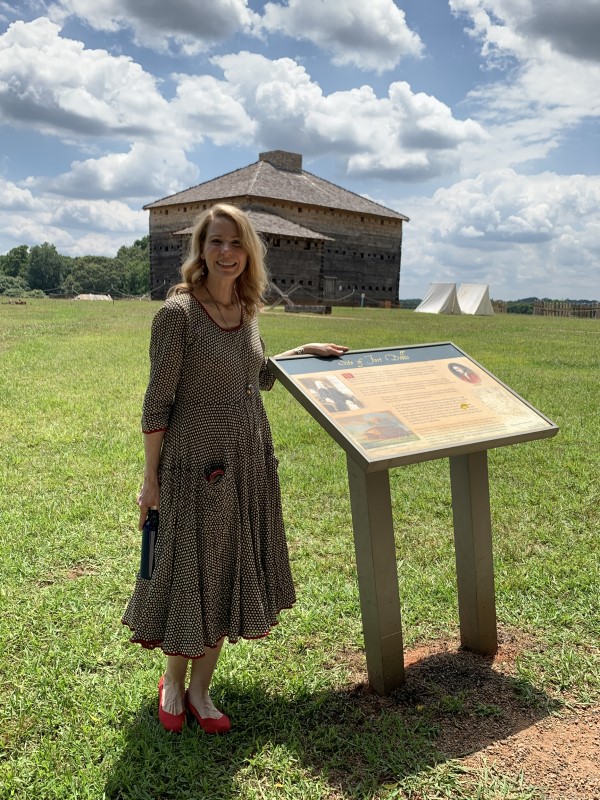 During the tour, Cooper inquired about the flanking areas where soldiers could defend the fort. Douglas showed Cooper how to load a musket.
"I'm probably taller than most of the men," she said with a laugh while holding the weapon.
A self-proclaimed "amateur history buff," the first lady remarked about the unique time when Fort Dobbs played a critical role in the defense of western North Carolina.
"It was a whole period time of shifting," Cooper explained. "It was a very complicated time— both good and bad."
Cooper expressed her appreciation for the tour.
"This was amazing," she said. "I like history, and this is an area not a lot of people know about."
"We are our history," she added
After a brief meet and greet, Douglas, Historic Interpreter Jason Melius and Dr. Ralph Bentley presented Cooper with a special Fort Dobbs ornament.
"We'll put this on our North Carolina tree," she said.
Iredell was the 84th county the first lady has visited — and the first since the COVID-19 pandemic began.
Cooper added that she had ancestors from the area.
"I read where I was related to some Dobbins from this area," she said. "One was a trumpeter, one was a bugler, and one was an actor."
The first lady was accompanied by her communications director, Caitlyn Grimes, a Mooresville native and 2014 graduate of Lake Norman High School.
"It's so special to be from Iredell County and to take her here," Grimes said. "It feels so good to be back on the road. It feels nice saying 84 after saying 83 for so long."
Taken Shelter in Fort Dobbs
After the first lady departed, Douglas discussed this weekend's event when Fort Dobbs will be open at full capacity.
"This Saturday's event is our first back into normalcy," he said. "It will be a little different than usual because it will be told through the eyes of area residents that stayed here once the fort was abandoned."
In the spring of 1759, the Yadkin and Catawba River valleys were ravaged by fighting as small parties of Cherokee took revenge for the murder of their loved ones by settlers in Virginia. Many British settlers fled, while others found shelter within the walls of Fort Dobbs. No full-time soldiers were present at the time, but the building still offered refuge.
This event will illustrate life at the fort as it was taken over by the civilians of the Fourth Creek Settlement. Ongoing displays of camp life will be featured, including cooking and weapons firing demonstrations.
Costumed re-enactors representing colonists, along with enrolled members of the Eastern Band of Cherokee Indians will demonstrate historic weapons, cooking and crafts. The program will run from 10 a.m. to 4 p.m. Admission is free but donations will be accepted.
Fort Dobbs State Historic Site is located at 438 Fort Dobbs Road in Statesville. It is open Tuesday-Saturday for timed tours of the fort for an age-based fee of $1 or $2.
Photos