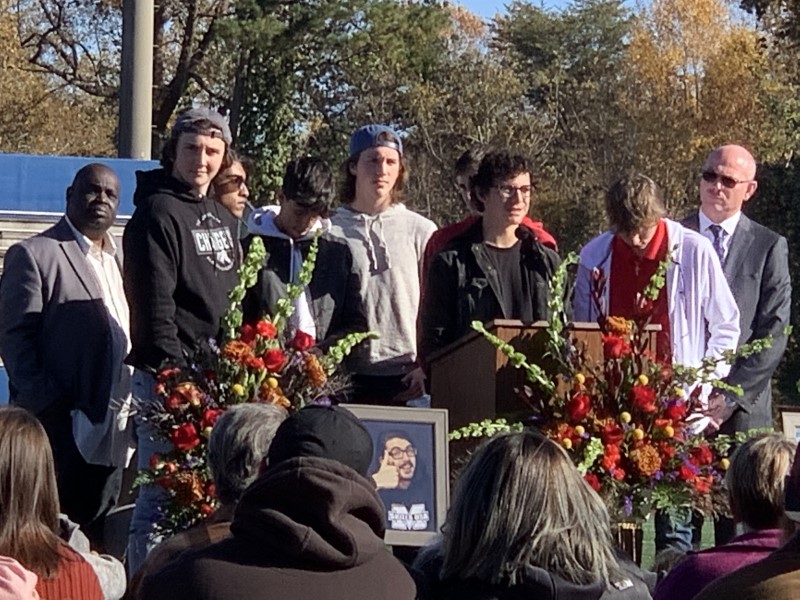 BY BRANDY TEMPLETON
A large crowd gathered at Mooresville High School's Coach Joe Popp Stadium on Sunday afternoon to remember a "sweet soul" who touched so many.
Red balloons swayed in the wind in memory of Mario "Nathan" Lopez, the MHS senior who died by suicide on campus on Wednesday, November 10. Students were sent home in disbelief that a classmate and friend had ended his life so abruptly in their school's bathroom. The teen had recently been awarded a $68,000 scholarship by Catawba College, where he planned to major in chemistry, his mother said.
Students, teachers, parents, and people who had not met Nathan but wanted to support the MHS community filed somberly into the stadium to the sound of Vince Gill's "Go Rest High on That Mountain."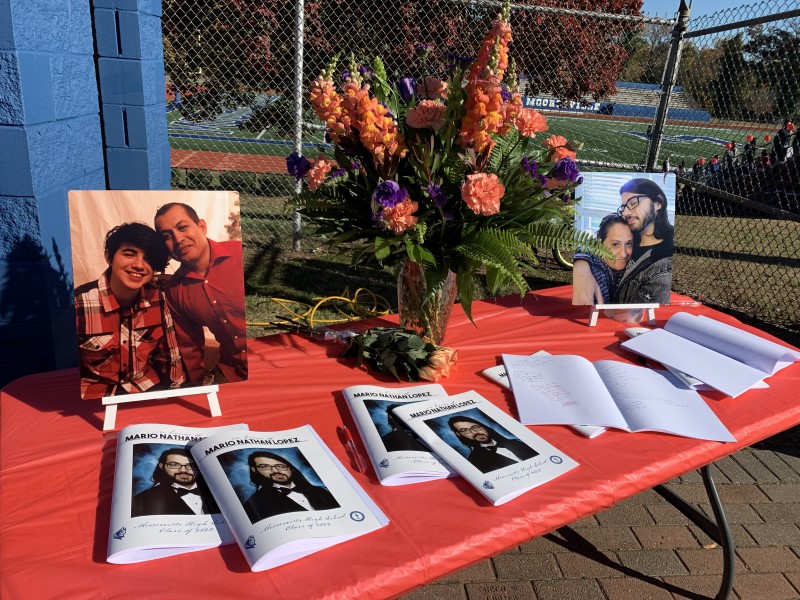 Eddie Karriker opened the ceremony by encouraging mourners to be thankful even in the midst of their sorrow.
"It's a hard day, but it's a beautiful day," he said. "Look at the sky — it's a beautiful sky, when we come today to celebrate a life that was too short."
Karriker directed the crowd to look towards scripture to find hope and light in the darkness of the day and asked the Lord to heal everyone's heart.
A multitude of those broken-hearted school friends came one by one to the podium to speak about Nathan, the boy they laughed with, played video games with, and shared life.
A childhood friend from Mexico, Aleyah, was first to share, saying she hoped Nathan was watching and listening from above.
"There's so much to say and not enough words," she said. "He was the best kind of person— so good at being a decent human being."
Aleyah read a statement from Nathan's Honors Chemistry teacher, James McElhany, shining a light on what kind of student he was.
"He wanted to take every science class available," McElhany said. "From the first day, he sat at the front of my class. He was always on task, working hard, and lending a helping hand to peers."
McElhany said that Nathan was "the epitome of kindness, and the world was a darker place without him."
Another friend, Maddison Parker, recalled Nerf gun fights, crazy times on the water slide, and sleepovers with Nathan and her brother.
Wiping tears while weeping, she described him as "a beautiful soul."
Faith, who said she dated Nathan for almost two years, said they remained friends after they brke up.
"We just horse-played and joked around together," she said. "We had so much fun together. He was always there for me when I needed help. He was the most selfless and helpful person I ever had the pleasure of meeting."
Another friend, Preston, said Nathan was "super kind to everyone." He would show up to friend gatherings even when he didn't want to be there just to make others feel good.
Eric said he could "look to Nathan for anything — he was nothing but a gentle soul."
Another friend, Cody, said Nathan was "more than a friend," while John said, "He was the best friend I ever asked for. He knew how to care. You couldn't ask for a better person."
Other friends, Daniel and Andrew, spoke about the tough time Nathan was having, but said he prioritized others' feelings over his own.
Pastor Donald Davis asked mourners to hug each other, tell everyone they loved them, and to honor Nathan's caring heart by caring for others. He quoted lyrics from Nathan's favorite band Queen.
"We're creating magic today because he has grown us together," Davis said. "You're still here, what are you going to do today?"
Pastor Sheldon McIver asked the crowd to remember Nathan's name, the stories of his heart, and to allow them to live on.
"He was a son, brother, friend, and neighbor," McIver said." Remember you are important and loved even if you're different — you're wanted and needed."
The pastors concluded by asking everyone not to judge a person by their worst or last actions, but to focus on how God will use situations for His good.
The unconventional service concluded with a recording of Freddie Mercury singing "Bohemian Rhapsody."
Nathan's mom, Ashley Lopez, swayed in a giant group hug with many of Nathan's friends as the classic played.
"I got to rock it out with my son one last time," she said. "It was just what I wanted — short, simple, and meaningful."
Ashley asked people to continue to spread the word about suicide prevention and to hand out the awareness fliers she had made.
"I was told today that Nathan already helped one person — he saved a boy's life," she shared.
Saying her brain was mush, Ashley said she didn't know whether to turn to the left or right to gather all the hugs waiting for her.
"Do you see all these people here? They're the reason why I'm still standing," she said.