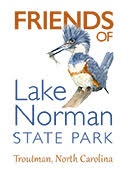 BY DEBBIE PAGE
debbiepage.iredellfreenews@gmail.com
The Friends of Lake Norman State Park (FLANO) recently announced a new series of summer stewardship events, "Donuts for Doers!" The group is also helping neighbors in Troutman with its Earth Day Cleanup on Thursday afternoon.
EARTH DAY
FLANO members will join with Troutman Parks and Recreation on Thursday, April 22, for neighborhood cleanups from 5 to 7 p.m. After meeting at Town Hall (400 North Eastway Drive), volunteers will fan out through areas that are not part of the town's Adopt-A-Street program.
The Town of Troutman will provide safety vests, orange trash collection bags, and plastic gloves for participants. After trash pickup, volunteers will then meet back at Town Hall at 6:45 p.m. to weigh all collected trash for a group total.
The Rotary Club of Troutman, Miss Metrolina Kaitlyn Sparks, Miss Statesville Melody Hager, the Fellowship of Christian Athletes, the Agriculture & Science Early College Beta Club, Troutman Baptist Church, and the Troutman Parks and Recreation Committee are also supporting this event.
Contact Parks and Recreation Director Emily Watson at ewatson@troutmannc.gov if interested in participating.
DONUTS FOR DOERS!
Community members are invited to join FLANO volunteers for some morning donuts and volunteer work, including shoreline cleanup or trail maintenance and construction.
The first event, a shoreline trash clean-up with REI, will be on Saturday, May 22, from 9 a.m. to noon. Volunteers should meet at the Lake Norman State Park Visitor Center to get their assignments. Please email flanosp@gmail.com to help them plan for volunteer assignments.
Bring gloves and wear sturdy shoes. Trash bags and other equipment will be provided.
Other volunteer opportunities are planned for June 26, July 24, August 28, and September 25 from 9 a.m. to noon, again meeting at the Visitor's Center. Since each project is based on park needs at the that time, more information about each opportunity will come out nearer to the event time.
UPDATES
Last fall's Habitat Enhancement Project is complete, but Lake Norman State Park Park Superintendent Scott Avis will check on the area to see if further maintenance is needed for a future volunteer day activity.
Avis also reported that the park's new cabins are now open and are highly popular amenities. He is checking with the Catawba Indians about their historical use of wildflowers to help choose cabin names and themes and for future landscaping decisions.
FLANO's fishing line collection boxes are continuing to be emptied and the contents recycled.
REI GRANT
FLANO has applied for an invitation-only REI grant to complete a project that addresses climate change. The two-year grant cycle is worth $5,000 in year one, with a possible renewal for the full or partial amount the next year.
The group submitted a Lake Norman State Park Habitat Enrichment and Climate Education
Project to prioritize work to reverse the climate crises through natural climate solutions and community education by enhancing park habitat through eradication of invasive species and reforesting of the old homestead area with native plants.
If the grant is awarded, the project will focus on three acres of land adjacent to Clark Cove Road that drain into Norwood Creek. FLANO members will remove invasive species and replace them with Mellow Marsh Farm riparian and pollinator seed mixes and 20 three to five- gallon trees, including Black Cherry, Red and White Oaks and other hardwoods.
These plantings will stabilize drainage areas to prevent erosion and sedimentation through good forest management. The addition of three acres of green space in the Lake Norman State Parks backcountry will help offset climate change with addition of carbon-consuming vegetation, especially hardwood trees.
This project will also involve planting five large seven- to ten-gallon shade trees on the shore of Park Lake which will aid in carbon offset while bringing people outdoors. A diverse group of individuals fish, picnic, and recreate in this area.
FLANO also will add a display in the park to educate individuals about the power of trees to shade and cool communities, to soak up and store increasing rain water, and to clean the air people breath.
In the first year, the project would use $4,000 in grant funds to purchase 60 pounds of seed mixes, four tulip poplars, six white oaks, five northern red oaks, five red maples, three mockernut hickories, three black cherries, mulch, peat moss, and fertilizer.
Other project costs are $50 trailer rental for plant pick-up, $500 for treated lumber, Sakrete, and weatherproof climate education display materials, $350 for shovels, rakes, and gloves for planting, and $100 for snacks and drinks for volunteers.
If awarded, FLANO will receive first-year grant funds in mid-May. After a December progress report, REI would decide the second-year grant amount next March. The final grant project report is due in December of 2022, with an April 30, 2023, deadline to expend grant funds awarded in 2022.
UPCOMING MEETINGS
FLANO summer meetings are scheduled for Tuesday, June 8, and Tuesday, August 3, at 6 p.m. at the shelter behind the Visitor's Center. Anyone interested can attend.
FOR MORE INFORMATION
♦ To learn more or join FLANO online, visit the FLANO website at https://www.friendsoflakenormanstatepark.org.
♦ To keep up with the latest FLANO and park activities, "like" FLANO on Facebook at https://www.facebook.com/FriendsofLakeNormanStatePark/.
♦ Also visit the Lake Norman State Park website at https://www.ncparks.gov/lake-norman-state-park/home.