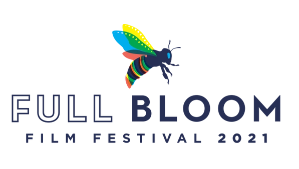 Special to Iredell Free News
At its heart, Statesville's Full Bloom Film Festival has always been about connection.
Connection to the community through shared experiences at local venues. Connection to new ideas and people from visiting filmmakers. Connection to a world of cultures and emotions through a diverse and engaging selection of films.
Those were all missed connections in 2020, when the festival was forced to cancel due to the COVID-19 pandemic, said Iredell Arts Council Director John Koppelmeyer.
"This year, we're taking the festival back to its roots, focusing on bringing incredible films and – of course – fun parties and the red carpet back to Statesville," Koppelmeyer said.
The 6th Annual Full Bloom Film Festival, which will be held September 9-11, is dedicated to bringing innovative, unique cinema to Statesville, said FBFF Chair Charles Ashe.
"Our festival has been very popular in past years, which helps us to draw quality films and is ultimately the foundation of a great film festival," Ashe said. "We have been so fortunate to have attracted such high-quality films and expect a diverse selection from around the U.S. and the world this year."
The festival will keep safety in mind when determining crowd size and other factors for COVID-19 safety by relying on state guidelines at the time of the festival, Koppelmeyer said.
"We want to ensure our guests have a safe and enjoyable experience," Ashe added.
The festival has been an event people look forward to all year, Ashe said, and he expects that the return of the festival will be met with great excitement.
"Having been involved for the last two festivals, Full Bloom quickly became my favorite Statesville event," he said. "I look forward to meeting friends old and new while coming together downtown in September to enjoy each other and some great films."
FILM SUBMISSIONS
Submissions are currently open for the Full Bloom Film Festival. Filmmakers from around the globe are encouraged to submit films in five categories: Narrative Feature, Documentary Feature, Short Narrative, Short Documentary, and Animation. Awards will be given to the winning films in each category as well as "Best of Fest." Submissions are accepted at www.filmfreeway.com/fullbloomfilmfestival.
WANT TO GO?
Tickets for Full Bloom Film Festival are available at https://fullbloomfilmfestival.org