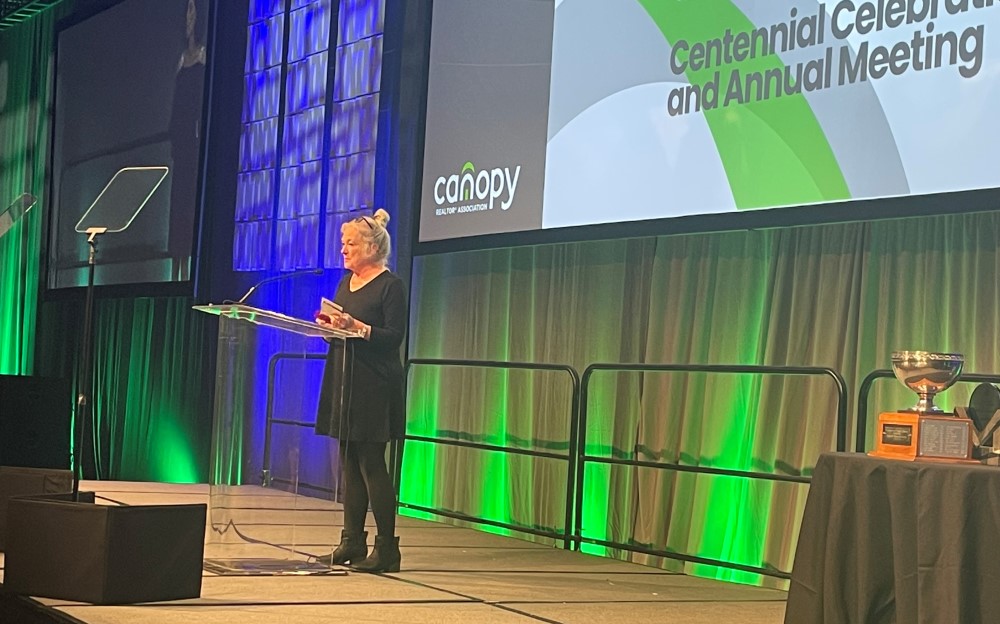 Special to Iredell Free News
CHARLOTTE – Realtors and real estate industry leaders gathered at the Charlotte Convention Center on Friday, December 10, for a Centennial Celebration, to honor the legacy of one hundred years of excellence in leadership and service from Canopy Realtor Association and to support the Canopy Housing Foundation.
Through the important work of Canopy Housing Foundation, the charitable arm of Canopy Realtor Association, Realtors are able to recognize and shine a light on the work people and nonprofits are doing across its jurisdiction of Mecklenburg, Iredell and Haywood counties. Realtors and industry leadership, deeply committed to supporting the Foundation's work paid tribute and recognized Gary and Patti West, founders of Fifth Street Ministry of Statesville, as Humanitarians of the Year.
For over 30 years, Gary and Patti West have greatly impacted all of Iredell County through Fifth Street Ministries, which began in Burnsville, N.C., on September 18, 1988, as a clothing and supply closet. In March of 1990, the organization moved to Statesville, where Gary and Pattie operated an emergency shelter, winter shelter and a battered women's shelter. A few years later, the Wests added a soup kitchen. In 1991, their operation moved to Avery Sherrill School, which offered more space for their clients and their mission. This particular facility was located in the south Statesville area where those most in need in the city were found. In 2008, Fifth Street Ministries built and moved into its current location.
Fifth Street Ministries has four core programs: Shelter Services – including the Community Kitchen and My Sister's House – a domestic violence/sexual assault shelter; a Veterans Transitional Housing Program; and the PATH program, which provides outreach and services for the chronically homeless. Each of these programs is the only program of its kind offered in all of Iredell County, including the larger region of Davie, Stokes, Surry and Yadkin counties.
"Patti and Gary's mission and drive to treat all people, with dignity, love and respect, no matter what their condition or background truly embodies a humanitarian and exemplifies the overall spirit of this award," Canopy Association/Canopy MLS President David Kennedy said. "Because of the Wests' hearts, spirit of service, love for all people and dedication to this work, lives have literally been saved. Their work with the homeless over the last 30 years is a special calling that should serve as an inspiration to the Realtor® family and the community at-large, reminding us all that one small act, can impact an entire community."
As the Canopy Housing Foundation's Humanitarian Award winner, Gary and Patti West received a commemorative crystal award and Fifth Street Ministries received a $5,000 donation from Canopy Housing Foundation in their honor at the Centennial Celebration.
About Canopy Housing Foundation
Canopy Housing Foundation is the charitable-arm of Canopy Realtor Association. The Foundation works to create a community where all housing needs are met, with a mission to create housing opportunities through advocacy, education, funding and leadership. Canopy Housing Foundation established the Humanitarian Award in 2007. The award, given annually at the Canopy Realtor® Association/Canopy MLS Annual Meeting, Awards and Auction, recognizes individuals, projects or groups making outstanding contributions in the community. Since 2007 the Foundation has returned $41,250 to community organizations through this program. For more information, about the Foundation visit www.canopyhousingfoundation.org.