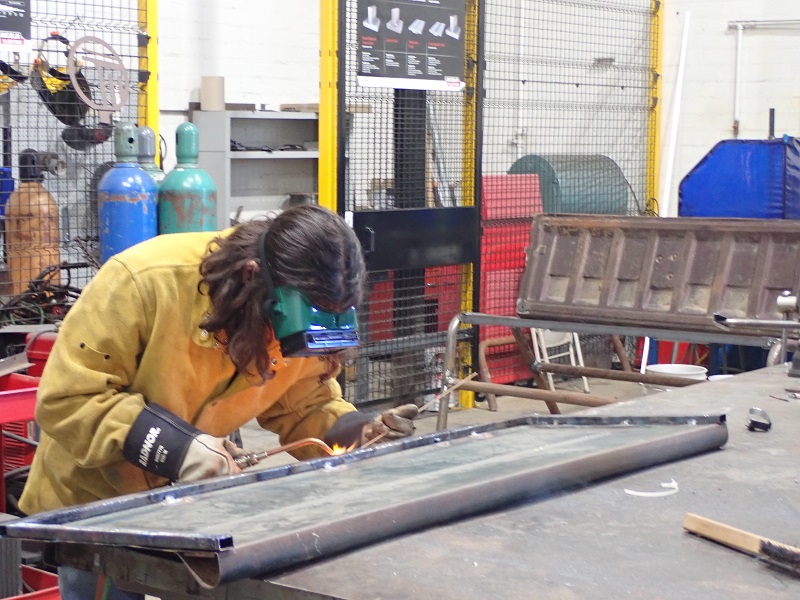 BY KARISSA MILLER
Career Academy and Technical School's welding program provides hands-on opportunities for students to develop in-demand job skills.
Enrollment in the programhas increased from 12 students last semester to 19 this fall. Welding Technology I and II, which are taught by instructor Dwayne Troutman and teacher assistant Larry Gray, introduce students to the different forms of welding.
"What I want my students to learn is first how to use their imagination. Second, I want to show them their talents are valuable," Troutman explained.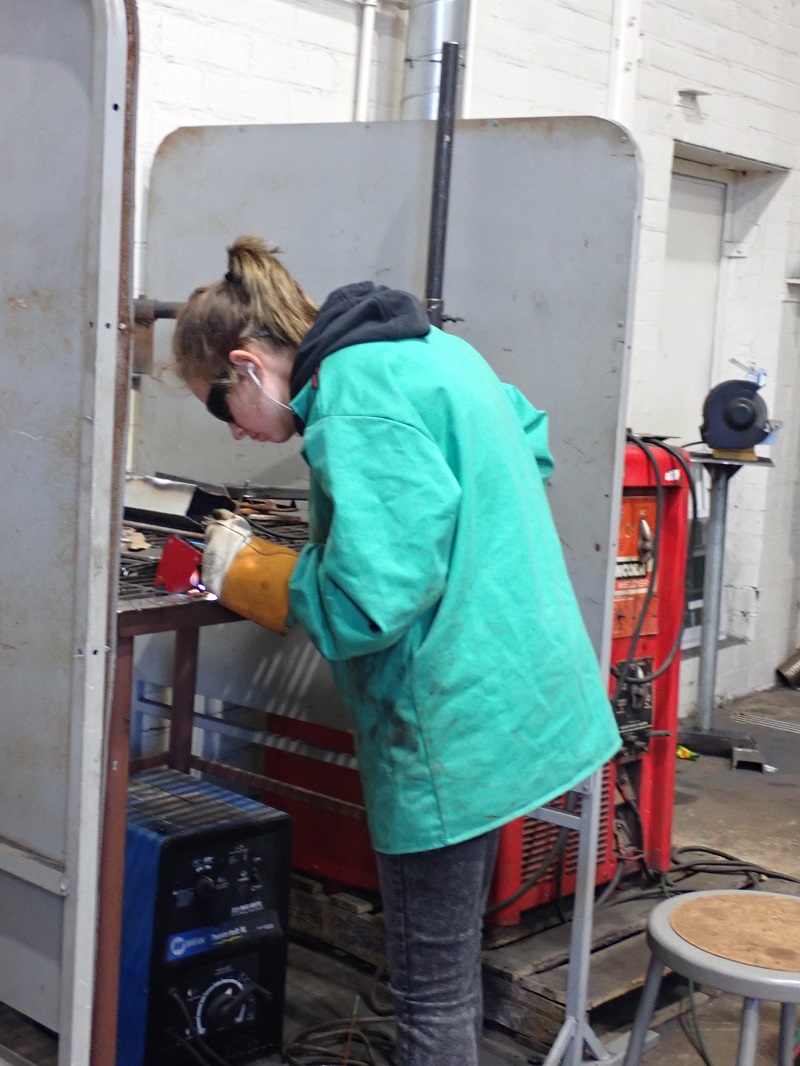 Troutman has been encouraged by increasing interest by female students in welding. The three girls in his class are natural leaders in the shop and are creative.
The class is making small art items for people to take home for a donation. The donated money will then help generate funds to purchase more metal.
"Since we started, the students have been wearing Pinterest out for new ideas," Troutman said.
Student Lillian McCauley came up with an idea to weld metal pumpkins out of horseshoes. The students have also created Christmas trees and snowman.
McCauley, a junior at South Iredell High School, said she is comfortable stepping into a tiny booth and lighting a white-hot torch.
"There's a rod you put in a little machine that sends electricity through it," she said.
McCauley said she likes the hands-on aspect of creating something as well as the creative process of building it.
"It's a really good feeling when what I envision comes out right," she said.
At the beginning, she said she did worry a little about setting herself on fire, but once she learned the proper handling of the torch her fears disappeared.
"I would like to see more girls get into welding. It holds a lot of power being in a male dominated industry," McCauley said.
Student Kinsey Johnson, a senior at South Iredell High, said that she's always been interested in welding and hopes to one day help her dad by making him some stands for his business.
Johnson, who comes from a family that is hands-on with wood and other materials, said that one of the challenging aspects of welding is being able to build something three dimensional.
"It can be harder than it looks. The bench that the guys are working on — they thought it would be easy, but there's a lot more to it than welding a few sticks," she explained.
Johnson said she will likely compete in the welding competition through skills USA in the future.
Teaching students how to apply their knowledge outside of the classroom was a major goal when Iredell-Statesville Schools created CATS.
Troutman said that there are many good paying welding careers and jobs in Iredell County. He said that right now he's in the process of trying to help two students find internships with local companies.
A certified welder in North Carolina can earn between $36,200 and $48,600 a year.
Photos