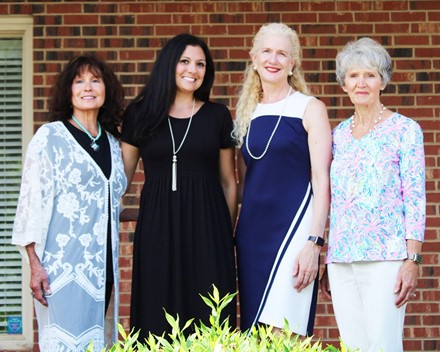 Special to Iredell Free News
Abigail Jennings and Jane Getsinger, owners of Lake Norman Realty, along with Linda Hecht and Nicole Hecht Howard, owners of Hecht Realty, are pleased to announce the news of their companies joining together under the Lake Norman Realty name, with merged operations taking effect July 1.
This historic alliance joins the two oldest Lake Norman real estate companies, representing a homecoming of sorts for both. The visionary leaders of each entity began their real estate roots in the early 1970s under the mentorship of John Hecht in Denver, N.C. James Jennings went on to found Lake Norman Realty in 1978, while Bob Hecht took the reins at Hecht Realty.
In 1998, Jennings' daughter Abigail stepped up to lead Lake Norman Realty while Hecht's daughter Nicole did the same for her company following Bob's passing in 2019.
"Both men built remarkable firms throughout their careers. Today, we honor their pioneering and entrepreneurial spirits. Long before others, they each knew the potential in the future of a Lake Norman real estate market. We are honored to further their legacy by continuing to provide outstanding services to the entire Lake Norman region," said Abigail Jennings, president of Lake Norman Realty.
After nearly five decades of service in the area, both Lake Norman Realty and Hecht Realty have built solid reputations for commitment to excellence and unmatched experience serving the Lake Norman and surrounding communities. Providing residential, commercial, and global relocation services with the largest property management division in the entire Lake Norman region, the newly merged rental portfolio represents over 1,500 properties including long-term management, short-term rentals, vacation rentals and HOA services as well as serving all sellers and buyers residential, commercial and relocation real estate needs.
"We are incredibly pleased to announce that through this merger, we are doubling our commitment to the West side of Lake Norman in order to best serve the growing Denver, N.C., and surrounding markets," Jennings said.
The offices at 885 Highway 16 North are conveniently located near the existing Lake Norman Realty Sales offices at 1818 Highway 16 North in Denver. The Hecht Realty 4,800-square-foot office space will be utilized as a dedicated Property Management and Rentals office for West side property owners, tenants, and HOA services.
"After nearly fifty years serving the Lake Norman region, it was especially important for our family business's next chapter to be with a quality local and trusted firm," Nicole Hecht explained. "To have found this with our friends and neighbors at Lake Norman Realty is exciting for us all. We would also like to give special thanks to all the clients of Hecht Services who have trusted us over the years for their real estate needs. We are grateful to you, and we look forward to serving you through Lake Norman Realty in the future."
In 2021, Lake Norman Realty marks its 43rd year of excellence serving the Lake Norman region as a one-stop shop for real estate. Now, with over 150 associates and seven office locations, the firm provides full-service real estate, in-house mortgage lending, insurance, and a full spectrum of property leasing and management, commercial brokerage, and international relocation services as a leading Real Estate Company of the World and Who's Who of Luxury Affiliate. For more details, visit www.lakenormanrealty.com.