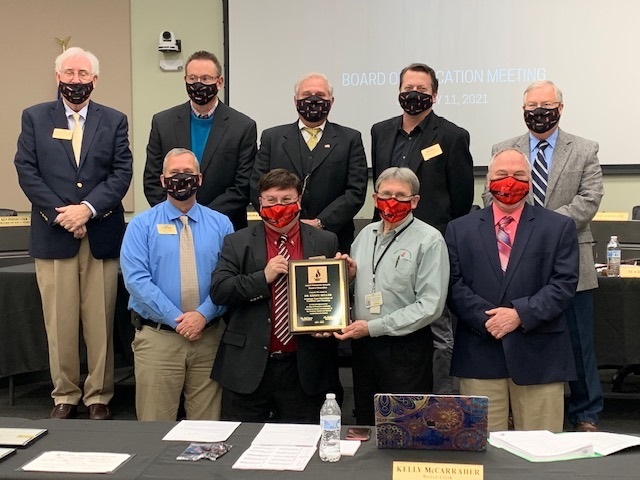 BY KARISSA MILLER
Iredell-Statesville Schools Assistant Superintendent of Facilities and Planning Kenny Miller remembers his entry into public education some five decades ago.
"When I came out of college, there were no jobs. I had to try and take care of my family so I had to find something that paid. I found a teacher assistant job," Miller recalled.
The year was 1970 and that first TA position launched a career that included work as a teacher/coach, administrator and district leader.
"For those teacher assistants and classified staff I would like to encourage them to move forward. There are many opportunities available for you out there. Just prepare yourself to take advantage of the opportunities that lead you on a path to success," Miller said.
Miller's introduction into education was a case of love at first sight.
"I love this school system. I've seen it grow. I've seen it improve. I've seen it in the hard times. This school system has grown into one of the best school systems in North Carolina," he said.
He's served as an I-SS teacher assistant, teacher, assistant principal, principal, coach, athletic director, department director and assistant superintendent.
During these years, many students knew him simply as "Coach."
Many students were introduced to football, wrestling, and baseball by Miller. He instilled so much more than the game in those he taught. Through his example, his students learned about resilience, accountability and humility.
They also learned to relish winning. Miller was involved in five state championship wrestling teams (including the Western North Carolina Athletic Association and the North Carolina High School Athletic Association).
In 1997, the N.C. High School Association recognized Miller's contributions to student athletics and community with a service award honoring his 25 years of service.
Although he no longer coaches, he attends games to support student-athletes and young coaches. He has shared his experience with many young coaches and student-athletes over the years.
"I see the kids and even grandkids of student-athletes I have coached at games and, yes, it makes you think how time has gone by so fast."
Miller is a lifelong Iredell County resident, a product of local schools and a proud 1966 Troutman High School graduate.
After his 50-year career, he is ready to pass the torch to a new generation of leadership and support their success. Miller announced his retirement as assistant superintendent of facilities and planning, effective December 31.
"I thank the school system for giving me the opportunities I've had over the years. That's why I stayed here," he said.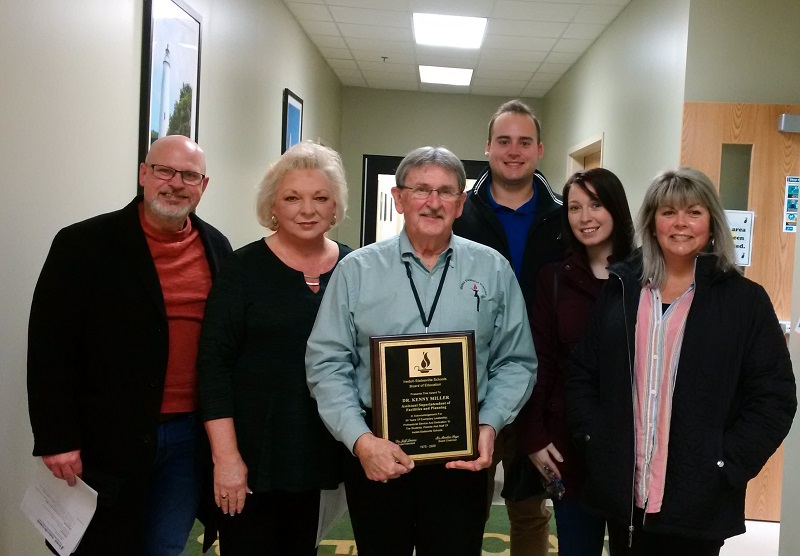 A Standing Ovation
I-SS Superintendent Jeff James called Miller's retirement bittersweet.
"You cannot replace Kenny. You can have someone try to fill his shoes. I think the person that I mentioned tonight (his replacement) would tell you the same," James said.
The superintendent, along with the school board, honored Miller on Monday evening during the school board meeting with a plaque recognizing his 50 years of services to the school district.
Co-workers and family stood and gave Miller a standing ovation. Family members included his wife Lisa Miller and Jon Miller, Jessica Miller, Sebastian Wirt and Emma Newland. His daughter and her family were out of state and unable to attend; but, sent their love and support.
Unique Knowledge of I-SS
As assistant superintendent of facilities and planning, Miller has worked hard both night and day to make sure I-SS buildings are well maintained and that problems like leaky roofs got addressed quickly.
He also gave presentations to the county commissioners regarding facility requests, while also attending regular school board meeting and facility task force meetings in the same week.
Miller received high praise from the school board for coming up with unique solutions to some of the district's most challenging maintenance and building problems as well as safety protocols during the pandemic.
He has a depth and breadth of knowledge of I-SS that is unrivaled over the past 50 years.
Miller is precise, and he's consistent.
He remembers the names of the all the superintendents, along with the order in which they appeared. At the same time, he can also recall the various land purchases throughout the years and can start slotting in the rest of the story and information to best advise the school board.
With that being said, the board plans to continue to work with Miller from time to time as needed on a consultant basis.
"He's the facility planner and also the maintenance planner. He's always impressed me with a clear printout of all these projects that needed to be done throughout the county. He's included how much they cost and what the priorities are," said school board member Charles Kelly.
Chairman Martin Page said that Miller can get blood from a turnip. For example, the district might have a $15 million project list, but only $3 million to spend.
Page explained that he was able to work through these funding challenges and advise them on what's most important. His expertise and leadership will be missed, he added.