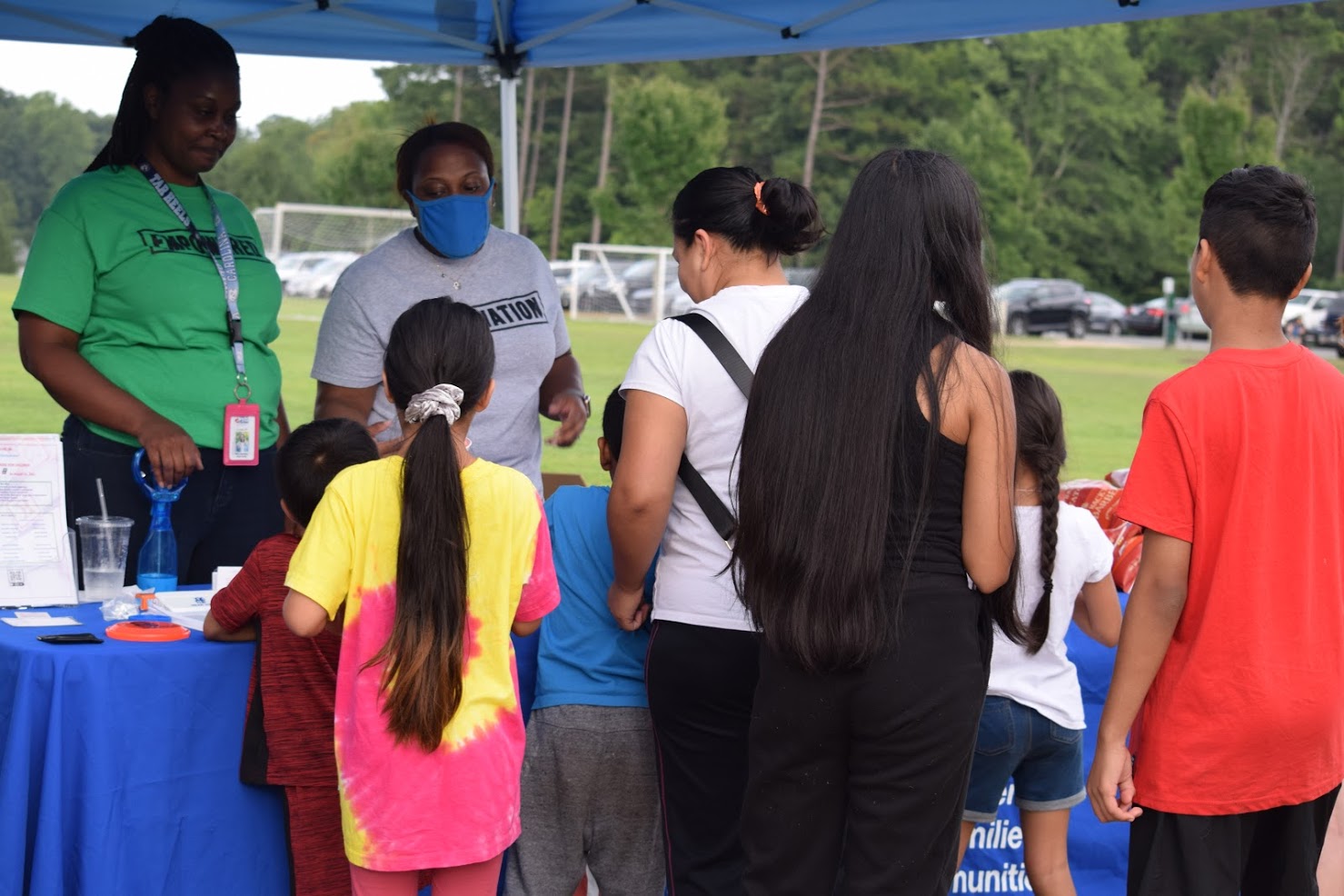 BY DEBBIE PAGE
debbiepage.iredellfreenews@gmail.com
Enjoying the cooler temperatures and cloudy skies, families flocked to ESC Park Tuesday night to play games, pet animals, and learn more about their community and public safety agencies at the National Night Out event in Troutman.
Interim Troutman Police Chief Darrin Payne, heading up his second event, was thrilled with the weather and the turnout. "Everybody that I've talked to is enjoying the event," he said. "They love it."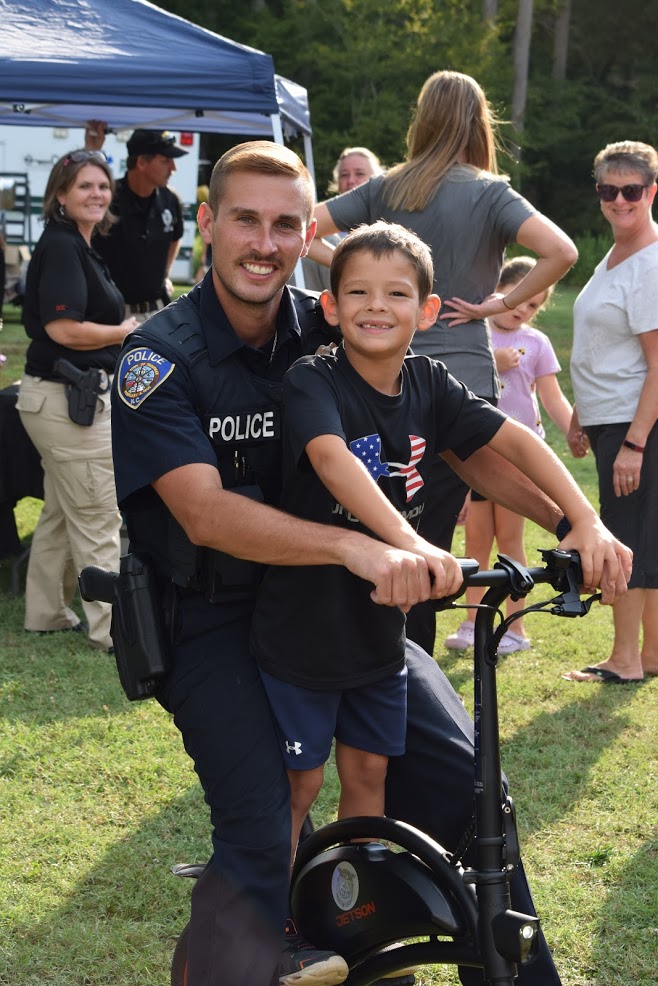 "We thank everybody who's come out to support us. The more you get the kids involved, the parents come too. We just want to get everybody out here, see that we're human too, and have a good time!"
Sheriff Darren Campbell said events like National Night Out help build relationships with community members of all ages, pointing to the games, informational booths from various agencies, and educational organizations present.
The Iredell County Sheriff's Office brought its mobile classroom to help folks experience various aspects of law enforcement. "It gives young kids and teens information about the department, drug recognition and how to say no, and crime scene investigation," Campbell said.
A deputy is assigned to take the classroom to schools, festivals, churches, and events as an educational tool, and K-9 Tito, who goes on these outings, is a hit with visitors.
After decades in law enforcement, retired ICSD Maj. Todd Carver is currently the Basic Law Enforcement Training (BLET) Program Coordinator at Mitchell Community College, focusing on training the next generation of law enforcement officers.
"It's amazing to me the young people who are coming into my office and lining up to do this job because they want to help people," Carver said. "They say, 'I don't want to sound silly, but I really just want to help people and make a difference in my community.' "
"Our student numbers are up in the past two years. I'm getting students in who want to be a part of the changes in law enforcement, part of making it better. That's all about building relationships, getting out of that car, and interacting with people."
"I'm excited about this next generation of officers coming into the profession because I think it's broadened our appeal to a larger group of people," added Carver.
Nineteen students will graduate from the BLET program by early September. The program is offered four to six times per year, depending on area needs.
Demand is high right now for officers. In Carver's next class, seven of the 20 students are already on the payroll with an agency.
In addition to BLET, Mitchell's public safety program offers basic fire, EMT, and paramedic training. Carver said many do not realize the college also offers a paramedic to RN bridge program, which guarantees candidates a spot in Mitchell's competitive nursing program if they pass the paramedic certification exam.
Because his students must be 20 years old to enter the BLET program, Carver encourages candidates to work on their associate's degree after high school and prior to entering training, which better prepares them for the program, raises their starting pay, and positions to better compete for promotions later in their careers.
Troutman Police Department hosted the event, which also had reps from the Iredell County Sheriff's Office, N.C. Highway Patrol, Iredell County EMS, Statesville Police Department, Iredell Search and Rescue, and NC Park Rangers.
Church groups, the Iredell County Health Department, Drug-Alcohol Coalition of Iredell, I-CARE, Partners Health Management, My Sister's House, Boy Scouts, Troutman Middle, South Iredell High School, and other community groups and agencies also handed out goodies, gifts, and played games with the kids.
Southern Treats and Dunkin' Donuts handed out ice cream, and the Town of Troutman provided hot dogs, chips, and water at the free event. Sound Wave DJ and Entertainment provided upbeat music to liven up the crowd.
Kids also enjoy a bounce fun house, inflatable slide, splash pad, and the large playground area in addition to corn hole and other games. Zootastic brought a petting zoo to entertain all ages.
Photos