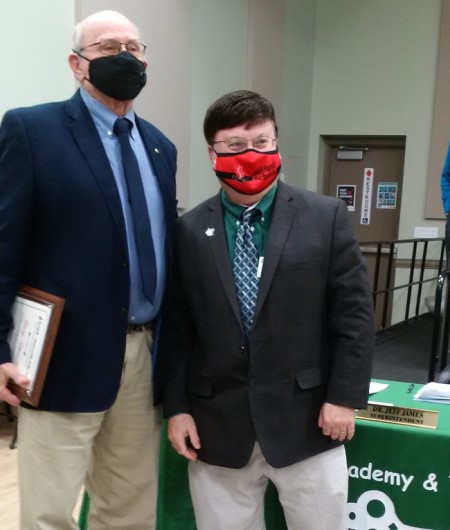 BY KARISSA MILLER
Gary Sherrill has helped influence the lives of thousands of students through continuous teaching, coaching and driver's education instruction to Iredell-Statesville Schools students.
Sherrill, who worked his entire career in the I-SS system, retired with more than 50 years of service. He was honored by Superintendent Jeff James and the Board of Education on March 1.
While there were other basketball coaches who had more wins during their careers, you would be hard pressed to find someone who loved coaching as much as Sherrill did.
"I enjoyed coaching some of my teams that did not have such a good win-loss record because it was a challenge to me. It was a chance to build character in my players," Sherrill explained.
One of his favorite memories is coaching with Bill Mayhew, his closest friend, at Troutman High School and South Iredell High School.
During his five-plus decades with I-SS, Sherrill served in several coaching capacities, including boys freshman and varsity basketball coach, assistant football coach and golf and track coach.
Coaching Highlights
Sherrill coached freshman and varsity basketball for 37 years at Troutman and South Iredell high schools, compiling an overall record of 393 wins and 383 loses.
Sherrill was named coach of the year eight times by the North Piedmont, Western Piedmont, Foothills and Central Piedmont 4-A conferences.
Other coaching accomplishments include:
• NCHSAA All-Star Game in Greensboro in 1985,
• Marion All-Star Game in 1970,
• 19 basketball players who went on to play college basketball,
• 8 players who scored more than 1,000 points,
• 11 conference champion teams,
• Western North Carolina playoffs 16 times,
• NCHSAA playoffs 15 times.
In addition to basketball, Sherrill was the head golf coach at South Iredell for 25 years. The team won seven conference championships and he was named coach of the year seven times.
He also was the assistant football coach for 30 years and track coach for eight years.
Education Highlights
Sherrill, a 1956 graduate of Scotts High School, attended Mitchell College and Erskine University. He graduated from Appalachian State with a bachelor's degree in Physical Education and History in 1962.
Sherrill began his teaching career at Troutman High School and then moved to South Iredell High when it opened in 1966.
He earned his principal certification, safety and driver's education degree from N.C. A&T University in 1978. He taught Driver's Education at South Iredell High and Lake Norman High.