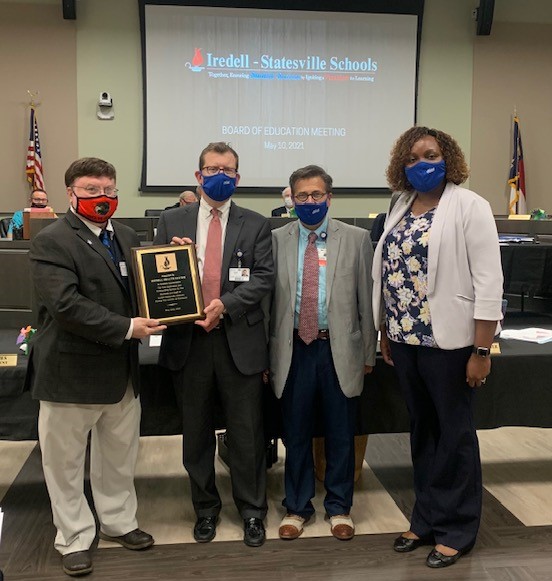 Special to Iredell Free News
Iredell-Statesville Schools recognized Iredell Health System during the May Board of Education meeting for its service to the school district and to the community at large.
I-SS administration is aware that it takes an entire community to address the needs of our students and staff. With the partnership and collaboration of the Iredell Health System, over 1,300 I-SS teachers and staff were vaccinated during two vaccine clinics in the parking lot of Iredell Memorial Hospital.
"Iredell Health Systems' dedication, positive attitude, and willingness to serve as an authentic partner to our school district has been a true gift," I-SS officials said in a news release. "The doctors, nurses, and staff of IHS came together seamlessly alongside our school nurses and volunteers to do what needed to be done. Their attention to the children of Iredell County is very much recognized and appreciated. On behalf of the over 20,000 children of I-SS and the faculty and staff across the district, I-SS sincerely appreciates the your partnership."
Iredell Health System gave the first vaccination on December 17. Since that time they have held over 50 clinics at Iredell Memorial Hospital and administered approximately 50,000 vaccinations.