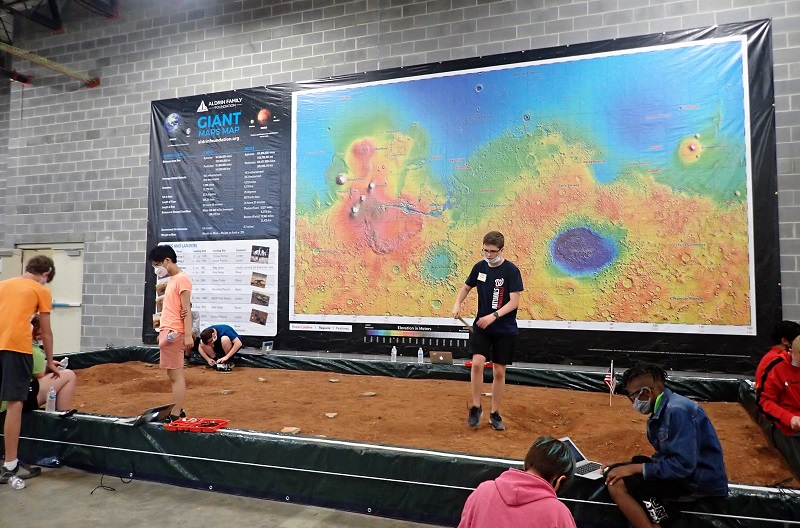 BY KARISSA MILLER
Iredell-Statesville Schools is working to encourage more students to learn about careers in STEM.
At the Career Academy and Technical School in Troutman, dozens of rising ninth-graders spent time designing robots and completing mini missions on Mars during the district's Rockets, Rovers and Robots camp.
"I'm kind of interested in biochemical engineering," said Narayani Garg. "It's kind of a mix of math, science, chemistry and engineering. I'm not sure if we would do stuff like rovers. Space is very interesting though."
"It's been really fun to be here," she added.
Garg worked in all girls group with Tofarati Agbebi and Nachammai Annamalai.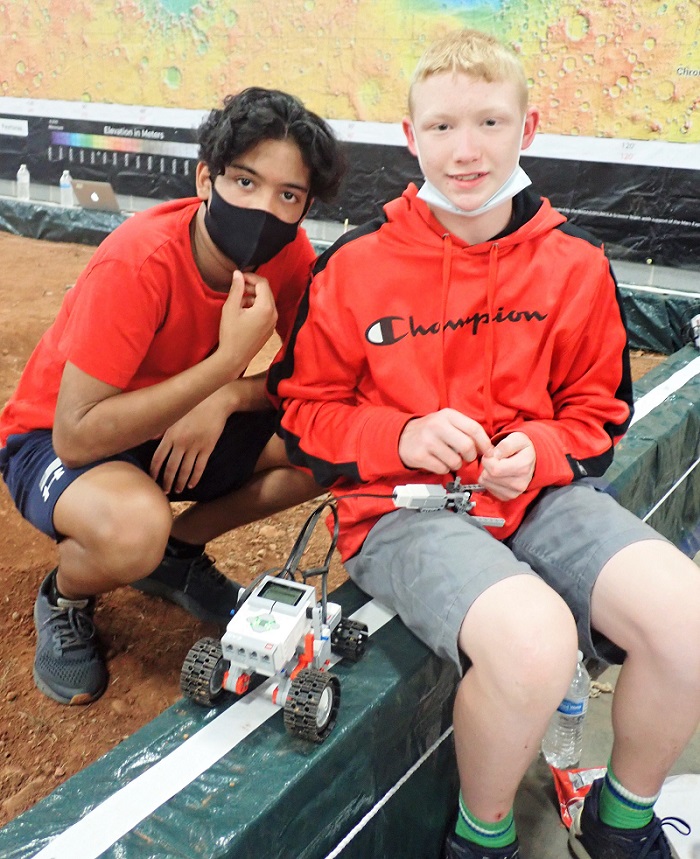 They named their robot EVE after the female robot character in the movie WALL-E. They used a medium-size motor, contained two big wheels for traction and had two smaller ones in the back for balance. It also had a lifting arm.
"We've definitely learned about collaboration," Agbebi said.
Even though they have two more months of summer vacation, they are excited for school this fall.
"I want to take what I've learned here, such as collaboration, and apply that next year," Garg said.
Annamalai agreed. She said that she liked working in a group and being part of a team. Group and collaborative work assignments were put on hold due the pandemic at many schools.
Students said they enjoyed being immersed in Mars this week.
The staff at CATS hung a massive Mars map, which measured 33 feet by15 feet, that detailed all of the Mars landings, as well as elevation and information about all of the craters due to little atmospheric pressure.
Nearby an indoor Mars simulation pit was built for students to move their robots across craters and other features.
"The kids are getting a well-rounded background in what it takes to get into outer space. In this case, Mars," said Lakeshore Middle teacher and camp counselor CJ Flay.
The three-week camp is designed to ignite a kids' passion for learning and engage them in science, technology, engineering, the arts and mathematics.
"I really enjoyed working with the kids. The behavior was great. They wanted to be here and it shows. I didn't know any of these students and hopefully I've made some friends since the three weeks I've been there," Flay said.
CATS Principal Larry Rogers was impressed.
"This is the most amazing camp. The students have been excited the most engaged that I've ever seen," he said.
I-SS offered Rockets, Rovers and Robots camp to rising ninth-grade students free of charge.
"This is the Buzz Aldrin Foundation. It's the first camp like this so far for the nation," said space camp coordinator Joanie Winter Kamp.
The Aldrin Foundation developed the entire curriculum for the camp, and I-SS teachers received training in advance so that despite some complicated topics students are able to understand the concepts and engage in the lessons.
Team leader teachers who are helping with the camp are from East Middle, Third Creek Middle, Lakeshore Middle, Troutman Elementary, Oakwood and West Iredell.
English Language Arts and Math and Science teachers are helping with the academic lessons are from Agriculture and Science Early College, Crossroads and Collaborative College of Technology and Leadership.
Kamp said that I-SS teachers who have been trained plan to bring the curriculum back to their schools.
The camp covered a number of topics related to rocketry and space travel, including aerodynamics, design, and some engineering activities related to Mars.
Photos