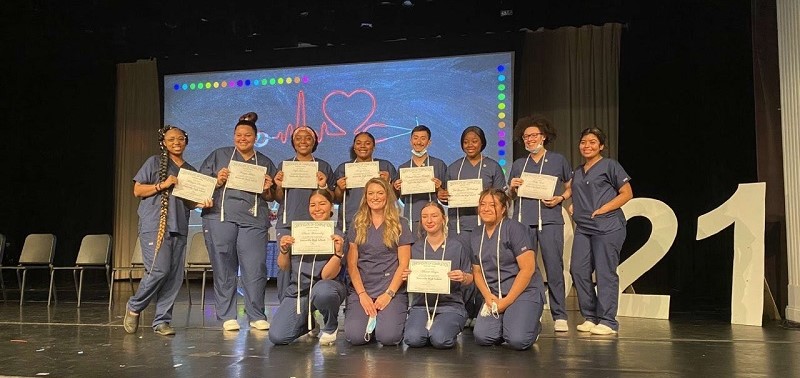 BY KARISSA MILLER
Statesville High School held its inaugural pinning ceremony Tuesday evening in Mac Gray Auditorium for the school's 12 Certified Nursing Assistant program graduates.
"I'm very proud of these students and how they have represented Statesville High School and the Nursing Fundamentals Program. I know they will go on to bigger and better careers," said Nursing Fundamentals teacher Lacie Howard.
"Always remember your future is bright and the sky's the limit," she added.
The SHS Nursing Fundamentals program has a unique story.
CTE Director Todd Williams noticed that many SHS students weren't participating in some of the district's pathway programs at the Career Academy and Technical School, such as the CNA program, because they couldn't drive to the Troutman campus
Williams asked Howard if she could create an in-house Nursing Fundamentals program at Statesville High. Over the summer, she worked on the curriculum and then launched it within a few months that fall.
"I've always been a multi-tasker. I work in the ER and at Surry College. I have twins and four kids. When I saw the challenge, I thought this is good. I love a challenge and I'm going to do it," Howard explained.
Another big motivator was her students.
"These students are just great. Once you connect with them and get that rapport and the communication is flowing, they can read you and they are comfortable and they will do whatever you ask of them," she said.
Howard said that the program's 100 percent pass rate is proof that students work better when they establish a good relationship with their teacher. All students have been with Howard since their freshman year.
The curriculum is similar to the curriculum offered at Mitchell Community College and is based on the N.C. Board of Nursing standards.
"It's basically the same curriculum, but we teach it the way we want to teach it. I put a lot of different tweaks on it just to make sure my students stayed entertained in class," she said.
Howard still works regularly as a nurse. Her students appreciate the real life-experiences and insights that she can give them, which helps "keep them hooked."
The Nurse Aid Training Course is 270 hours of classroom instruction plus 40 hours of clinical experience. The program also saves students anywhere between $400 to $600 in out-of-pocket expenses because it is free.
The clinical experience was completed at Iredell Memorial Hospital on Two North. The school was going to provide transportation to clinicals, but the students were also to work out transportation to and from the site with the help of their families.
In the future, transportation to clinicals will never be a barrier because the school will step in when students cannot get there on their own or via a family member.
In this program, Howard said, students learn the basic skills that are required to care for patients in a variety of health care settings. She also said that all of her students were offered a job at Iredell Memorial once they received their CNA certification.
According to Howard, Iredell Memorial will provide the CNA students tuition reimbursement to attend nursing school. It will also help them secure a full-time position once they graduate nursing school.
"That's the benefits that I have told them about and that's the benefits they see now. Once I showed them that door, they really wanted this," she said.
"Getting your CNA — that's the first obstacle that you have to jump. Once you get through that, you'll start to see all these doors open for you."
Howard said she's thankful for all of the hands-on help she received to make the night special for her students. She said teacher Shelley Sigmon helped decorate and said the prayer.
She also wanted to thank SHS Principal Chad Parker, Nurse Aide Specialist Barbara Burt, CTE Director Todd Williams and CDC Greg Stewart.
Graduates
• Mariah Bayer
• Nyla Bowman
• Diana Hernandez
• Molly Hole
• Juh'Quayden McCollough
• Jasmyn Misher
• Richard Ramos-Restrepo
• A'niya Rivers
• Malayzia Roseboro
• Laura Sarmiento-Carvajal
• Janette Solis-Anselmo
• Nyah Vasquez