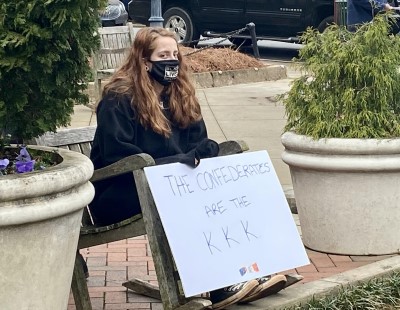 FROM STAFF REPORTS
Chairman James Mallory left no room for misunderstanding as he opened the public comment portion of Tuesday's meeting: "The Iredell County Board of Commissioners is not moving the Confederate monument."
That statement — and similar comments made by Mallory on March 6 during an Iredell County Republican Convention session — were taken by some on Tuesday night to be a reversal of a 4-1 commission vote two weeks ago in support of a resolution to begin the process of moving the statue.
Mallory said that the March 2 vote was simply a commitment to work with the statue's apparent owner, the Daughters of the Confederacy, if they were open to moving the monument. That group has rejected the idea, meaning the statue will remain, Mallory said.
Several speakers during Tuesday's meeting voiced disappointment that Mallory indicated the monument will not be moved.
"When you make a vote — you stick to that vote and you do right. The conversation you and I had, Mr. Mallory, was that this was going to be moved. I believe your word is your bond, and you have to represent more than one race of people," said Statesville City Council member Doris Allison, who noted she was speaking as a "citizen and Black woman."
"(The monument) has caused great anguish to people of color in our community. Do we want a significant part of our community to endure the pain of walking past this monument?" asked Rev. Steve Shoemaker.
Others voiced anger toward the commissioners — Mallory, Melissa Neader, Gene Houpe and Marvin Norman — who voted in support of the resolution, which was opposed only by Scottie Brown.
"These people (anti-monument protesters) have done nothing but start trouble in this town, and what you've done, playing both sides, is only going to make it worse. We want some honesty and stability," said Tommy Hamel. "We're tired of being told we're racist because we're white and we're carrying a Confederate flag. No more cancel culture, no more Black Lives Matter."
Buddy Hemric told commissioners that the history of the statue is important enough to support leaving it where it is. "That statue represents nearly 600 men of Iredell County that lost their lives," he said.
Following the public comments, Commissioner Houpe said he wanted to clarify the March 2 vote. When the Daughters of the Confederacy indicated they were not open to moving the monument, it made the March 2 resolution "dormant," Houpe said. "(The resolution) was not a unilateral motion to move the statue. It was not. … There's been no flip-flopping," he added.
Mallory also spoke after the comments, noting that it appears the county never accepted ownership of the monument and saying that state statutes are very narrow in what the county can do regarding its location.
"If the Daughters of the Confederacy owns the monument, which we believe they do, if they wanted to move the statue then our resolution was to facilitate that process," Since the group does not agree, he added, "that means that there's no mutual agreement and monument remains exactly where it is."