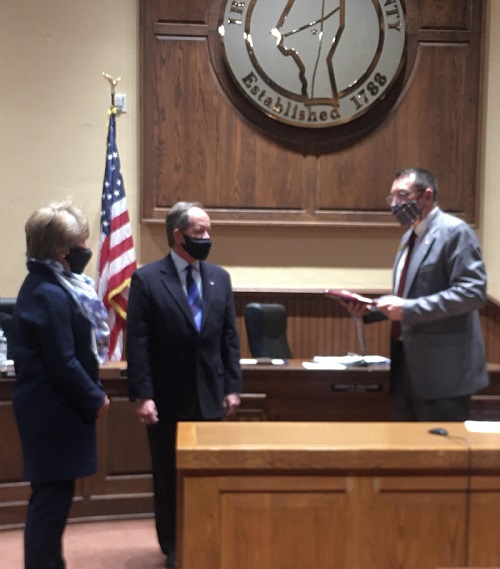 BY KARISSA MILLER
The Iredell County Board of Commissioners recently presented former N.C. Rep. John Fraley with a plaque in appreciation for his service and contributions to the citizens of Iredell.
Fraley, who represented District 95 in the N.C. House of Representatives, did not run for re-election in 2020. He served in the House for six years.
Chairman James Mallory said when Fraley retired from working upstate, he moved back to the area and looked for ways to serve his community.
"He saw the opportunity to run for office and represent us in the House of Representatives," Mallory explained. "When he came on board, he hadn't been in local politics in many years. What he had was a passion — a passion for learning what the issues were and bringing to bear his knowledge of working in business and solving problems."
Fraley earned respect because he went down to Raleigh "to learn the nuts and bolts of how the House functioned and how government functioned in the state."
As a result, during his first term, he was elected the freshman majority leader by his colleagues.
After that, Fraley took on additional responsibilities as co-chair of Education Appropriations, co-chair of Education Policy – Universities, vice chair of Appropriations and served on the Transportation, Health, Education K-12, Rules, Calendar and Operations of the House and School Safety committees.
He also served on the Joint Legislative Standing Committees in education oversight, economic development and global engagement, transportation long-term planning and funding and program evaluation oversight.
Mallory said that commissioenrs were able to turn to Fraley when the county had an issue and weren't sure how to influence the outcome. An example was a 911 grant. When county officials did not hear from the state, they turned to Fraley.
Fraley told the chairman that he wasn't familiar with the grant, but reached out to a colleague who could help Iredell officials in their efforts.
Mallory explained that the outcome was favorable thanks to Fraley's help.
The chairman described the retired lawmaker as someone who is "very quiet and didn't have to raise his voice to get people's attention."
"When he would speak, everyone would stop and listen. They took his words and they gave him great credence and weight," Mallory said.
The chairman also thanked Fraley's wife, Adelaide Fraley, for being his "essential enabler."
Fraley said that he's most appreciative of the recognition. He also mentioned that most of the contributions mentioned he considered to be public service and part of his duties.
"Anytime it becomes more about you than it does public service then it's time for you to go home," he said.