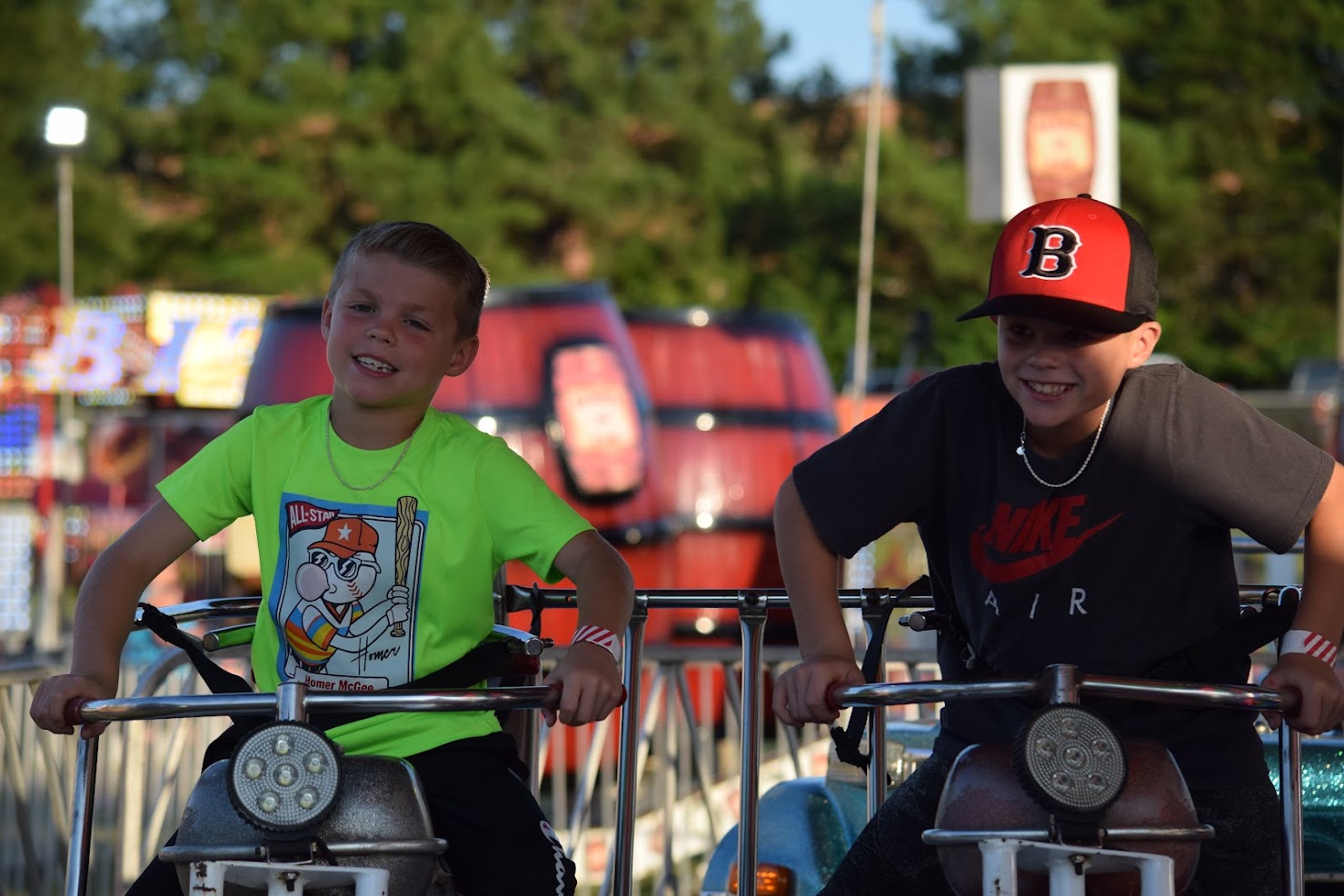 BY DEBBIE PAGE
debbiepage.iredellfreenews@gmail.com
Throngs of people arrived at the Iredell County Fairgrounds on Friday night to experience the thrilling rides, view the exhibits, and learn more about agriculture at the 85th annual event.
Hosted by fair director Jim Head, the official ribbon-cutting ceremony to open the fair featured local dignitaries, including N.C. Sen. Vickie Sawyer, Commissioner of Labor Josh Dobson, County Commissioner Melissa Neader, Troutman Mayor Pro Tem Paul Henkel, Iredell-Statesville Schools Vice Chairman Todd Carver, Assistant County Manager Joseph Pierce, County Extension Director Nancy Keith, Kiwanis Club President Chuck Gallyon, and Carolina Dogwood Queen Pressley Anne Beatty.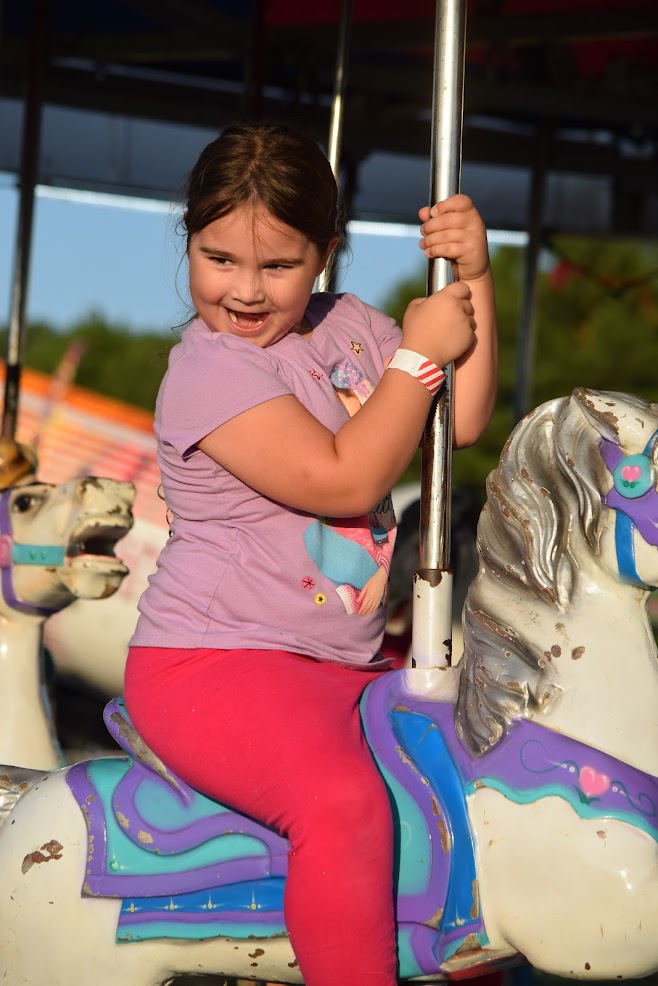 Keith said that the Cooperative Extension and Kiwanis Club were excited to have the fair after cancellation in 2020 due to COVID-19. "Our entries for the different departments are down considerably this year, but we've got pretty good 4-H exhibits and good entries in most of the classes," she said.
Though baked goods entries were few, plants, flowers, crafts, home furnishings, antiques, and agriculture entries were plentiful, according to Keith.
"My staff and I have worked really hard to add a lot of niceties this year to make the fair look more appealing to the eye, more aesthetically pleasing. We've worked really hard this past week or two."
"I think people are excited to be able to get out and hopefully everything will stay safe," added Keith.
Fair-goers wandered about the midway, trying their luck at games to win prizes and lining up to be spun about, dipped, and exhilarated on a variety of rides. Others enjoyed interacting with tropical birds or being mesmerized by the antics of Circus Shane.
The exhibition halls displayed the best of the area's talents, including beautiful quilts, garden displays, canned goods, photography, clothing, and youth club displays. Farmers also brought the best of their crops to compete for a coveted blue ribbon.
Families wandered through the barns, seeing the cows and other animals being primped for exhibition and watching demonstrations to learn where their morning milk comes from.
Fair food is always a treat. Attendees also enjoyed heaping ice cream cones, cotton candy, fried Oreos, and fresh squeezed lemonade as they took in the sights and sounds.
ADMISSION
The fair continues every day through September 11. General admission is $5, with children 6 years old and under free. Gates open at 5 p.m. except on Saturdays, Sundays, and Labor Day, when they will open at 3 p.m. The fair closes at 11 p.m.
No one will be readmitted after leaving the fairgrounds without the purchase of another ticket.
All county students (K-12) can attend the fair for only $1 admission on Tuesday, Wednesday and Thursday (September 7,8,& 9). On Thursday, September 9, senior citizens 60 and over and military veterans get free admission.
Special deals on rides are also available. Fair-goers can purchase an unlimited-rides wristband for $18 on Sunday through Thursday night or for $25 on Friday or Saturday nights.
Parking is $2 per car in Kiwanis-operated lots on the fairgrounds property.
DAILY ENTERTAINMENT
The Circus Shane Show will be performing each day. Shane Hansen has been performing since he was 3 years old with circuses, fairs, halftime shows, cruise ships, and in movies, and on TV.
His wife and three daughters also join the rock-n-roll circus show, which features juggling, trampoline, magic, a spinning cube, loop-to-loop, and fire feats as well as a 65-foot high dive and pyrotechnics. Audience members also get to join in on the fun.
Pretty Bird Paradise is a fun and educational interactive attraction. Guests can interact with these beautiful birds in a safe, enclosed environment and feed the birds with food sticks, which allow the birds to land for a tasty snack. Most of the birds are rescue birds.
DAILY SPECIAL EVENTS
Go Kart Racing competition will continue on Saturday at 7 p.m. at the outdoor arena. On Sunday, September 5, visitors can enjoy the Dairy Cattle Show (indoor arena) at 7 p.m.
On Monday night, Go Kart racers will again take the track at 7 p.m. at the outdoor arena. Tuesday will feature a Beef Cattle Show at 6 p.m. along with the Mini Outlaws Racers competing at 7 p.m.
Mini Outlaw Racing will return on Wednesday at 7 p.m. On Thursday, fair-goers can enjoy the Sheep & Goat Show at 6 p.m., followed on Friday, September 10, with the Dairy Judging Contest at 3:30 and the Dairy Show at 7 pm.
The fair's final Saturday on September 11 will feature the 5th Annual Special Abilities Junior Dairy Show at 3 p.m. at the Indoor Arena. This show is for participants (youth through adults) with special needs to have the opportunity to work alongside of an exhibitor and show a dairy calf.
The popular Demolition Derby finale is scheduled for Saturday at 7 p.m.
Photo Gallery