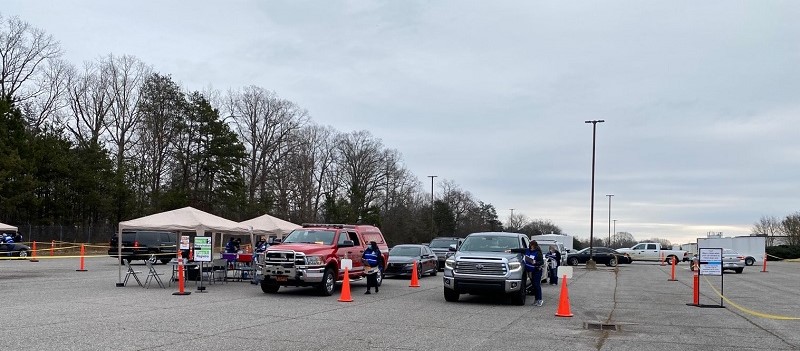 BY KARISSA MILLER
Around 500 people were vaccinated on Thursday during the COVID-19 drive-thru clinic at Hebron Baptist Church in Statesville.
The Iredell Health Department vaccination clinic was for individuals in priority group 1A of the vaccine rollout plan, which included first responders, high-risk health care workers and individuals age 75 and older.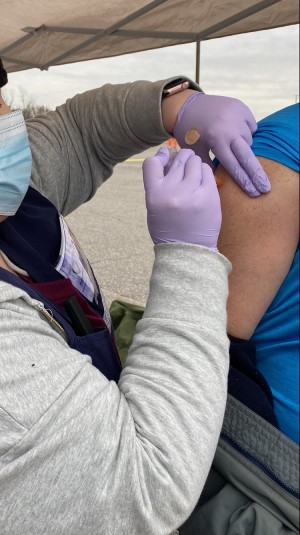 Some residents have complained on social media about enduring long waits and traffic jams only to be turned away after the supplies of the vaccine were depleted.
Megan Redford, the Iredell County Health Department's public information officer, spoke about the rollout after the Thursday clinic ended.
"While we did reach capacity prior to the close of the vaccine site and there were still long wait times, we feel this vaccine clinic was a success," Redford said.
Officials told Iredell County commissioners earlier this week that once a clinic reaches capacity, workers notify anyone else that shows up that they are at capacity for that particular clinic so that they do not have to wait in line only to be turned away.
In an effort to help eliminate some confusion surrounding the vaccine rollout, here are some excerpts from an Iredell Free News interview with Redford.
IREDELL FREE NEWS: What makes this vaccine distribution challenging?
REDFORD: There is a very limited amount of vaccine supply available and an immense amount of interest. We are notified about the amount of vaccine we will receive on Friday or Saturday for the following week. We are trying to quickly get this vaccine out to our residents. In the near future, enrolled providers will also be given vaccine to administer to their clients.
IREDELL FREE NEWS: How does the Health Department ensure that during Phase 1A only those individuals identified within Phase IA are being vaccinated? Is there some kind of honor system that you are using while administering vaccines?
REDFORD: During our registration process, we will inquire if you are part of the 1A group or over the age of 75 and ask that you bring proof of this to our sites.
IREDELL FREE NEWS: Since it is first-come, first0serve and it's a two-dose vaccine is the Health Department reserving a second does for each individual that has already been vaccinated?
REDFORD: We will receive vaccine specifically reserved for second dosage, based on the number of individuals we have administered a first dose to. Individuals who receive the first dose from our agency are guaranteed a second dose.
IREDELL FREE NEWS: We've heard some describe it as similar to the flu shot. Can you tell us what the shot feels like?
REDFORD: This vaccine is very comparable to a flu shot, and the side effects are similar as well.
IREDELL FREE NEWS: Does the staff handling the vaccines have enough protective equipment such as gloves while vaccinating?
REDFORD: We do. Fortunately, we are no longer seeing the extreme shortage of PPE equipment we experienced at the beginning of this pandemic.
Learn More
The Iredell County Health Department encourages residents to check the Iredell County website for updated information about upcoming vaccination clinics.