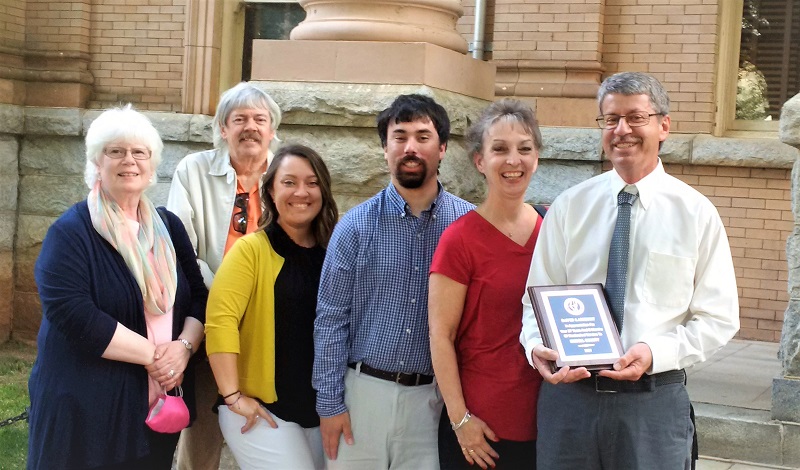 BY KARISSA MILLER
The Iredell County Board of Commissioners recognized one of its most loyal and consistent county employees front and center during Tuesday's meeting.
Solid Waste Director David Lambert, who is retiring near the end of this month after nearly 30 years of service, was honored with a plaque at the meeting in front of co-workers and several members of his family.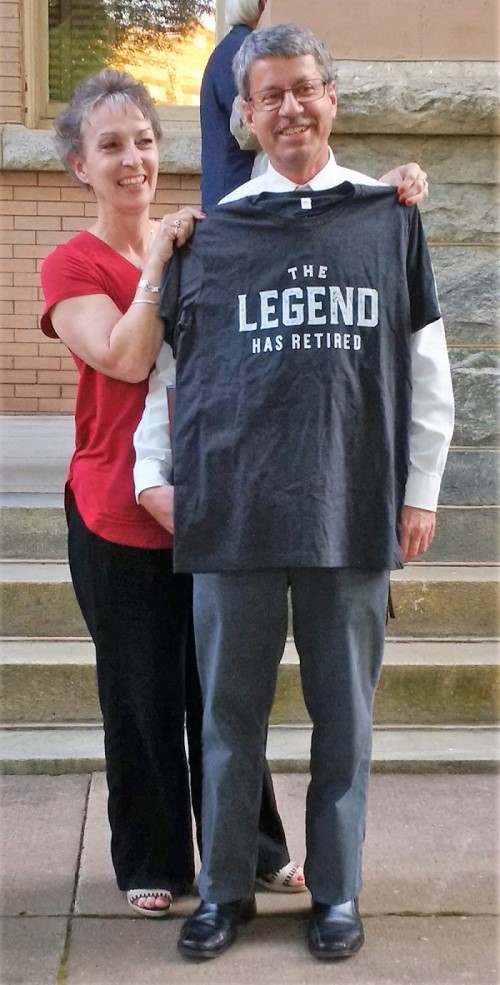 Former county staff and commissioners, who have a work history with Lambert, remained outside of the commission's chambers until just a few moments before the business meeting was called to order by Chairman James Mallory.
Mallory shared some brief details about Lambert's history with the county, and then asked him to come up to the front of the stage. It was an emotional sight for Lambert, who kept his composure as he stood in the front of the room as distinguished guests shared congratulatory remarks.
Former County Manager Joel Mashburn, who hired Lambert in 2004 as Solid Waste Director, was the first to surprise him.
"One of the finest men I've ever worked with," Mashburn said. "I told him he's too young to be retiring. The only thing I say is make sure you have something to do after you retire."
Mashburn credited the late Ron Weatherman, former Solid Waste director, for first seeing potential in Lambert.
"I'm proud to have known David and worked with David," he added.
Next, former commissioner Steve Johnson, described what he looked for in a county department head leader — a person who is respectfully assertive and gives you all the information you need to make a good decision.
"David you are a faithful steward and I have all the respect in the world for you," Johnson said.
Former commissioner Ken Robertson then shared the stage with Lambert.
Robertson spoke about the difficulty of Lambert's job. He explained that county department heads are tasked with complying with every state and federal regulation you can imagine.
Lambert had to figure out how to handle every cubic yard of refuse that came into the landfill.
In terms of economic development and recruiting new business to the county, that waste is not a limiting factor, Robertson explained.
"His attributes as a leader, the technical expertise that walks out of the door, the institutional knowledge will take a Herculean effort to replace," he said.
Robertson also mentioned that Lambert is a great example of how Iredell County looks internally to grow its future leaders and his story will inspire others.
Lambert first came to work for the county in 1993 as a groundskeeper at the Solid Waste facility. In 1995, he became a facility supervisor until 2004, when he was named the Solid Waste director.
"David has served as a department head, supervisor, friend, landscape advisor, marriage counselor, and a psychiatrist for many Solid Waste employees during his stay at Solid Waste. He has earned the trust and respect of colleagues, co-workers, elected officials and staff. All will miss his leadership and friendship," the recognition document reads.
"It's been fun. There's never been a boring day in solid waste," Lambert said. "That's the thing — every other job I've had I've got bored in. It's not what everybody thinks — that it's just a big hole in the ground and you have to cover it up."
"It's not like that at all. There's a lot of environmental science and engineering that goes into it," he added.