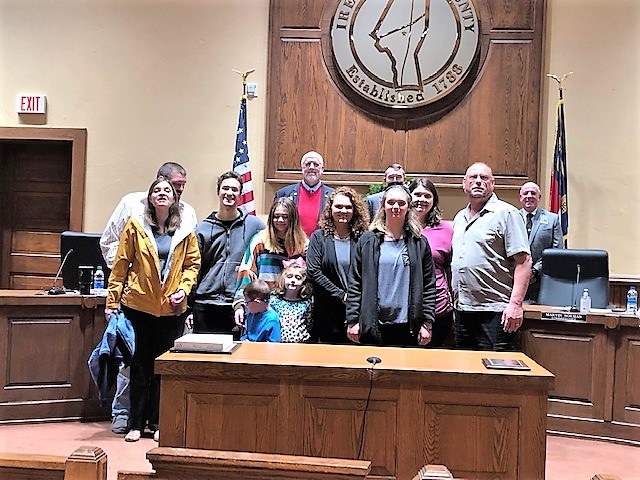 BY KARISSA MILLER
Veteran Brad Stroud still lives by the U.S. Army leadership motto, "Be, Know and Do."
"The Be's are your adjectives. Be polite. Be professional. Be competent," he explained. "The Know is know your job. Know your role. Know your soldiers or in this case my staff or clients."
The Do, he continued, is putting everything into action.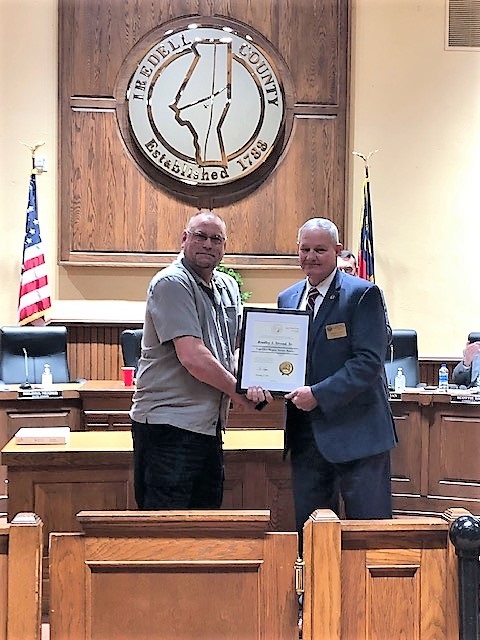 For the past 20 years, Stroud tried to keep that promise to all the veterans he has served and to his staff as director of the Iredell County Department of Veterans Service. He will be retiring December 30.
In recognition of his service to his country, state and Iredell County, Stroud was honored during the Board of Commissioners meeting earlier this week.
Kyle Bridges, district director for Congressman Ted Budd, presented Stroud with an American flag that flew over the U.S. Capitol. On behalf of Budd, Bridges thanked Stroud for more than 40 years of exemplary service to North Carolina and the United States.
"You have given back to thousands of veterans working to ensure that they have access to services and benefits for which they qualify. All of Iredell County has felt the positive impact of your work," Budd said in his letter.
Stroud also received the "Old North State Award," which was awarded by Gov. Roy Cooper.
The award recognizes individuals with 20 or more years of service to the State of North Carolina. Chief Deputy Secretary of N.C. Department of Military and Veterans Affairs Martin Falls presented the award on Gov. Roy Cooper's behalf.
"He speaks and when he speaks, he means it and what he says is the truth. That goes a long way with doing business," Falls said.
An Iredell County native, Stroud was hired in December 2002 as the Veterans Service Officer. Over the next two decades, he grew the department from one service officer to three service officers.
"He has worked tirelessly to serve the needs of our veterans and their dependents of Iredell County and in the Great State of North Carolina," said Board of Commissioners Chairman James Mallory.
The board presented Stroud with a plaque in recognition of his years of service. Stroud was joined by his wife, Dr. Kimberly Ball; his oldest son Bradly Stroud Jr. and his wife Laura and their two children, Allison and Henry; his oldest daughter Tera and her husband Seth Dufault and their child, Payton Dufalt; and his son Tyler Brooks and daughter Carsyn Stroud.
Stroud said it's been a true honor to serve the veterans of Iredell County.
"Working with veterans — it's a passion. It's truly the hardest decision (retirement) I've ever made. These are very special people, a very special class of people. The veterans, the families and their spouses deserve these benefits. It's not an entitlement," Stroud said.
"Freedom is like a torch. It's passed on from generation to generation. I was honored to carry that torch for my time," he added.
Stroud said he's thankful for all the veterans "for allowing me that trust. It's been the greatest honor of anything I've ever accomplished or done."
The Iredell County Veterans Service Office works with veterans daily to make sure they receive the benefits they are due. The office is there to help them and their spouses, widows and dependents navigate laws, regulations and rules governing veterans' benefits.
Commissioner Gene Houpe told Stroud that local veterans are thankful for his service and wished him the best.
"You have a lot of people who are indebted to you. You go the extra mile to get them the services they need," Houpe said.
Stroud presented the board with a commissioning pendant from the U.S.S. Iredell County, which flew on the ship. He also gave them a canvas print of the U.SS. Iredell County.
Stroud has served the North Carolina Association of County Veteran Service Officers his entire career and was elected by his peers to serve as president for five consecutive terms starting in 2016. He served as the vice president from 2014 to 2016.
Stroud is engaged with his community as well. He is a member of the Trinity Fire and Rescue and served as president from 2008- 2010.
He is a charter board member of Purple Heart Homes and served as board chair from 2008 to 2010. Stroud is a member of Pisgah United Methodist Church.