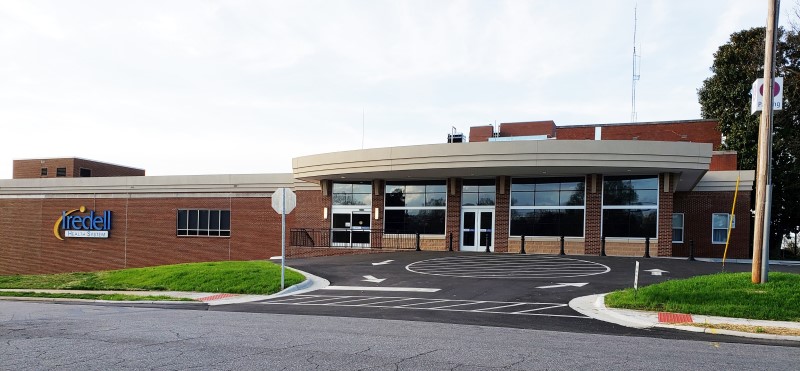 Special to Iredell Free News
The next time you visit Iredell Endoscopy Center, you will notice some significant differences. Iredell Health System has recently renovated and expanded the entire Endoscopy Center, nearly doubling the size of the previous department, to enhance overall patient experience and satisfaction.
Included in the renovations are 11 pre/post procedure bays — there were previously eight — four procedure rooms, a new entrance, renewed reception and waiting areas, and several updates to the decontamination and reprocessing room.
"The Endoscopy Center was renovated to grow and advance the department. By adding a fourth procedure room, patients will have a shorter wait time from office appointment to procedure appointment. Also, with the addition of the fourth procedure room, we will be able to schedule and accommodate our physicians in a way that better fits their working schedules and increase the number of patients they see on any given day," said Amy Johnson, assistant director of Endoscopy at Iredell Health System.
Patients are now able to enter Iredell Endoscopy Center through its new Hartness Road entrance, known as Entrance C. The new entrance opens directly into the endoscopy center reception and waiting area.
Iredell Health System also renovated the waiting area to increase patient satisfaction, making patients feel more comfortable, safe, and relaxed before their procedure. Incorporating new technology, the waiting area now features a large, digital tracking board that provides updates to patient family members. The tracking board displays randomized Patient ID numbers and their status — in procedure room, pre-op, recovery, etc.
In the decontamination and reprocessing room, endoscopes are thoroughly cleaned, inspected, high-level disinfected, and dried — a process that can take over two hours. The decontamination and reprocessing room now includes the latest technology of Medivator's Dry Cabinet. This new technology completely dries the inside of the endoscope, faster than traditional methods, giving staff more time to spend with patients.
Unlike the previous unit, the Medivator's Dry Cabinet is also a much greener alternative with zero trash or waste associated with it. Within the year, Iredell Endoscopy Center plans to incorporate additional new technology.
"As the endoscopy industry evolves, we will continue to implement the newest state-of-the-art technology for our patients," said Johnson.
Iredell Endoscopy Center offers a wide range of procedures. From a gastrointestinal standpoint, the endoscopy center provides standard upper endoscopy and colonoscopy procedures. Using advanced technology, gastroenterologists at the center can also diagnose and treat Barrett's Esophagus, C Diff infections, biliary and pancreatic duct issues, and stomach bacterial infections.
Pulmonary physicians at Iredell Endoscopy Center perform lung procedures, including bronchoscopies and procedures that allow for precise biopsies of a particular location in the lungs using ultrasound technology.
"The entire team at the Iredell Endoscopy Center is amazing. You couldn't ask for a better group of professionals to care for you or your loved ones," said Johnson.
Virtual Tour
LEARN MORE
If you would like to learn more about Iredell Endoscopy Center, schedule an appointment, or have questions about procedures or treatments offered, you can contact Iredell Health System at 704-873-5661.
About Iredell Health System
Iredell Health System includes Iredell Memorial Hospital; Iredell Home Health; Iredell Wound Care & Hyperbaric Center; Community and Corporate Wellness; Occupational Medicine; the Iredell Physician Network and more. Iredell Memorial Hospital is the largest and only nonprofit hospital in Iredell County. The comprehensive healthcare facility has 247 beds; more than 1,700 employees; and has 260 physicians representing various specialties. Centers of excellence include Women's and Children's; Cardiovascular; Cancer; Surgical Services and Wellness & Prevention. The mission of Iredell Health System is to inspire wellbeing. For a comprehensive list of services and programs, visit www.iredellhealth.org.