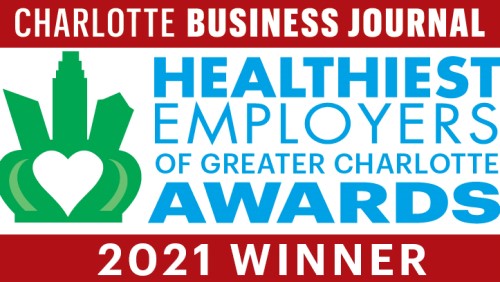 Special to Iredell Free News
As a healthcare organization, Iredell Health System actively encourages and supports employees to achieve their healthy lifestyle goals.
The nonprofit's commitment to that philosophy was recently recognized by the Charlotte Business Journal, which named Iredell Health System one of the Healthiest Employers of Greater Charlotte Awards.
This is the second consecutive year Iredell Health System has been recognized as one of Charlotte's healthiest employers. This year Iredell Health System received an outstanding score of 84.6, ranking second among multiple employers with between 500 and 1,499 employees.
To earn this esteemed award, Iredell Health System completed an extensive application process, outlining all the health and wellness initiatives offered to employees.
The application was evaluated and reviewed by Healthiest Employers LLC, who assigned Iredell Health System a score based on a range of health and wellness-related issues, from benefits like insurance and paid leave to workplace amenities and COVID-19 protocols. Employers with a score greater than the national average made the ranking.
"This award shows our community and our employees that we are invested in their health. As a healthcare system, we are not only here to encourage the wellness of our patients, but also to invest and inspire the wellbeing of our employees and our community," said Cindy Smale, Iredell Health System's human resources director.
One of the most prominent wellness initiatives Iredell Health System employs is Humana's Go365 wellness program, which encourages employees to make lasting, healthy lifestyle choices.
Using this program, Iredell Health System employees earn points for making strides to improve their health. These points qualify employees to receive discounts on insurance premiums. There are multiple ways to earn points, including receiving annual biometric screenings and achieving health goals based on screening outcomes. In order to achieve the greatest outcomes, activities on Go365 are specified to individual employees, dependent on their health history and screenings.
Employees can also earn points through participation in wellness activities, such as monthly employee walking clubs, 5Ks, mindful breathing exercises, receiving COVID-19 and flu vaccinations, blood donations, sleep logging, and health education sessions, among others.
To effectively support employee wellness, Iredell Health System has a Go365 wellness team, comprised of employees in several different departments. The wellness team meets monthly to coordinate and promote various events and challenges.
Following a year plagued with the uncertainty of COVID-19, this award is especially meaningful. Wellness events had to be reworked from previous years, and many events that required employee interaction transformed into virtual activities.
Though wellness events may have looked different from before, maintaining the wellbeing of employees — physically, mentally, emotionally, and financially, remained of utmost concern.
"The mission of Iredell Health System is to 'Inspire Wellbeing — Together.' To successfully provide an overall community effort for wellbeing, we started with our internal community, our employees. And what a year it has been," said John Green, president and CEO of Iredell Health System.
"2020 was stressful and challenging. At the same time, what an absolutely essential time to promote healthy components of living and wellness," he added.
About Iredell Health System
Iredell Health System includes Iredell Memorial Hospital; Iredell Mooresville; Iredell Home Health; Iredell Wound Care & Hyperbaric Center; Community and Corporate Wellness; Occupational Medicine; the Iredell Physician Network and more. Iredell Memorial Hospital is the largest and only nonprofit hospital in Iredell County. The comprehensive healthcare facility has 247 beds; more than 1,700 employees; and has 260 physicians representing various specialties. Centers of excellence include Women's and Children's; Cardiovascular; Cancer; Surgical Services and Wellness & Prevention. The Health System's newest campus, Iredell Mooresville, is home to the area's only 24-hour urgent care facility, as well as an ambulatory surgery center, imaging center, rehabilitation services, and physician practices. The mission of Iredell Health System is to inspire wellbeing. For a comprehensive list of services and programs, visit www.iredellhealth.org.