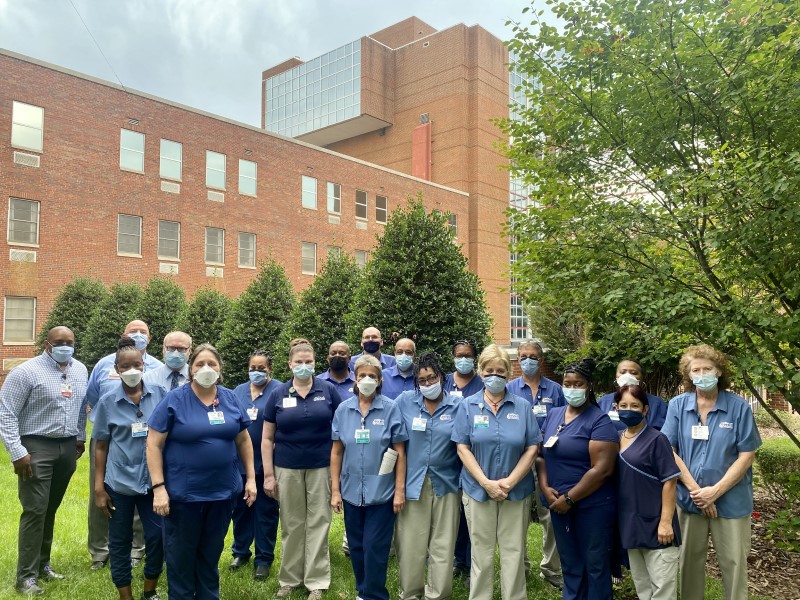 Special to Iredell Free News
Ever wonder how a hospital is kept clean even though thousands of people, including patients, staff, and visitors, walk the halls of a hospital each day?
This is because, 24 hours a day, seven days a week, multiple environmental service professionals work diligently to make sure all areas of the hospital are kept fresh, clean, and sanitized.
The best care starts with a clean environment. And at Iredell Health System, the environmental services staff have been taking extra cleaning precautions since before the pandemic even began.
That's why Iredell Health System is taking this week, National Healthcare Environmental Services & Housekeeping Week, to recognize and honor these often overlooked frontline healthcare heroes with immense appreciation, goodies, gifts, and meals.
After all, environmental service employees are the first line of defense against serious infections that may linger on surfaces in patient rooms, public areas, and throughout the Health System's facilities, specifically Iredell Memorial Hospital and Iredell Mooresville.
"The environmental services team is the last touch between a patient leaving and the next patient coming in. We want to make sure that we're preventing the spread of any infection that the new patient did not have," said Chris Coble, director of environmental services at Iredell Health System.
Iredell's environmental services team is made up of 44 full-time and part-time employees, encompassing housekeepers, floor technicians, waste management technicians, and linen aids.
And while Iredell Health System has always strived to create a clean, safe environment for patients, visitors, and staff, the COVID-19 pandemic has taken this cleaning experience to the next level.
At the height of the pandemic last year, environmental service employees were praised for their long hours and hard work, working behind-the-scenes to ensure the highest quality of care for patients.
With the increase in COVID-19 patient volume over the past several weeks, Iredell's environmental services team has gotten quite busy once again, taking up arms against COVID-19 by working around the clock to keep facilities sanitized, disinfected, and safe for all patients.
"I think we're busier during this COVID outbreak than we were last year. We're back to seeing the same inpatient COVID volumes as we were in December and January," said Coble.
Before the pandemic, Coble's team averaged cleaning around 30 to 40 rooms per day once a patient had been discharged. Now, with such a high patient census, the team has about 50 patient discharge rooms to clean each day.
Housekeepers also clean patient-occupied rooms, including those patients with COVID.
"To clean COVID rooms, our employees have to 'gown-up' every time they enter that room. Then, when they come out of the room to dispose of items, they have to re-gown to go back in," said Coble.
To "gown-up," housekeepers must put on all the personal protective equipment that a clinical employee would wear. This includes a gown, gloves, an N95 mask, and a face shield. With the additional duties of cleaning a COVID room, this process takes a lot longer than a typical patient room.
The growing COVID patient volume also heavily affects the waste management technicians as more waste is accumulated from all the personal protective equipment used each time someone enters an infected room. On top of this, they are responsible for collecting all of the regular waste, biohazardous waste, and recyclables out of the building.
"Without nurses, we would be in bad shape. But without our team, especially the staff pulling the waste out of the building, the hospital would shut down," said Coble.
When entering a patient-occupied room, housekeepers introduce themselves, explain how long they will be in their room, and what they will be doing to sanitize and clean the room effectively.
The environmental services team at Iredell has received multiple positive comments from patients about how the housekeeper was funny, made them laugh, or even took their minds off their problems for a little while.
"There's story after story about how patients can relax a little more when housekeeping comes in. Patients tend to really open up to them because they're not getting poked, or prodded, or getting other vitals checked, so they actually have a chance to just talk," said Coble.
While the environmental services team plays a monumental part in keeping the hospital clean and does a wonderful job of that, Coble likes to remind people that everyone should be conscious about cleaning up after themselves, if possible.
"We should all look at that building with such pride, and we should all want to take care of it, not wait for someone to come clean up after us," said Coble.
In honor of Healthcare Environmental Services & Housekeeping Week, make sure to thank an environmental services team member for the huge role they play in patient and visitor safety both during the pandemic and at all times before.
"This is truly a group effort, and I'm so grateful to be part of such a great team. If it was not for the environmental services team and their immense dedication, our hospital would not be as strong and as fortunate as it is today. I really appreciate them for all they do for our organization," said Coble.
About Iredell Health System
Iredell Health System includes Iredell Memorial Hospital; Iredell Mooresville; Iredell Home Health; Iredell Wound Care & Hyperbaric Center; Community and Corporate Wellness; Occupational Medicine; the Iredell Physician Network and more. Iredell Memorial Hospital is the largest and only nonprofit hospital in Iredell County. The comprehensive healthcare facility has 247 beds; more than 1,700 employees; and has 260 physicians representing various specialties. Centers of excellence include Women's and Children's; Cardiovascular; Cancer; Surgical Services and Wellness & Prevention. The Health System's newest campus, Iredell Mooresville, is home to the area's only 24-hour urgent care facility, as well as an ambulatory surgery center, imaging center, rehabilitation services, and physician practices. The mission of Iredell Health System is to inspire wellbeing. For a comprehensive list of services and programs, visit www.iredellhealth.org.