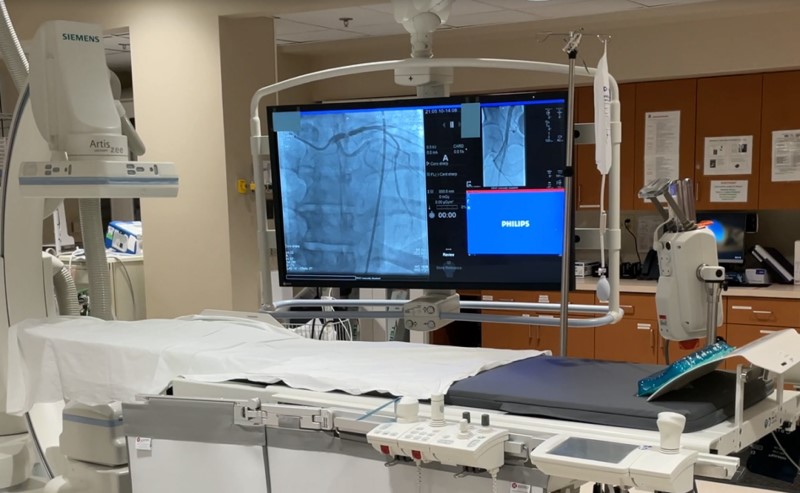 Special to Iredell Free News
As medical technology continuously evolves, Iredell Health System strives to keep up with the newest and greatest trends and equipment.
Iredell Memorial Hospital's catherization lab, which is located in the Iredell Heart & Vascular Center, now has a new machine called the Siemens Artis Zee with PURE. This new cath lab equipment has made it easier for physicians to carry out vascular and cardiac procedures without having to move patients to different rooms because of imaging limitations.
Previously, Iredell had separate suites for heart procedures and vascular procedures. But with the updated technology, physicians can easily change the orientation of the equipment to view the patient's peripheral vascular system or their heart vessels.
"This new technology enables us to do cardiac and vascular studies at the same time without having to change labs. It's much more convenient," said Dr. Charles DeBerardinis, cardiologist at Iredell Health System.
In addition, the new equipment produces industry-leading images while exposing patients to less radiation.
"The imaging on the new equipment is significantly better, and we have better resolution with a bigger field of view. There are also new software capabilities that we did not have before that allow us to expose the patients to less radiation and do more complicated procedures," said Dr. William B. Newton, a board-certified vascular surgeon with Iredell Vascular Clinic.
"This is a great system. Radiation is less, visibility is much better, and we are comfortable doing much more complex procedures on this new machine," added cardiologist Dr. Jips Zachariah, a cardiologist with Piedmont HealthCare who utilizes Iredell's Heart & Vascular Center.
The new cath lab updates should make patients feel an even greater sense of comfort, knowing that their physicians are getting the best view and images possible.
Iredell's cath lab physicians have received great feedback from patients, saying they have felt very comfortable and have received personalized care.
"Patients at Iredell's cath lab feel like they're listened to, they're paid attention to, that their care has been very personalized, and that there is a great amount of time and effort put into their treatment plans," explained DeBerardinis.
Inside the Cath Lab
Cardiologists and vascular surgeons at Iredell Memorial Hospital's catherization lab can do a variety of procedures, including cardiac catheterizations, pacemaker and defibrillator implantations, cardiac interventions, peripheral arterial interventions, and venous procedures.
Cath labs have advanced diagnostic imaging equipment that is used to view arteries, veins, and evaluate blood flow and pressure in a patient's cardiovascular system. Heart and vascular physicians can check for heart disease, determine how well a patient's heart muscle is working, and perform procedures to open blocked arteries.
About Iredell Health System
Iredell Health System includes Iredell Memorial Hospital; Iredell Mooresville; Iredell Home Health; Iredell Wound Care & Hyperbaric Center; Community and Corporate Wellness; Occupational Medicine; the Iredell Physician Network and more. Iredell Memorial Hospital is the largest and only nonprofit hospital in Iredell County. The comprehensive healthcare facility has 247 beds; more than 1,700 employees; and has 260 physicians representing various specialties. Centers of excellence include Women's and Children's; Cardiovascular; Cancer; Surgical Services and Wellness & Prevention. The Health System's newest campus, Iredell Mooresville, is home to the area's only 24-hour urgent care facility, as well as an ambulatory surgery center, imaging center, rehabilitation services, and physician practices. The mission of Iredell Health System is to inspire wellbeing. For a comprehensive list of services and programs, visit www.iredellhealth.org.