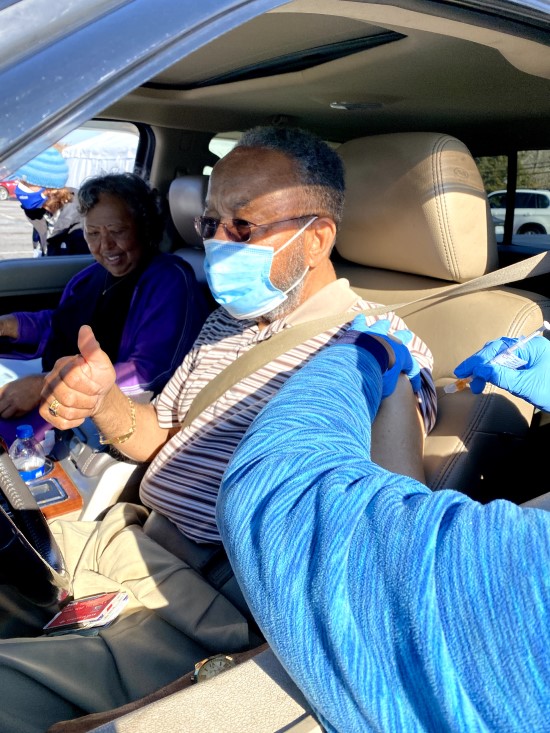 Special to Iredell Free News
Iredell Health System has vaccinated more than 2,600 individuals, and many of those people have already received their second dose. An additional 1,300 people are slated to be vaccinated between Wednesday and Saturday. And it's just beginning.
Over the coming weeks and months, the nonprofit Health System will hold vaccine clinics multiple days each week in an effort to vaccinate as many individuals as possible. The organization is currently vaccinating those who meet the State of North Carolina's eligibility requirements for Phase 1A and Phase 1B – Group 1, by appointment and invitation only.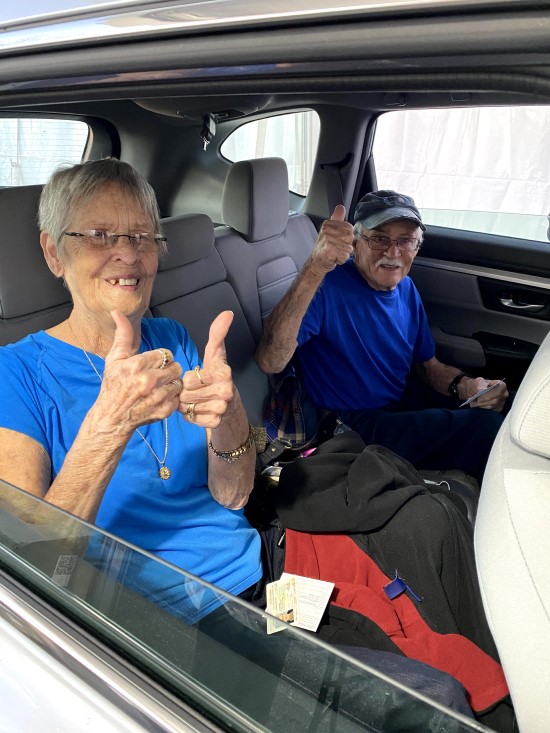 "We are working with local healthcare entities, community groups, corporations and many others within the communities we serve to help identify eligible individuals to invite to be vaccinated and to do so equitably," said John Green, president & CEO of Iredell Health System, adding that those individuals have been or will be contacted by Health System representatives with instructions on how to schedule a vaccine appointment. "While this is a challenging time for healthcare, we are happy to be a part of such a momentous effort to help stop this pandemic."
As of today, the N.C. Department of Health & Human Services has only authorized frontline healthcare workers and individuals ages 75 and older to receive the vaccine. Other groups with different eligibility requirements are expected to be able to be vaccinated in the coming weeks, but the Health System will retain its policy on vaccinating by appointment and invitation only. That is due largely to the nature of the vaccine itself.
"We are the only organization in Iredell County with the Pfizer BioNTech vaccine, which is given in two doses, approximately 21 days apart. The Pfizer vaccine requires ultra-cold storage and special handling to prepare, including allowing time for the vaccine to thaw before it is administered. It's very important to us that we do not waste any of the vaccine we have been given," said Larry Pizzorni, assistant vice president of Ancillary and Support Services for Iredell Health System, who is overseeing the organization's vaccine workgroup responsible for running its vaccine clinics. "We have been working tirelessly to plan and run these clinics, and we are happy to say that the process we have in place is working well."
Those who attended the clinics last Saturday witnessed that success firsthand, with some even comparing the ease of being vaccinated, friendly service and overall efficiency to the business model of the popular fast food chain Chick-fil-A.
Two prominent, retired businessmen — Mason McCullough and William Merlin Jones Jr. — were among the attendees of Saturday's clinic.
For McCullough, a retired newspaper editor and a member of the Iredell Health System Board of Trustees, it was about more than not having to wait in a long line or worry if there would be enough for him to get vaccinated. It was about protecting his family, himself, and so many others.
"I know people that I know very well who have had COVID and passed away from it. I wanted to make sure that if there was anything I could do, I'd do it," he said, adding that he initially was hesitant about getting the vaccine and planned to wait until much later. He changed his mind after speaking with a friend who is a nurse practitioner, and watching other healthcare workers jump at the chance to be vaccinated. "I looked around and I saw a lot of people being affected by COVID, and I had to reason within myself: 'If the initial people getting the shots are healthcare workers, if the people taking care of me if I get sick are getting it, why should I be worried?' I knew I needed to do this."
Jones is the former postmaster general for Statesville. He and his wife Inola, who was also vaccinated, encouraged others to be vaccinated when they meet the appropriate eligibility requirements.
"I think it's a good idea [to be vaccinated] because of the effects this virus has had on our community and our world as a whole," William Jones said. "If this is healing, then I'm willing to participate."
"It's a way to keep us more safe," Inola Jones added. "I recommend it highly to everybody, for everybody."
McCullough also had a message for vulnerable populations in our community who have been particularly affected by COVID-19.
"I do want to encourage the African-American community to take the vaccine when it's available. With the history of our country, many African-Americans are saying 'I'm not going to be a guinea pig.' But I'm saying, 'it's important for African-Americans to take the vaccine when made available."
LEARN MORE
For more information on vaccines at Iredell Health System, please email covidvaccine@iredellhealth.org. Updated information regarding eligibility requirements and the vaccination process is also posted and updated regularly on the Iredell Health System website,
IredellHealth.org.
About Iredell Health System
Iredell Health System includes Iredell Memorial Hospital; Iredell Home Health; Iredell Wound Care & Hyperbaric Center; Community and Corporate Wellness; Occupational Medicine; the Iredell Physician Network and more. Iredell Memorial Hospital is the largest and only nonprofit hospital in Iredell County. The comprehensive healthcare facility has 247 beds; more than 1,700 employees; and has 260 physicians representing various specialties. Centers of excellence include Women's and Children's; Cardiovascular; Cancer; Surgical Services and Wellness & Prevention. The mission of Iredell Health System is to inspire wellbeing. For a comprehensive list of services and programs, visit www.iredellhealth.org
Photo Gallery