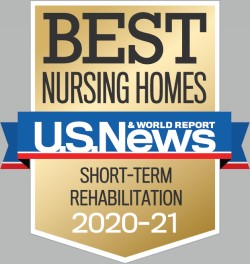 Special to Iredell Free News
Iredell Health System's Skilled Nursing Facility has once again earned Best Nursing Homes status by U.S. News & World Report in the publication's 2020-21 rating.
Iredell Skilled Nursing achieved the rating of High Performing, the highest possible rating for a short-term rehabilitation facility. U.S. News gives the designation of Best Nursing Home only to those facilities that satisfy its assessment of the appropriate use of key services and consistent performance in quality measures.
According to U.S. News & World Report, over 1.3 million Americans will wake up in a skilled nursing facility on any given morning this year. And while the quality of care provided at the more than 15,000 skilled nursing facilities varies widely, Iredell's Skilled Nursing Facility outperformed state and national averages on all 10 of U.S. News' quality measures. The facility earned a perfect 5-out-of-5 rating based on measures focused on staffing, outcomes, resident complaints, and processes of care.
"I thank the hard working and dedicated men and women that make up the Skilled Nursing team," said Kristie Turner, Iredell Health System's Skilled Nursing Facility's director of nursing. "This year has been especially demanding for them while coping with challenges related to COVID-19. However, they have proven that they are more than willing to rise to the challenge and continue to provide the highest quality of care to our community."
Iredell's facility tripled the North Carolina average in its availability of registered nurses and physical rehabilitation therapists. The facility showed its commitment to safety by outperforming other facilities across the board – maintaining a low level of complaints, going the year without a patient experiencing a major injury from a fall, and administering a flu vaccine to 98 percent of its patients.
The percentage of the Skilled Nursing Facility's patients needing to go to the emergency department during their stay was less than half the North Carolina average, further indicating the facility's high quality of care. Four out of five Iredell Skilled Nursing patients received more than the minimum amount of therapy they needed, an amount 35 percent better than the state average. And more than 73 percent of its patients who were discharged were able to return home.
Now in its 11th year, the U.S. News Best Nursing Homes ratings and profiles offer comprehensive information about care, safety, health inspections, and staffing for nearly all of the nation's 15,000-plus skilled nursing facilities. The Best Nursing Homes ratings reflect U.S. News' exclusive analysis of publicly available data using a methodology defined by U.S. News that evaluates factors that it has determined most greatly impact patient and resident care, safety, and outcomes. This year, to accompany the new ratings, skilled nursing facility profile pages were updated to include a patient safety summary that reflects COVID-19 data alongside other measurements of safety and related advice on choosing a facility amidst the pandemic.
"U.S. News strives to provide access to information that allows consumers to make educated decisions on all types of care," said Ben Harder, managing editor and chief of health analysis at U.S. News. "Updating the profiles to include a patient safety summary that highlights COVID-19 data paired with other measures of care arms families, caregivers, and patients with the information needed to make a decision that keeps safety at the highest priority."
U.S. News emphasizes using the ratings as a starting point for families to research skilled nursing facilities and find one that excels in the type of care they need. People can access Nursing Home Finder by visiting health.usnews.com/best-nursing-homes.
Iredell's Skilled Nursing Facility has 48 beds and is a separate service from Iredell Memorial Hospital, but its residents have access to the hospital's services if needed, and the staff receive ongoing support from the Health System as well.
"I am grateful to Iredell Health System, which has continued to give us the support needed to ensure that we continue to be high performing, even in the face of a pandemic," Turner said.
Patients and their families can contact Iredell's Skilled Nursing Facility at 704-873-5661.
About Iredell Health System
Iredell Health System includes Iredell Memorial Hospital; Iredell Home Health; Iredell Wound Care & Hyperbaric Center; Community and Corporate Wellness; Occupational Medicine; the Iredell Physician Network and more. Iredell Memorial Hospital is the largest and only nonprofit hospital in Iredell County. The comprehensive healthcare facility has 247 beds; more than 1,700 employees; and has 260 physicians representing various specialties. Centers of excellence include Women's and Children's; Cardiovascular; Cancer; Surgical Services and Wellness & Prevention. The mission of Iredell Health System is to inspire wellbeing. For a comprehensive list of services and programs, visit www.iredellhealth.org.