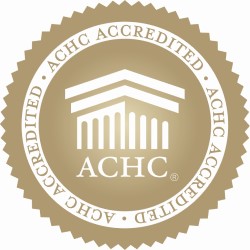 Special to Iredell Free News
Iredell Home Health, part of Iredell Health System, was recently awarded accreditation with its new accrediting body, the Accreditation Commission for Health Care (ACHC), for its dedication and commitment to delivering the highest quality of services to its patients.
Iredell Home Health was acquired by Iredell Memorial Hospital in 1998, and previously, both Iredell Home Health and the hospital were accredited through The Joint Commission.
"Over the past few years, we've researched and felt a transition to an accrediting organization with a focus on home health and hospice was a better fit for our organization," said Linda Thompson, director of Iredell Home Health.
Accreditation is a process through which healthcare organizations demonstrate compliance with national standards. Accreditation by ACHC reflects an organization's commitment to meeting standards that facilitate a higher level of performance and patient care.
ACHC is a nonprofit organization that has stood as a symbol of quality and excellence since 1986. It is ISO 9001:2015 certified and has CMS deeming authority for Home Health, Hospice, and DMEPOS.
To earn accreditation, Iredell Home Health underwent an on-site survey from ACHC along with policy reviews, procedural reviews, staff education, and process improvements.
"Our quality of care was made evident in the visits made by the surveyor to our patients. During home visits, the surveyor was most impressed with the positive regard our patients have for the staff caring for them," said Thompson.
"The staff truly demonstrated the excellent care that we provide on a daily basis," she added.
Iredell Home Health provides quality, affordable healthcare services designed to increase patient independence, allowing for comfort and care in their own home. It offers various services to patients in Iredell and surrounding counties, including skilled nursing, physical therapy, occupational therapy, speech therapy, and social work services.
Nurses, therapists, clerical and administrative employees make up the group of well-trained and highly qualified staff at Iredell Home Health. The home health team sees an average of 190 admissions per month.
LEARN MORE
If you would like to learn more about Iredell Home Health and the services it provides, visit IredellHomeHealth.com or call 704-872-6552.
About Iredell Health System
Iredell Health System includes Iredell Memorial Hospital; Iredell Mooresville; Iredell Home Health; Iredell Wound Care & Hyperbaric Center; Community and Corporate Wellness; Occupational Medicine; the Iredell Physician Network and more. Iredell Memorial Hospital is the largest and only nonprofit hospital in Iredell County. The comprehensive healthcare facility has 247 beds; more than 1,700 employees; and has 260 physicians representing various specialties. Centers of excellence include Women's and Children's; Cardiovascular; Cancer; Surgical Services and Wellness & Prevention. The Health System's newest campus, Iredell Mooresville, is home to the area's only 24-hour urgent care facility, as well as an ambulatory surgery center, imaging center, rehabilitation services, and physician practices. The mission of Iredell Health System is to inspire wellbeing. For a comprehensive list of services and programs, visit www.iredellhealth.org.