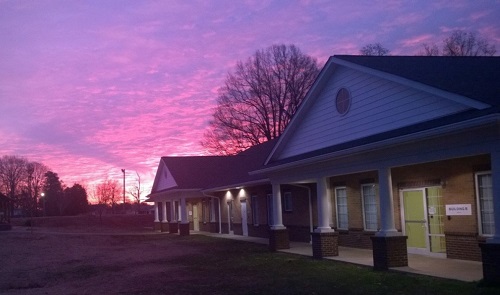 BY DEBBIE PAGE
debbiepage.iredellfreenews@gmail.com
The Iredell County Homelessness Coalition, made up of agencies, churches and organizations, is working to meet the needs of homeless and vulnerable populations during the holiday season and beyond.
Scotty Moore, director of client services for Mooresville Christian Mission, said that when the nonprofit moves into its new facility in the next two years, the organization will transition to a case-management approach instead of crisis intervention in an effort to prevent crises.
The 82-year-old organization is conducting a $5 million capital campaign to build a permanent facility on North Main Street to "dig deeper into what's causing some of the issues in our community" that lead to housing insecurity and homelessness.
Mooresville Christian Mission partners with an area motel to provide transitional housing. Since Relax Inn, which provided housing for some transitional folks, is closing, the nonprofit is assisting those who need housing and connecting them to FeedNC resources.
COVID-19 can take a person's livelihood completely away, noted Moore, who said the nonprofit's caseload has increased during the pandemic. Before the pandemic, Mooresville Christian Mission helped about 40 families per month with emergency funds for rent or utility bills. Now that number averages around 70.
Grants and federal CARES money has helped the nonprofit cover the increasing needs of community members. The organization's food pantry and free "store" are available to qualified residents from Troutman to Mt. Mourne.
The organization also held its 11th annual Turkey Trot 5K on Thanksgiving Day to raise funds to serve those in need in the area.
Fifth Street Ministries Executive Director Michele Knapp said the organization was giving out food boxes and serving meals for both Thanksgiving and Christmas holidays. The organization handed out 120 food boxes on Tuesday and served 220 meals to Thanksgiving Day, made possible by the generosity of individuals, churches, and businesses.
Knapp expects to need donations for 175 food boxes and about 200 meals at Christmas.
The organization has details about food box needs on its Facebook page and webpage (https://www.fifthstreetministries.com/needs-volunteer/), so those interested in donating can check there.
Though the shelter's census is low, evictions are now starting to increase with the end of the eviction moratorium. Fifth Street has been getting eight to 10 calls per day from people looking for shelter.
Fifth Street is also partnering with Purple Heart Homes, and the Piedmont Veterans Assistance Council to provide two homeless veterans with their own tiny homes.
Darius Hopkins of Fifth Street's Path House said the staff is conducting outreach to the chronically homeless about the services offered there. The facility is open Monday, Wednesday and Friday from noon to 1 p.m. for hot showers, hot drinks, and snacks.
Path House also provides laundry access, helps clients get ID's and birth certificates, and gets them on housing lists if desired. "We are coaching people up. Teamwork makes the dream work," said Hopkins.
The Path House is in need of hoodies, boots, gloves, socks, toboggans, long underwear, tents, full size blankets, and sleeping bags to hand out to clients. They want to ensure the community's homeless are warm and have their needs met through care packages created and distributed with area groups.
Staff are visiting several encampments and making them aware of Fifth Street's many services.
However, "if they want to stay there, we bring love and support to them," said Hopkins.
Advocates also noted the need for small green propane tanks for the homeless folks' portable stoves and heaters and for "hot hands" warmers.
Coalition members also expressed concern about the expected 50 percent hike in energy costs this winter, which will hit the disadvantaged hard.
The Salvation Army also needs donations to serve 500 impoverished children this season to get their Christmas wishes fulfilled.
The Statesville Police Department is conducting a toy drive for homeless and transitional kids. Iredell-Statesville Schools is also serving the homeless children in its schools. Toys can be donated from noon to 4 p.m. at the Walmart in Statesville on Saturday, December 4, and Saturday, December 11.
Thirty-five children of offenders in custody will get Christmas gifts through an Angel Tree project sponsored by the Statesville Police Department and Good Will.
Fifth Street Ministries and My Sister's House also need toys and hats, gloves, socks, and scarves for clients. They also need wrapping paper, bows, tape, and tags. Donors can drop off their donations or order from Amazon to be delivered to Fifth Street.
Visit https://www.fifthstreetministries.com/events/2021-holiday-gifts/ to get specific adult and children gift needs. Those who wish to sign up to "shop" for gifts on December 21 from noon to 4 p.m. must call 704-872-4045 to register to shop the store by Friday, December 17.
Children at the Brookwood Motel — and other hotels, as needed — will also get toy deliveries, according to Homelessness Coalition Chair Pam Navey.
The Statesville Cove Church is also having a "toy store" on December 2 to help needy parents provide gifts to their families. The parents can shop for needs, especially for older kids, since the Salvation Army stops at age 12. Contact the church to qualify and sign up at (704) 655-3000.