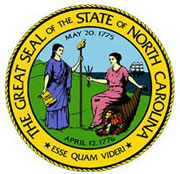 Special to Iredell Free News
Local lawmakers are hailing the budget agreement between Republican lawmakers and Democratic Gov. Roy Cooper as a win for Iredell County residents. The spending plan includes over $40 million for Iredell County, according to a press release from the local delegation.
Cooper announced Tuesday that he would sign the budget following aproval by the N.C. House and Senate.
"After months of good-faith negotiations with the Governor, I'm proud to see the compromise budget pass," said Sen. Vickie Sawyer (R-Iredell, Yadkin). "For the past decade, North Carolina Republicans enacted smart, restrained budgets. Because of that responsibility, we've seen multi-billion surpluses. This year's budget builds on that with sweeping tax cuts and major infrastructure improvements, including millions for Iredell County."
Rep. Jeff McNeely (R-Iredell) said: "I'm so proud of our Iredell team and what we've been able to accomplish this budget session. This will be monumental for the citizens of Iredell County."
Added Rep. Grey Mills (R-Iredell): "This budget represents a great deal of hard work and bipartisan negotiations in both chambers and with the Governor. I am proud of both the budget and my fellow Iredell legislators – as we all three worked together to help craft a budget that meets Iredell's needs and the needs of the state."
Local Projects
The spending plan includes millions of dollars for county and municipal governments and several nonprofit organizations.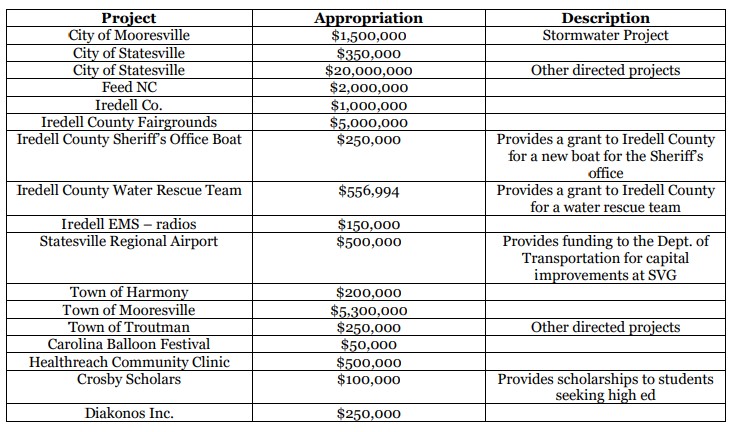 Tax Relief & Teacher Pay
The state budget sets in motion a 10-year, $16.1 billion cash infrastructure and capital plan. It also includes a sweeping tax cut that reduces the personal income tax rate to 3.99 percent over six years and increases the zero-tax bracket to $25,500 for married filers.It increases the child tax deduction by $500 per child and eliminates the state income tax on military pensions.
The state budget includes $100 million in recurring funds for a new state-funded teacher salary supplement for lower-wealth counties to help them recruit and retain high-quality teachers. Iredell County is set to receive $1,259,335, or $574 per teacher.
Transportation & Broadband
Furthermore, the state budget includes billions of dollars for both the Highway Fund and Highway Trust Fund to fund major transportation and infrastructure improvements to our roads and bridges around the state. The budget also works to enhance DMV operations and allocates over $2.8 billion to the Strategic Transportation Investments Prioritization Program for continued improvement to the state's transportation network.
The budget also provides $1 billion for broadband expansion.