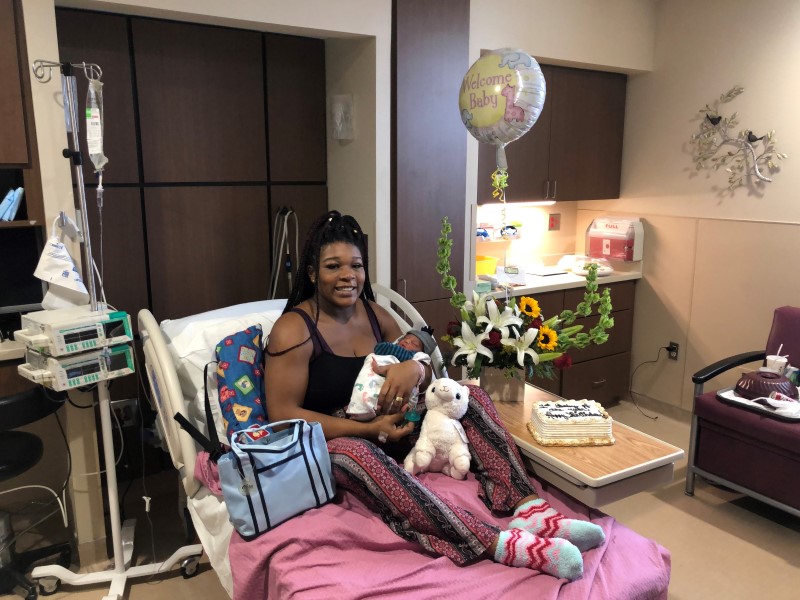 Special to Iredell Free News
Iredell Memorial Hospital delivered its first baby of the New Year at 4:03 p.m. on Saturday, January 2.
Mother Dejah Joyner and her baby boy, Karter O'Neal Miller, are healthy and doing well.
Karter was born 18.5 inches long, weighing 5 pounds, 7 ounces.
A Statesville resident, Dejah teared up describing her experience giving birth at Iredell Memorial.
"It was amazing. They made it so good for me. The nurses treated me so good. As soon as I got here, they made it great for me and easy. I just appreciate everything, and I would definitely hope to be here for my next child."
Dejah recently completed her first year studying social work at Greensboro College. Saturday was her second time delivering at Iredell Memorial.
"My experiences were great each time," she said.
Equipped with all of the equipment of a modern delivery room, The Birth Place at Iredell Memorial seeks to create a homelike atmosphere with its home décor, comfortable furniture for visitors, and large, private bath.
Ingles of Sullivan Road in Statesville donated a cake, Brookdale Florist donated a floral arrangement and balloon, and the health system donated a $100 Visa gift card for Dejah and her family to celebrate Karter's arrival.
"I've been truly blessed," said the new mother of two.
About Iredell Health System
Iredell Health System includes Iredell Memorial Hospital; Iredell Home Health; Iredell Wound Care & Hyperbaric Center; Community and Corporate Wellness; Occupational Medicine; the Iredell Physician Network and more. Iredell Memorial Hospital is the largest and only nonprofit hospital in Iredell County. The comprehensive healthcare facility has 247 beds; more than 1,700 employees; and has 260 physicians representing various specialties. Centers of excellence include Women's and Children's; Cardiovascular; Cancer; Surgical Services and Wellness & Prevention. The mission of Iredell Health System is to inspire wellbeing. For a comprehensive list of services and programs, visit www.iredellhealth.org.