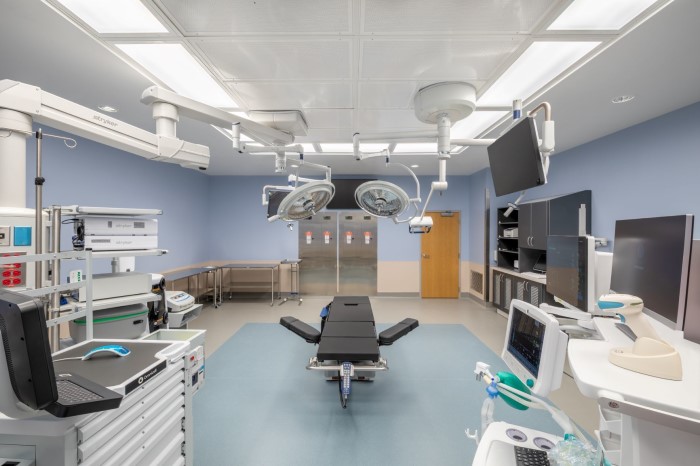 Special to Iredell Free News
Are you in need of same-day surgery but want to avoid a trip to the hospital? Check out Iredell Surgery at Mooresville — an ambulatory surgery center, the first of its kind in Mooresville.
Located inside Iredell Mooresville, Iredell Surgery provides excellent same-day surgical care and offers patients an alternative to the outpatient hospital setting at a market-competitive price. An ambulatory surgery center, like Iredell Surgery, differs from hospital outpatient surgery in that it is freestanding and typically comes at a lower cost. Iredell Surgery also performs a narrower scope of procedures than the hospital would, allowing for specialized care.
"Iredell Surgery at Mooresville is the only freestanding ambulatory surgery center currently in the area. It was designed to reach the ever-growing population in the southern part of Iredell County and the Mooresville area," said Stephanie Wick, MSN, RN, and clinical coordinator for Iredell Surgery.
The surgery center features a warm, comforting environment with 12 pre-op/post-op bays and brand new surgical equipment.
"Iredell Surgery at Mooresville is very high-tech in terms of surgical technology. The equipment for minimally invasive procedures is the latest on the market, featuring 4K technology for surgeons," said Wick.
This new technology provides greater visual clarity at a higher definition for surgeons when operating. Iredell Surgery is equipped to provide surgery in the areas of general surgery, gynecology, orthopedics, breast surgery, pain management, podiatry, urology, and ear, nose, and throat surgery.
Additionally, Iredell Surgery features a HIPPA-compliant digital tracking board, allowing family members to know exactly which stage of the procedure their loved one is in. Families also have access to complimentary coffee and snacks while they wait.
Upon arrival and check-in, a nurse will bring the patient to the pre-op area and assist them in preparation for surgery. The anesthesiologist and surgeon will speak with the patient while they are in pre-op, where anesthesia is also administered. After surgery, the patient will recover in the post-op area.
Once ready for discharge, patients will be helped into a wheelchair, if needed, and taken to the drive-thru patient pick-up area, where their family member or friend will be waiting for them.
"It is Iredell Health System's expectation that our patients and families will have a world-class customer service experience," said Wick.
Iredell Surgery at Mooresville will see its first patients in late July. If you are interested in having your procedure at this brand-new surgery center, please speak to your surgeon.
LEARN MORE
To learn more about Iredell Surgery, visit iredellatmooresville.com/surgery-center.
About Iredell Health System
Iredell Health System includes Iredell Memorial Hospital; Iredell Mooresville; Iredell Home Health; Iredell Wound Care & Hyperbaric Center; Community and Corporate Wellness; Occupational Medicine; the Iredell Physician Network and more. Iredell Memorial Hospital is the largest and only nonprofit hospital in Iredell County. The comprehensive healthcare facility has 247 beds; more than 1,700 employees; and has 260 physicians representing various specialties. Centers of excellence include Women's and Children's; Cardiovascular; Cancer; Surgical Services and Wellness & Prevention. The Health System's newest campus, Iredell Mooresville, is home to the area's only 24-hour urgent care facility, as well as an ambulatory surgery center, imaging center, rehabilitation services, and physician practices. The mission of Iredell Health System is to inspire wellbeing. For a comprehensive list of services and programs, visit www.iredellhealth.org.