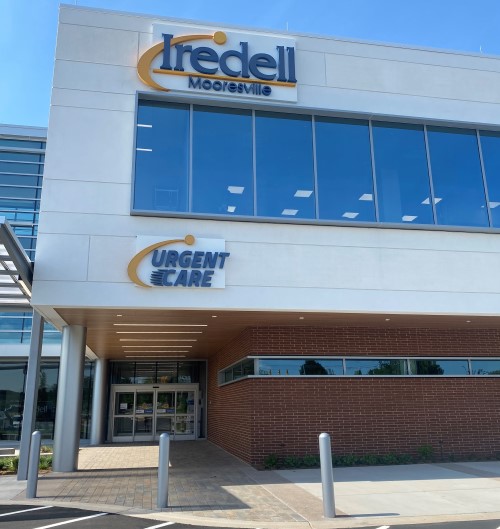 Special to Iredell Free News
Your child is playing outdoors after school and accidentally falls, fracturing their wrist. It's after 5 o'clock, and you do not want to spend the time or money at an emergency room.
What do you do? You visit Iredell Urgent Care, the area's only 24-hour urgent care facility outside of a hospital emergency room.
An accident can happen at any hour, interrupting your day without warning. That is why it is so important that Iredell Urgent Care is open 24 hours a day, seven days a week, providing immediate care.
Iredell Urgent Care is a walk-in, no appointment necessary clinic for when that unforeseen accident occurs.
"We offer excellent care that our patients and community need right then and there," said Kristin Lowe, clinical coordinator of Iredell Urgent Care.
Located at 653 Bluefield Road in Mooresville, Iredell Urgent Care is part of Iredell Health System's new facility, Iredell Mooresville. Backed by emergency medicine providers from Wake Forest Baptist Health, Iredell Urgent Care offers convenient, personalized care at a lower price and wait time than a traditional hospital emergency room.
"Urgent care is the middle ground between your primary care provider and the emergency room," said Dr. Jonathon Bringolf, Wake Forest emergency physician and medical director of Iredell Urgent Care.
"It's great for treating minor illnesses and injuries that can't wait until the following day to be seen," he added.
Urgent care is for situations that are not life-threatening. Some of the illnesses and injuries that can be treated at Iredell Urgent Care include minor fractures or cuts, vomiting, diarrhea, cough, fever, rashes, ear or sinus infections, minor allergic reactions, and animal bites, among others.
Iredell Urgent Care features one procedure room and nine exam rooms that provide a private and comfortable atmosphere. The facility also has an in-house diagnostic imaging center that provides advanced, state-of-the-art images all hours of the day. In addition, to ensure a quick and accurate diagnosis for patients, Iredell Urgent Care also has an in-house laboratory that offers rapid results.
"Given our facility is open 24/7, it provides patients with a quicker, cheaper alternative to the emergency room when that unexpected illness or injury occurs," said Bringolf. "We are dedicated to providing high quality care to the Mooresville community."
About Iredell Health System
Iredell Health System includes Iredell Memorial Hospital; Iredell Mooresville; Iredell Home Health; Iredell Wound Care & Hyperbaric Center; Community and Corporate Wellness; Occupational Medicine; the Iredell Physician Network and more. Iredell Memorial Hospital is the largest and only nonprofit hospital in Iredell County. The comprehensive healthcare facility has 247 beds; more than 1,700 employees; and has 260 physicians representing various specialties. Centers of excellence include Women's and Children's; Cardiovascular; Cancer; Surgical Services and Wellness & Prevention. The Health System's newest campus, Iredell Mooresville, is home to the area's only 24-hour urgent care facility, as well as an ambulatory surgery center, imaging center, rehabilitation services, and physician practices. The mission of Iredell Health System is to inspire wellbeing. For a comprehensive list of services and programs, visit www.iredellhealth.org.