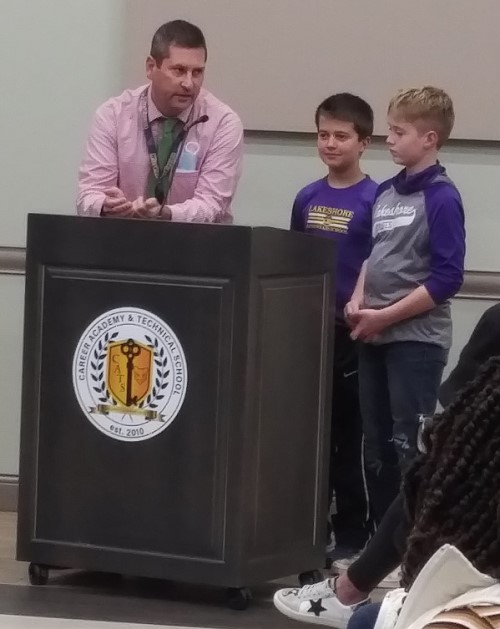 BY KARISSA MILLER
Lakeshore Elementary School was officially designated a North Carolina STEM School of Distinction a year and a half ago.
To earn that honor, the school must provide evidence across more than a dozen areas that it has integrated science, technology, engineering and math into all curriculum aspects.
Principal Chris Grace and his team are revolutionizing the way kids learn. He explained that the school provides opportunities for students to see STEM in action outside of the classroom.
With the help of Make an Impact foundation, 23 students participated in Drones 2 Jets this year.
"We chose students who had an affinity for STEM education and brought them to Statesville Airport. We highlighted a lot of careers that kids might not know existed," Grace said.
"Victory Air was on site that day and took us into the airplane. They showed us the cockpit, showed us mechanics and how flight operations work. It really sparked a lot of interest in those 23 kids we brought," he added.
Next month, the school is eyeing several NASCAR events, which will highlight other STEM related careers and components.
Grace, along with Lakeshore fifth-graders Sutton Hall and Luke Strom, gave a formal slideshow presentation to the Iredell-Statesville Schools Board of Education earlier this month.
The students explained their work building a hovercraft using a leaf blower.
"We got to work with other kids and had to make a lot of teamwork," Strom explained.
"It teaches them perseverance; the kids are going to fail at building things and working with a group of four or five kids everyone has different opinions. It's not going to go smoothly all the time, but working through that is a big piece of STEM education," Grace said.
The school has also been able to utilize Virtual Reality headsets that allow fifth-graders an opportunity to try out different career pathways through a partnership with the CTE department.