BY BRANDY TEMPLETON
Twenty-five teens have gotten a behind-the-scenes look at the Iredell County Sheriff's Office this summer.
Just as importantly, according to Sheriff Darren Campbell, participants in the 2021 ICSO Teen Academy have been engaged in discussions about drug use, peer pressure, bullying, and other challenges associated with transitioning into young adults.
Campbell told the students not to follow the crowd and assured them that the sheriff's office is there for students anytime they need them.
"You can always email us, and we will always answer you," the sheriff said. "We're parents and we care."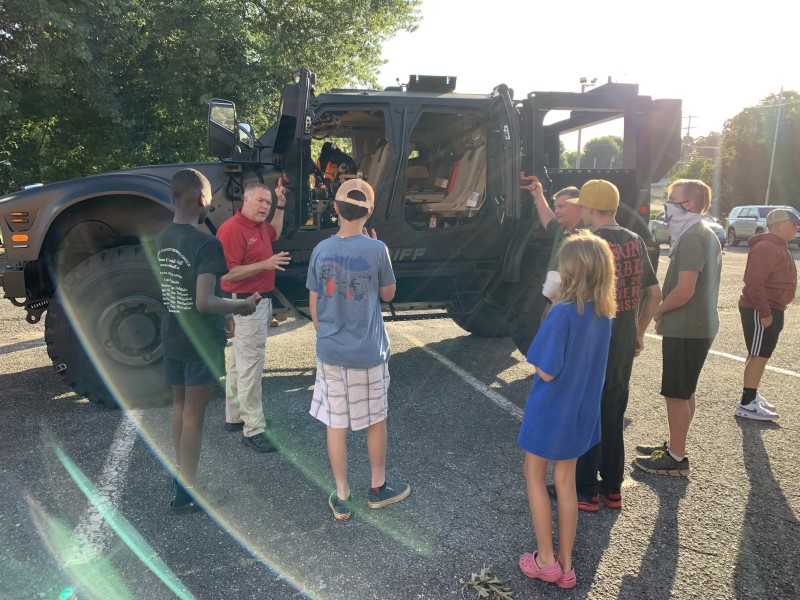 This is the seventh year the ICSO has held the Teen Academy, which runs July 6-22.
On Tuesday night, several members of Sheriff Campbell's team made presentations to the teens.
Detective Troy Miller discussed the dangers of drug use. He shared information on different types of drugs, how they are used, side effects, and more. Students were also taught about new ways teens are using drugs and allowed to ask any questions they had.
"The Iredell County Sheriff's Office wants to save lives, prevent drug overdoses, and keep illegal drugs out of the community," Miller said.
The detective also discussed the dangers of vaping. The students also heard from other teens who had vaped and the harm it caused them.
After all questions were answered, Investigator Patrick Irwin discussed how the department's two drones help the ICSO protect and serve the community.
Recently, one of the drones was used to locate a missing elderly man.
"These drones help find missing people or locate criminals," Irwin said. "We have to take the FFA test just to fly them."
Students were treated to drone demonstrations and also a mock SERT team demo.
Students got to try on SERT gear and handle unloaded weapons. Afterwards they got to climb into the ICSO's two armored personnel vehicles, the BearCat and MRAP.
North Iredell Middle School student Haley Sloan said has enjoyed the Teen Academy and would recommend it to other students.
"Just getting to hear what they have to say is the best part," she said.
County Commissioner Melissa Neader also enjoyed the activities.
"I was pleased to be a part of Sheriff Campbell's Teen Academy. It is an amazing opportunity for teens to have direct interaction with many of the sheriff's office divisions," she said. "Hands-on and face-to- face provide lasting, positive relationships, and they are given important information that helps them navigate challenges."
Neader also shared her experience with the recent Citizen's Academy ICSO hosted.
"When Mike, my husband, and I attended the sheriff's Citizens Academy, we found out it was eye- opening and a learning experience. I feel that it is important for our community's teens to have this experience," she said.
Photos