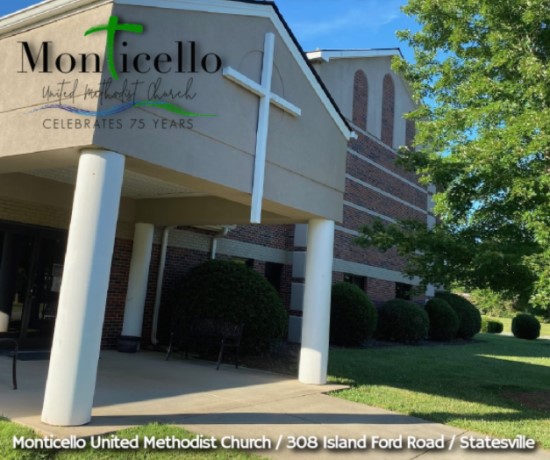 Special to Iredell Free News
Monticello Methodist Church was organized September 15, 1946, when a group of Methodists responded to a call and established a new church in the Monticello area of west Statesville. Their grassroots response to this call created a community of Jesus followers, who wanted to share the love and grace of God and make a lasting investment in the neighborhood and beyond. They began gathering and worshipping at the Monticello School and envisioned building a church facility for the growing church.
As part of their creative efforts in spiritual giving and in preparing to build a church facility, they started a collection of Monticello nickels and invited the church to save their nickels as an offering. With faithfulness and fortitude, Monticello not only built the original facility on Highway 90 but many years later built a new facility at the current location just down the street on Island Ford Road.
After 75 years of loving commitment to mission and ministry, Monticello United Methodist Church remains deeply rooted in the Monticello area and strongly connected to the wider community. In a 75th anniversary season, Monticello United Methodist Church is celebrating and invites the community to celebrate as well.
The community is invited to a special concert on Friday, November 5, at 7 p.m. Monticello will host The Kruger Brothers for a night of beautiful music in the church facility. This talented trio, Jens Kruger (banjo and vocals), Uwe Kruger (guitar and lead vocals), and Joel Landsburg (bass and vocals), has numerous music releases, radio and TV appearances, and live performances, including MerleFest. Their powerful artistic statement continues to inspire and enlighten audiences and musicians around the world.
Monticello also invites the community for a 75th Homecoming on Sunday, November 7, at 11 a.m. in the church facility with lunch provided following worship. Please call the church office at 704-924-8322 to RSVP for the homecoming lunch. Monticello United Methodist Church is located at 308 Island Ford Road, Statesville.
For more information call or visit www.monticelloumc.org.