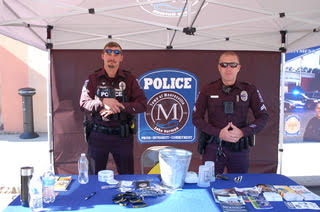 BY DEBBIE PAGE
debbiepage.iredellfreenews@gmail.com
Hundreds of people turned out to enjoy a sunny fall weather on Sunday afternoon at the Mooresville Police Department's first "Afternoon Out," a free downtown event featuring a variety of games and activities, food, helping agency booths, and law enforcement representatives from across the county.
Assistant Police Chief Robert Dyson said the department wanted to do a a family friendly afternoon event similar to the National Night Out in August for their community in the cooler fall temperatures.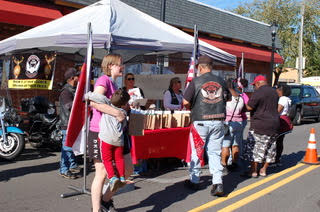 Kids enjoyed several inflatables, games, face painting, and contests to win prizes. They also enjoyed climbing all over the Mooresville Fire Department's truck. Kids' door prizes included three donated bikes and a gaming system.
BestCo also donated gift cards as door prizes for families to enjoy a meal together at area restaurants.
"We wanted this to be a community oriented event that's focused more on children," added Dyson. "We want to help build relations and give back to the community that's always been very supportive of us. They're always there to back us up."
Police Chief Ron Campurciani, who walked the event and visited with attendees, said creating their own event offered a more unique experience in the cool fall temperatures that did not compete with other county departments for sponsors.
Campurciani also felt an afternoon weekend event was more convenient for families to attend. This outdoor event also allowed folks to enjoy a gathering that felt more COVID-19 safe.
The event provided an opportunity for officers to reach out to minorities, who have experienced strained relationships nationally with police in the wake of anti-police protests. The Mayor's Diversity Task Force, of which the chief is a member, was also on hand.
"Mooresville is a great place, and we've been open with everybody, and we hope to continue that and show everybody that we are all in this together. We're all husbands and wives and brothers and sisters. We have the same stuff going on at home like everybody else does," the chief said.
Police and community members have to put in the work to continue to build and to maintain positive relationships, Campurciani said.
Other law enforcement representatives included Statesville Police Department, Iredell County Sheriff's Office, and N.C. Probation and Parole.
Among the area agencies at the event were the Drug-Alcohol Coalition of Iredell, Special Olympics, Guardians of the Children, and Fuzion Teen Center. Dyson said they purposely invited service providers that assist children.
Event sponsors included Cavin-Cook Funeral Home, BestCo, and Costco. Holy Smokes Missions and Ministry, headed up by Aaron Dumford, cooked free BBQ sandwiches and hot dogs, chips, and trimmings donated by Costco. Niagara Water donated water for the event.