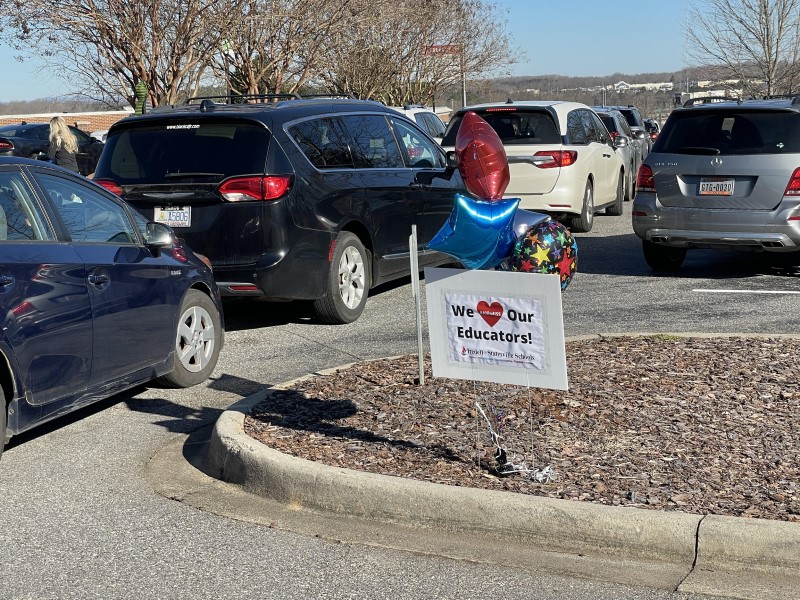 BY MIKE FUHRMAN
Bus driver Lesia Parks has been doing everything she can to keep the children she transports to and from school safe during the COVID-19 pandemic.
Parks, who drives about 30 students to Harmony Elementary School each morning and afternoon, makes sure they are spaced out on the bus and she sprays down every seat twice a day. "If they get on without a mask, I hand the them one," she added.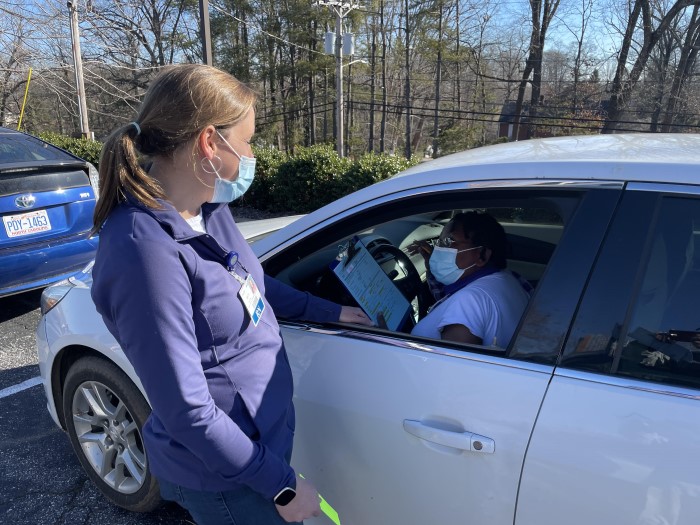 On Wednesday morning Parks, who has been driving a bus for Iredell-Statesville Schools since 1996, took another important step to protect the children — and herself — from COVID-19, which has claimed more than 11,000 lives in North Carolina, including 196 in Iredell County.
She rolled up her sleeve and got vaccinated at Iredell Memorial Hospital during a drive-thru clinic for I-SS employees.
"I was apprehensive at first, but I talked to my nephrologist and my primary care doctor and they said it was okay," Parks said. "Then I wasn't afraid anymore."
Iredell Health System will have administered 20,000 vaccines by the end of the week, and its team of staff members and volunteers keep the line moving during the drive-thru clinics. Most people are in and out in about 20 minutes, which includes a 15-minute wait after receiving the vaccine to ensure there are no side effects.
A steady stream of I-SS employees rolled through the clinic at Iredell Memorial Hospital on Wednesday. By the end of the day, more than 1,200 frontline school workers were scheduled to receive the Moderna vaccine.
Another 1,800 employees of Mooresville Graded Schools, and local charter and private schools are set to be vaccinated this weekend.
"We are working directly with the schools to ensure that every educator who wants to be vaccinated can be," said Meagan Kowalski, director of Planning, Community Relations & Marketing for Iredell Health System.
Vaccinations are not mandatory for teachers, bus drivers and other school employees, but public health officials and school officials have said it is an important step for returning students to school full time.
"It's the biggest step we can take to get everybody back in school," said Cassie Houf, who works as a counselor at Lakeshore Middle School. "It's imperative."
Houf, who was among those who got vaccinated on Wednesday, admits she felt a little scared about getting vaccinated — but she was also excited.
That's because, as a counselor, she knows how critical is for students academically, socially and emotionally to be back in school.
"The kids are getting by. They are doing the best they can," she said. "They are being really strong."
Dawn Cornwell, who teaches Spanish at Brawley IB School, said she researched the vaccines before deciding that any risks associated with the vaccines were outweighed by the risks of getting sick from COVID-19.
"I prefer to take the shot and not take the risk," she said. "I want to be there for my kids. "I don't like Zooming. I prefer face to face."
About 50 percent of her students have been attending class in person. Cornwell said she's ready for that number to increase.
"We're ready to go back to normal. The kids need that. They need to be in school," she added. "It's so important."
Photos