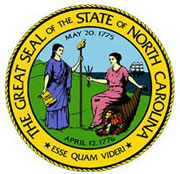 Special to Iredell Free News
RALEIGH – The N.C. House voted Wednesday to approve the Emergency Powers Accountability Act (HB 264) to strengthen and clarify the intent of the law regarding the governor's executive powers during an emergency.
The Emergency Powers Accountability Act now goes to the N.C. Senate for further consideration.
"It has now been over a year since Gov. Cooper unilaterally placed our citizens under a state-wide emergency due to COVID-19," said Rep. Keith Kidwell (R-Beaufort), the bill's lead sponsor. "Regardless of the politics of his executive orders, this is not how a representative republic works and it is not the intent of the law. No one person should have such sweeping and unilateral authority to shut down our state."
Cooper had previously asked for Council of State approval for his first shutdown order back in March 2020, but then switched legal theories when some Council of State members raised questions. Due to this loophole, the governor can now unilaterally declare a state of emergency and continue issuing executive emergency orders as long as he or she desires.
"Clearly, there needs to be a discussion about the endless duration of power that is granted to the governor during a self-declared state of emergency," said bill sponsor and House Majority Leader John Bell (R-Wayne). "This legislation is not about politics – it is about clarifying the law to restore accountability and ensure stronger bipartisan input. The governor was never intended to have such absolute authority, especially for an unlimited time."
Specifically, the legislation will update and strengthen current law to require the governor to seek the concurrence of the Council of State when issuing a statewide declaration of emergency beyond 30 days. For this purpose, statewide would mean an emergency area of 67 or more counties.
The Council of State consists of ten statewide elected executive offices established by the State Constitution – the Governor, Lieutenant Governor, Secretary of State, Auditor, Treasurer, Superintendent of Public Instruction, Attorney General, Commissioner of Agriculture, Commissioner of Labor, and Commissioner of Insurance.
"One year ago, most people did not believe that the governor had the power to shut down an entire state. Most at least assumed there were some checks and balances. Such consequential decisions should be made in a deliberative process with other elected officials," said bill sponsor and House Rules Chairman Destin Hall (R-Lenoir). "North Carolinians deserve confidence that the unprecedented restrictions placed on their families and businesses are the result of bipartisan consensus, not the absolute power of one man."
Lawmakers also pointed to the fact that just a few weeks ago Gov. Cooper secured Council of State approval before issuing a state of emergency ahead of expected severe weather. Yet he has refused to do the same for his sweeping COVID-19 emergency orders.
According to the Maine Policy Institute, the governor of North Carolina is granted some of the broadest emergency powers in the country. North Carolina is just one of only 15 states that have no time limit on a governor's state of emergency declaration and is just one of six where a declaration issued by the governor can only be terminated by the governor.
The moves comes as other states across the nation are taking steps to reform their emergency management laws, including the Ohio General Assembly, which voted this week to override the governor's veto of a bill to limit his emergency power. Kansas lawmakers also passed a bipartisan bill to install new checks on powers of the governor, and earlier this month, the Democratic-controlled New York legislature stripped the governor of his emergency powers.