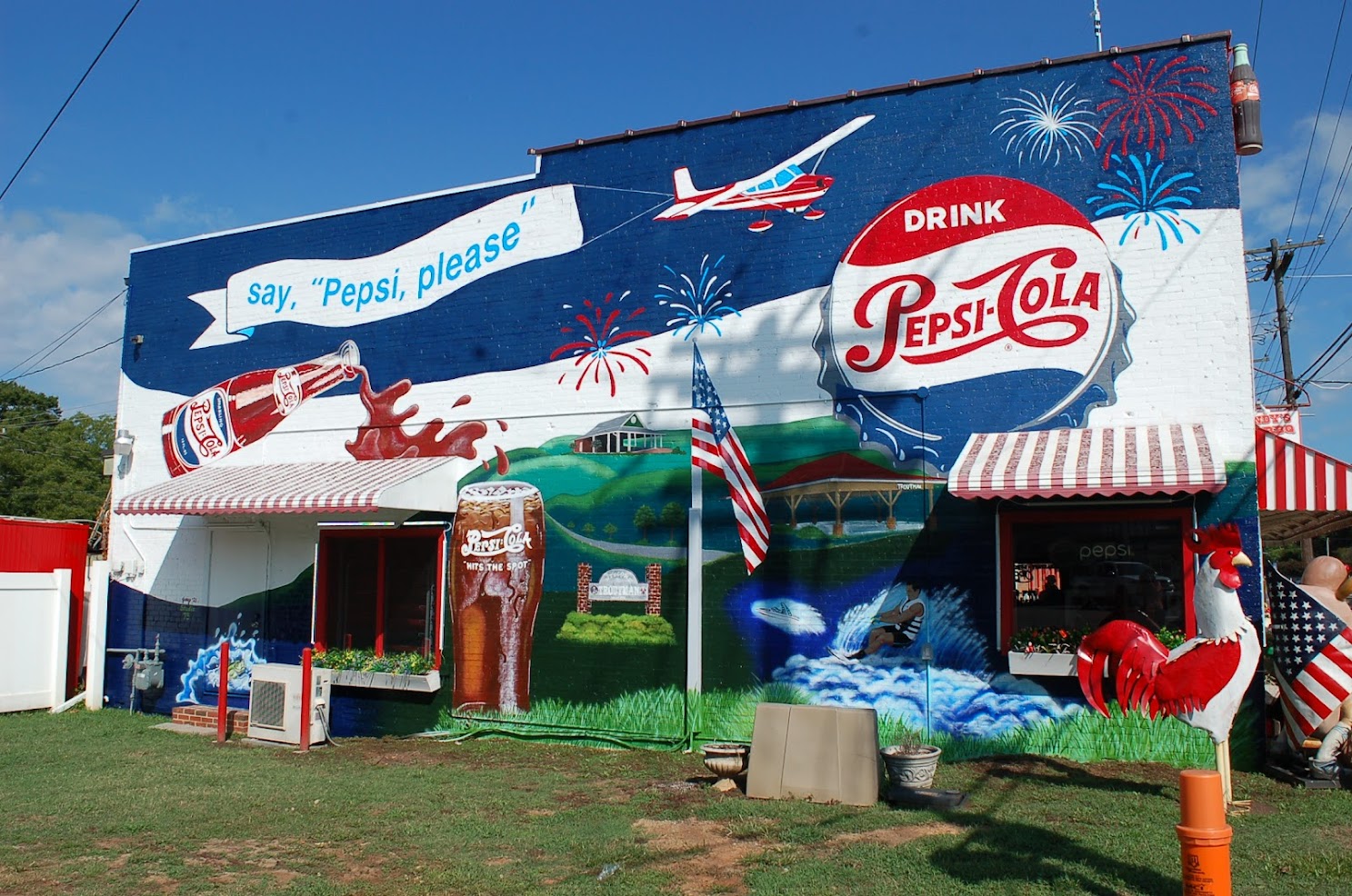 BY DEBBIE PAGE
debbiepage.iredellfreenews@gmail.com
For several years, Troutman leaders have sought to beautify its buildings with art, and in July Town Council members jumped at the chance to partner with Pepsi and Randy's BBQ to create unique murals celebrating the town.
Artist Joey Stewart Dill of Studio 73 in Statesville was hired to design the project in collaboration with Troutman staff and Pepsi. She spent roughly 125 hours painting and another 40 planning and designing the murals on the north and south sides of the building.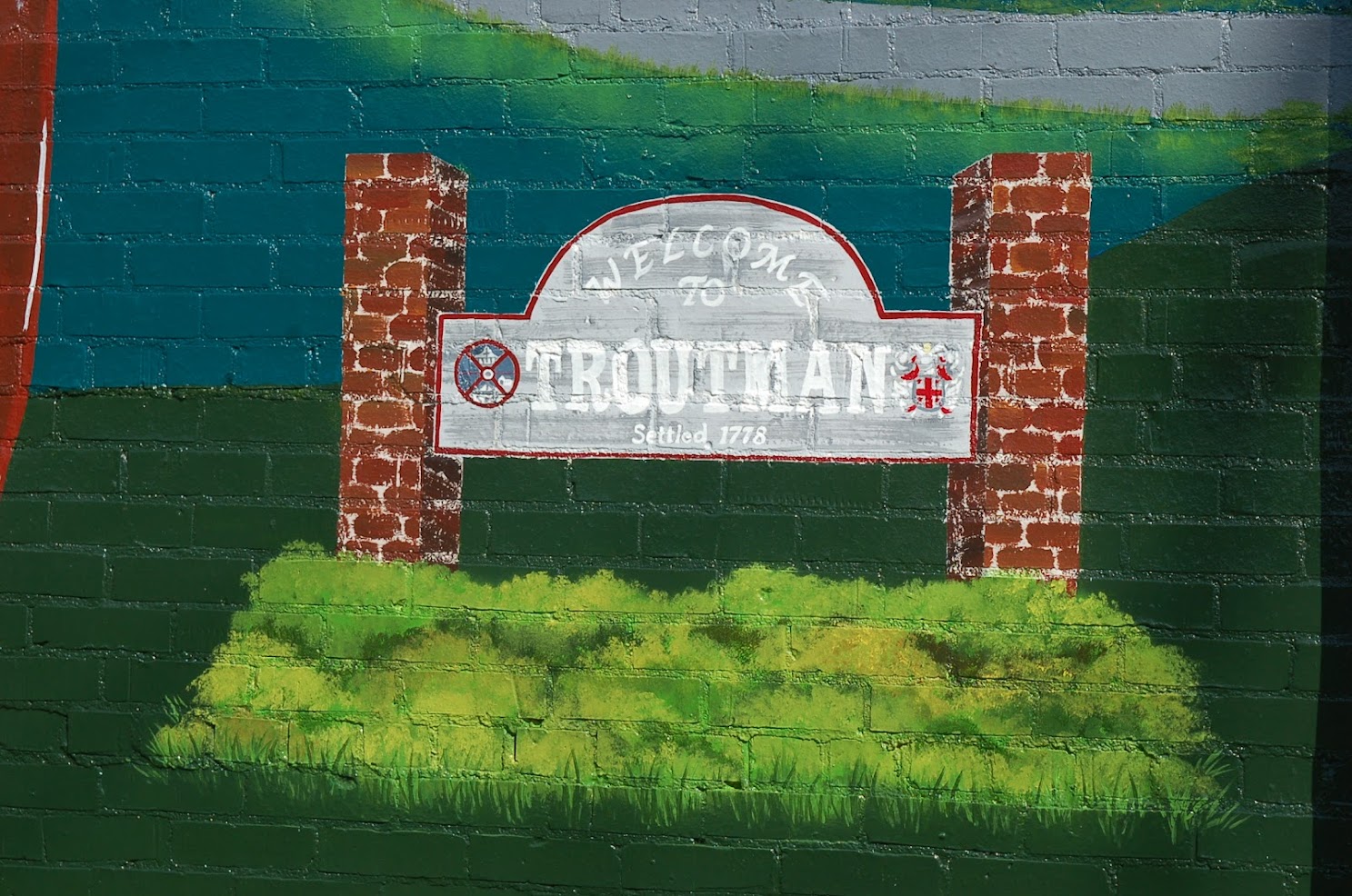 The large mural on the south side depicts a number of scenes, including the Troutman Depot, the ESC Park Pavilion, Richardson Greenway, Lake Norman and water sports, the town's welcome sign, and the American flag and fireworks in a nod to the town's annual Independence Day parade and festival.
Council members made suggestions of local landmarks to include, said Dill. "We tried to keep it kind of nostalgic, but also a little bit more modern too."
The north side mural highlights a smaller throwback Mountain Dew ad from the 1960s, featuring the old bootlegger with a jug with the "Yahoo – Drink Mountain Dew" slogan popular at that time.
Originally, a mural was planned for the front as well, but power lines and awnings prevented Dill's lift from accessing the area to paint. After consulting with Pepsi, who funded the entire project, Dill said this mural was canceled due to safety concerns.
Instead, Pepsi plans to put up some vintage metal signs or other artwork, according to Dill.
Dill enjoyed folks stopping by to watch and chat as she worked. She's also become a well-recognized celebrity around town, getting lots of positive feedback for her mural work.
Randy and Robin Pittman, owners of Randy's BBQ, were great to collaborate with on the project, added Dill. "They've been a breeze to work with!"
ANOTHER MURAL IN THE WORKS
After temperatures cool, probably in mid-September, Dill will start on another mural on the south side of T-Town Jewelry and Pawn, facing the Dollar General store. This mural will also be a Mountain Dew ad but with a more outdoorsy theme.
With the tagline, "This is Dew Country," the mural will feature scenes of hunting, fishing, and nature. Dill is working on the design details now in preparation for the creation. She hopes her father and mentor, Tommy Stewart, will be able to join her on the project after he recovers from his recent illness.
THE PROCESS
When approaching a new mural project, Dill begins by sketching out her ideas on an iPad on a high quality image of the area on which she will be painting. This technique helps her plan around obstacles like windows, awnings, pipes, and receptacles.
Using Procreate software, Dill pulls in images for the mural and digitally paints over the images in layers to try out colors and techniques. "That way if we need to make changes, it's so much easier. I don't have to start over from scratch."
"I can go in and remove a layer or take an element out and put another element in. Once all the changes have been made, then I've got that final image to go from. I then grid it out."
Prior to beginning a mural, the background surface is prepared with a coat of primer and then a layer of high-quality paint. Dill next uses a projector at night to sketch out the project on the wall, using an old school grid, "just to make sure the layout is where I want it to be."
During the day Dill uses the sketch lines to hand paint the design, filling in details. She uses Golden mural paint, which resists UV fading. With this paint and a protective coating, Dill expects the mural to last 20 years before fading begins. "I think it will hold up really well."
Because the exterior walls of Randy's BBQ were painted with a glossy, oil-based paint, Dill had another challenge with this project. She decided to call in professionals to spray it with a special primer to seal the oil-based paint and create a chalky finish to which Dill's water-based paints could properly adhere.
"Years ago, that was not possible. We would have to have sandblasted the walls. Thankfully we had that!" said Dill.
After finishing the murals, Dill has a clear coat applied to prevent fading and also to protect the murals from graffiti, which can be removed from the clear coat layer without damaging the design underneath.
The new murals join previous town projects completed over the past few years. Previous town murals include the recreation of the original vintage Coca Cola and Dr. Pepper logos over Southern Treats in May of 2016 and a 10 foot by 30 foot Town of Troutman paddle logo mural on the side of the town's building at 153 Wagner Street last fall.
BACKGROUND
Dill was born to be an artist, sketching in her father's business, Tommy's Sign Shop in Statesville, from the age of four. Her father set up a desk with art supplies for her to use and proudly displayed her works on a large bulletin board in the shop.
She studied commercial art and advertising at the University of North Carolina-Charlotte but believes she learned most of her skills from her dad, his artist friends, and extensive practice and study on her own.
Dill is proud of her father's artistic legacy in Statesville and around Troutman, which includes signage on Randy's BBQ, Kat's Patch, the laundromat, and Banner Drug.
"He's been around a long, long time doing signs. It's kind of neat going into Troutman and being able to do stuff like that that will be around a long time, just like his signs have been around a long time."
Dill's artistic work can be viewed in Smokin' Southern Cantina, Western Avenue Baptist Church, and in many private residences. She also does many family and pet portraits as well as ceramics.
FOR MORE INFORMATION
To learn more bout Dill's work, visit studio 73 online at https://www.studio73carolina.com/news.html or on Facebook at https://business.facebook.com/Studio73Carolina/.
Photos