BY DEBBIE PAGE
debbiepage.iredellfreenews@gmail.com
At the March Drug-Alcohol Coalition of Iredell (DACI) meeting, Statesville Police Department's Community Resource Coordinator Pam Navey reported on the new Iredell Homeless Collaborative, which formed about five weeks ago to address crisis situations among the city's homeless population.
Though the community has been addressing the homeless crisis for decades, the problem is not going away, but the group can make a difference daily in the lives of people who need our help, said Navey.
The group came about after an SPD captain came to Navey exasperated by a recent situation. He served a trespass letter on someone who was living and loitering outside a business who refused to leave.
A community advocate who was present did not understand the law requirements, and an unnecessary verbal conflict ensued. The captain wanted the community to understand that officers do not want to arrest homeless people.
"Our goal is to get them into services needed, whether it is mental health services, substance abuse use disorder, a chronic life of alcoholism or drug abuse, generational poverty, whatever their issues are," said Navey.
Navey called the Cove Church in Statesville, which has "a great ministry with the homeless in this county." A meeting at the Cove Church resulted with church representatives, Navey and officers, and eight other partners with Zoom participation attending. From this meeting, the collaborative was born.
"We talked about the issues and how we can make an impact," said Navey. "Not all the homeless people want help. Some of them say they want to live on the streets, I want to be free, I don't want any direction over me."
Many have ongoing mental health or trauma issues that magnifies their situation.
Aside from the eight to 12 local chronically homeless people, Statesville also has a significant transient homeless population because of its location at the crossroads of Interstate 77 and Interstate 40. "We will get calls daily to go out to the truck stops for someone."
Law enforcement does not respond to homeless calls with a heavy hand. Officers often take food, tents, and blankets to these folks, added Navey.
However, since the homeless often do not respond positively to law enforcement, the collaborative is sending peer support specialists and other professionals in to talk with them at any time of the day or night, with law enforcement staying nearby in the background, to attempt to get the homeless assessed and to needed shelter and services.
These partners also help people who are in a transient homelessness situation, like the person whose car recently broke down here and had to wait for several days for someone to come get him.
The shelter could not take the person because of COVID-19 restrictions, so a church partner paid for two nights at a hotel, and Patti West of Fifth Street brought a box of food. "Working together, we kept this person out of harm's way."
Another woman, a cancer survivor with a past mental health and substance use diagnosis and suffering from COVID-19 symptoms, had been on the streets here for three months. The partners jumped into action, getting her a COVID test (positive) and a hotel room and food for 10 days.
After the isolation period, Fifth Street took her in, got her new glasses and mental health and medical appointments, and provided all her shelter and food needs.
"We all do our work, but if we can make a difference one at a time for these individuals, then we've done a good day's work and it's coming together as it should," Navey said.
Current partners in the Iredell Homeless Collaborative include United Way/211's Sara Lewis, PQA, Tonya Reid with the I-SS McKinney-Vento program, My Sister's House, Tina Willis at Partners, the EMS Community Response Support Team, the Salvation Army, Project Re-entry, Statesville Police Department, I-CARE, Goodwill Workforce Development Center, Watchman of the Streets Homeless Outreach, Veterans Transition Home, The Cove Church, Rob Harris and his Southside Children's Ministry, DACI, and Fifth Street Ministries.
Iredell Memorial Hospital also wants to join in the effort because the the hospital often gets homeless patients who are treated and then released back on the streets. They want to get these folks to resources instead.
Anyone interested in joining the effort can contact Navey at pnavey@statesvillenc.net.
NC DETECT DATA
As expected with the additional stresses of the COVID-19 pandemic and resulting isolation, substance misuse numbers were up in 2020. This data does not include community overdose reversals with naloxone or those patients who refuse EMS transport to an emergency room.
In just released NC DETECT data, 15 percent more medication or drug overdoses occurred this past year over 2019 numbers. The data also reflected a 38 percent increase of unintentional medication or drug overdose, a 58 percent increase in heroin-related ER visits, a 49 percent increase benzodiazepine overdose, and a 30 percent rise in alcohol abuse and dependency.
"It tracks with everything we have been hearing," said DACI Director Jill McLelland. "Across the board we have heard there was a 30 percent increase in substance use."
"We are still waiting on release of the number of overdose deaths for 2020. We are expecting a significant increase in that."
UPDATES
McLelland says free prescription drug lockboxes are on order and will soon be available to community members and agencies. Contact her at jill@daciredell.org to get more information.
McLelland also asked coalition members to check out the state opioid action plan at https://www.ncdhhs.gov/about/department-initiatives/opioid-epidemic/north-carolinas-opioid-action-plan.
The website has a dashboard that users can look up county specific data on opioid numbers and resources. The handful of strategies that the action plan addresses that DACI has not enacted in Iredell County will drive the coalition's plans going forward.
Iredell County remains 3 to 5 percent below the state average in most areas because of the effective work the community agencies already do to combat substance misuse. "But we still have some work to do," added McLelland.
Also, a sharps box for used syringes will be installed on the Troutman Town Hall medication take-back box soon, according to McLelland.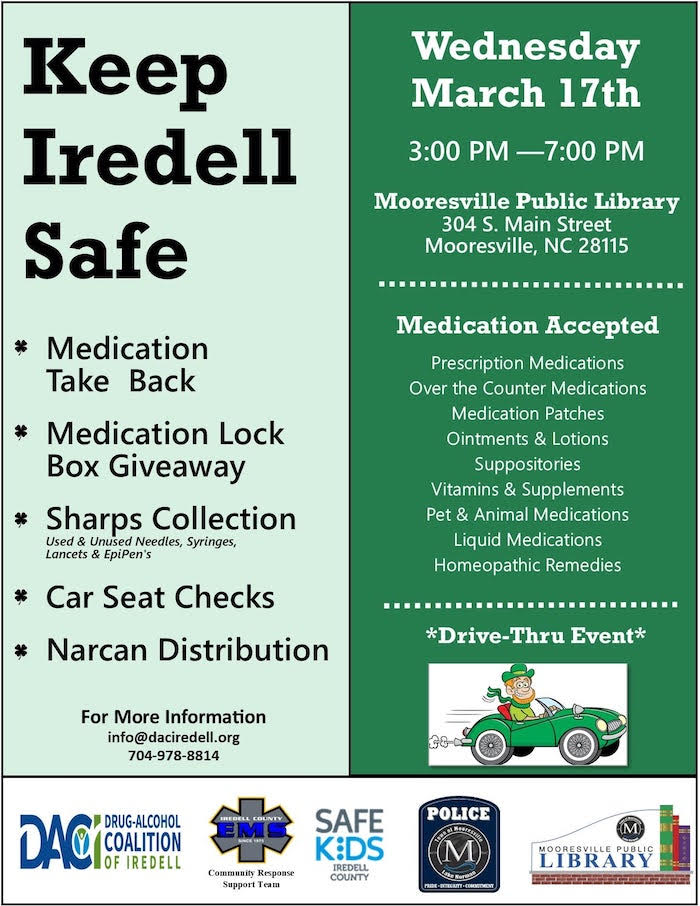 UPCOMING EVENTS
DACI has a drive thru take-back event on Wednesday, March 17, at the Mooresville Public Library from 3 to 7 p.m. The event will take back medications and syringes, offer child seat safety checks, and distribute medication lockboxes and naloxone to reverse opioid overdoses.
Two other events will be offered in Statesville during the last week of March, one on a week day and one on the weekend. The locations will be at the Signal Hill Mall Parking lot and the Yokefellow parking lot on Shelton Avenue. Dates will be announced soon.
A Troutman event is also being planned for the spring.
MAY MEETING
The May DACI meeting will have a guest speaker from Community Impact NC to present on lobbying efforts to legalize marijuana in the state.